Puerto Rico

When you seek a Caribbean getaway with exotic sites, miles of white sand beaches, a beautiful rainforest and mountains, Puerto Rico is your destination. And as a commonwealth of the U.S., with its many ties to the U.S. mainland, you'll find Puerto Rico welcomes you with open arms.
With tropical rainforest, warm turquoise waters and soft yellow sand, Puerto Rico (Rich Port) is certainly abundant in natural riches. Most visitors are attracted to the island's beaches, and understandably so. From San Juan's calmer Atlantic waters to Rincón's ripping surf breaks, and from Culebra's picture-perfect Flamenco Beach (rated one of the top 10 beaches in the world by the Discovery Channel) to Vieques' nearly deserted beaches where wild horses roam, there really is sand and surf for every type of beach bum in Puerto Rico.
There is so much to do and see on this exciting island, that your biggest problem is working it all in. Relax on an uncrowded beach, or indulge in the amazing variety of water sports. Pick up some incredible bargains in San Juan's duty-free shopping district. Court lady luck in a glittering casino, dine at a five-star restaurant, and explore the exciting museums, forts, and cathedrals that make Puerto Rico the island with the oldest and richest cultural heritage in the Caribbean.

Spanish is the official language, though English is spoken by nearly everyone. Which means that in Puerto Rico you're welcomed warmly in two languages by a people known for their gracious, old-world hospitality.
---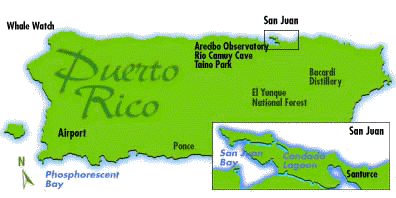 What is there to do in Puerto Rico you ask?? Find out now!


---
Vacation Superstore Resort Recommendations
(We have many others available, these are the most popular)
Ratings

Resort

All Inclusive
None on the
island


Wyndham El Conquistador



No


Gran Melia Puerto Rico




No

Hyatt Dorado Beach & Golf




No

El San Juan Hotel and Casino




No

Westin Rio Beach & Golf




No

Wyndahm Condado Plaza




No

Caribe Hilton San Juan

No

Park Plaza Normandie

No
[ Previous Page ]

You can reach our office at 402-390-0909 or 800-356-8985