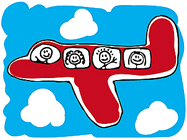 Hotels & Rental Cars
This Weeks lowest ROUNDTRIP airfares from Omaha!
(Prices are not available for all travel dates - give us a call, 390-0909)
Advance Purchase is required
There are no booking fees or extra charges to book our vacation packages UNLESS
we are just doing an airline ticket only. See below.
The airline ticket prices do not include our booking fee, which gives you full 24/7 access to our Customer Service Office, one of our local agents are on call 24 hours a day, to handle problems, flight cancelations, weather cancelations, etc. The booking/ticketing fee (for airline tickets only) is $20.00 if you have 2 travelings, $15.00 each if you have 3 traveling, and only $12.50 each if 4 or more are traveling.
Just so you're aware, other travel companies like Expedia have their Customer Service offices located in the Philippines, Travelocity is in Bombay India, Cheap Tickets office is in Mexico City, etc. Our Customer Service is right here in Omaha and is 24/7.
---
Domestic Fares
Week Of 6/12/2020


These Fares May Not Be Available For Your Dates Of Travel

Albuquerque
$267.00

Atlanta
$253.00

Austin
$251.00

Baltimore
$337.00

Boston
$377.00

Charleston
$377.00

Chicago
$205.00

Cleveland
$247.00

Colorado Springs
$191.00

Dallas
$193.00

Denver
$94.00

Detroit
$273.00

Ft. Lauderdale
$229.00

Houston
$241.00

Honolulu
$492.00

Las Vegas
$157.00

Little Rock
$154.00

Los Angeles
$254.00

Miami
$391.00

Minneapolis
$213.00

Nashville
$161.00

New York
$173.00

New Orleans
$337.00

Orlando
$189.00

Phoenix
$159.00

Philadelphia
$153.00

Portland
$249.00

Providence
$377.00

Reno
$315.00

Salt Lake
$265.00

San Francisco
$245.00

San Diego
$163.00

Seattle
$163.00

St. Louis
$275.00

Tampa
$229.00

Washington
$213.00
International
Fares:
Cancun
$478.00

London
$900.00

Paris
$950.00

Rome
$924.00
Madrid
$990.00

Mexico City
$346.00

Puerto Vallarta
$450.00

Montego Bay
$546.00

You can reach our office at 402-390-0909 or 800-356-8985