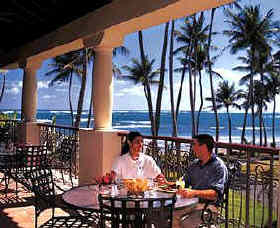 Originally designed by Laurance Rockefeller, this magnificent resort has been restored to its original elegance, but with the added Hyatt Touch. Stretched across 1,000 acres of lush tropical countryside, the Hyatt Dorado is a low-rise tropical beach resort renowned for its lush vegetation and romantic atmosphere. The striking ambiance of this luxurious resort will trigger thoughts of another era, while the modern amenities and personalized service live up to the standards of today's most modern getaways.
---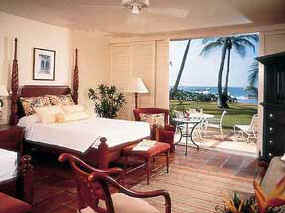 The resort offers 262 guestrooms in 19 low-rise buildings of one, two, or three stories. With the exception of the Su Casa cottages, buildings are colored in soft earth tones, have flat roofs, and are nearly concealed by dense gardens so they blend into the landscape. All rooms feature high, pedestal-type two-poster king beds or double beds; cool white walls and ceilings; white bedspreads; throw pillows on beds; terra-cotta tile floors with area rugs; ceiling fans as well as air conditioning; and either ocean-view balconies or ground floor patios furnished with lounge chairs and two-chair dining sets.
Opened in June 2003, the Su Casa Cottages consist of three two-story, hacienda-style buildings with red-tile roofs secluded on Rockefeller Point near the East golf course and the water-sports beach. The cottages flank a tranquil swimming pool.
---
Clubhouse Restaurant & Bar - Hacienda-style, ocean-view golf clubhouse adjacent to East Course. Waiters in plus fours with plaid socks. Air-conditioned dining room. Open-air seating on balustraded veranda. Lunch of salads, sandwiches, steak, seafood. Dinner featuring seafood, steaks, lamb, poultry.
Su Casa Restaurant - After a hurricane destroyed the family's original home, Clara Livingston, daughter of the New York physician who established a grapefruit/coconut plantation on the property in 1905, built the concrete hacienda now housing this restaurant in 1928. Stained by rain and age on the outside, featuring an interior courtyard and curved red-brick staircases leading from the oceanfront to the second-floor dining rooms, and flanked by gardens, the hacienda was visited in 1937 by Amelia Earhart during her ill-fated attempt to fly around the world. (Clara Livingston, the world's 11th certified woman pilot and third certified helicopter pilot, was Earhart's friend.) The restaurant consists of a series of yellow-wall salons with ceiling fans under wood-beam ceilings. The menu features Spanish and Puerto Rican specialties such as roasted duck, shrimp in garlic-sherry butter, roasted lobster, and warm octopus salad. Strolling musicians and candlelight create a romantic ambience. Dinner only.

Surf Room - Two-story glass windows draped with fabric. Continental menu of seafood and meats. Long pants and collared shirts for men. Dinner only. Includes El Catador 10-person private dining room in wine cellar.
Ocean Terrace - Three open-air levels including terrace with sweeping ocean views. Skylighted wood-beam ceilings. Mosaic tile-top tables. Buffet and à la carte breakfasts. Salads, sandwiches, burgers for lunch. Theme dinner during winter season.

Beach Bohio Bar & Grill - Between main pool and beach. Salads, sandwiches, snacks, tropical drinks. Lunch only.

Lobby Bar - Dark-wood back bar. Tile-top tables with upholstered chairs. Inside and terrace seating. Historical photos on walls.
---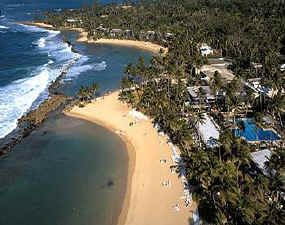 The Hyatt Dorado is a distinguished low-rise tropical beach resort, spacious but private, and renowned for its lush vegetation and romantic atmosphere. This 1,000 acre luxury resort is on a secluded crescent beach on Puerto Rico's north coast.

The property rests on 1,000 acres of exclusive white sand beachfront.
Guests receive exchange privileges with the Hyatt Regency Cerromar, and other features include seven tennis courts, a watersports center, two Robert Trent Jones golf courses, a spa and beauty center, and complimentary shuttle service to Cerromar Beach.
Opened in 1958 by John D. Rockefeller, Jr.'s son Laurance as a place to vacation harmoniously with nature ("no building taller than a palm tree") and widely heralded when it debuted as one of his Rock Resorts, the Hyatt Dorado maintains Rockefeller's intent. Dense, blossoming gardens in the resort's main section nearly conceal buildings colored in soft earth tones. Tall palm trees curve gracefully upward. Natural forests cover much of the grounds. Coqui (frogs) sing after dark.

The 1,000-acre resort occupies about two miles of Atlantic oceanfront on a former grapefruit/coconut plantation established by a New York physician in 1905 and operated by his daughter, a pioneering woman aviator, after his death. History echoes. President Ford played host to the 1976 Western economic summit here. The Eisenhowers, President Kennedy, President and Lady Bird Johnson, the first President Bush, Britain's Prince Philip, and numerous Hollywood stars have visited, attracted by the seclusion, the beach, and the golf. Famed pro golfer Chi Chi Rodriguez was the first caddymaster and maintains a home here.

Amenity highlights: Running nearly the full length of the resort's oceanfront, a rock breakwater protects two calm swimming lagoons, one running 0.25 miles along the golden-hued sand that gave the area its name (dorado, or "gold") and the other, a 200-yard stretch fronting a half-moon crescent beach. A stone sundeck and lawns furnished with cushioned lounge chairs surround a large main pool. Nearby in its own courtyard is a 20-foot-square toddler's pool. Located among the Su Casa Cottages, another pool surrounded by a red brick sundeck provides a tranquil haven.

Insider tip: Guests enjoy full access to a sister property, the Hyatt Hacienda del Mar time-share resort on the beach 2 miles away, with complimentary shuttle service connecting the two. The Hyatt Hacienda offers a 4.5-acre child-friendly pool complex featuring water slides and a 1,776-foot "river pool" with artificial current, a supervised children's club, a casino, and a disco nightclub. Accessible by a bicycle/jogging path midway between the two resorts, isolated oceanfront stone benches provide contemplative views of both resorts.
---
Consistent with founder Laurance Rockefeller's intent to create a resort in harmony with nature, the resort includes a tile-floor lobby open to ocean breezes and views and furnished with plumply cushioned wicker chairs. From inside his cage, a macaw comes and goes as he pleases.
The resort's health spa includes an air-conditioned fitness center containing free weights and cardio and weight machines. Yoga, stretching, and personal-training sessions are available. Massage choices include Swedish, "Yoga-ssage" (stretching, aromatherapy, guided meditation), and hot-and-cold stones. Body treatment options include seaweed wrap, salt-scrub, and paraffin-sea mud wrap. Facials include seaweed mask and moor-mud mask.
Swimming pool - outdoor
Swimming pool - children's
Concierge services
Fitness equipment
Restaurant(s) in hotel
On-site car rental
Limo or Town Car service available
Conference room(s)
Internet access in public areas - surcharge
Porter/bellhop
Security guard
Number of rooms: 262
Hair salon
Gift shops or newsstand
Babysitting or child care
Dry cleaning service
Suitable for children
Wheelchair accessible

Poolside bar
Spa services on site
Complimentary newspapers in lobby
Bar/lounge
Room service (limited hours)
Parking (free)
Business center
Audio-visual equipment
Safe-deposit box - front desk
Express check-in/check-out
Multilingual staff
24-hour front desk
ATM/banking
Shopping on site
Currency exchange
Garden
Caters to families

---
[ Previous Page ]

You can reach our office at 402-390-0909 or 800-356-8985