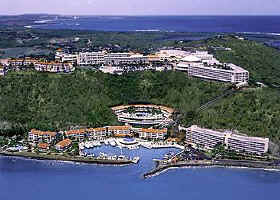 On the sensual side of Puerto Rico, where the Atlantic meets the Caribbean, sits a majestic 500-acre clifftop resort unlike anything you've seen before. At the Wyndham El Conquistador, enjoy glorious views, superb service, an action-packed casino, fabulous dining and lively nightlife. Visit Palomino Island, a 100-acre tropical paradise reserved exclusively for hotel guests, where you can enjoy private beaches and a variety of watersports and a on property golf course!
---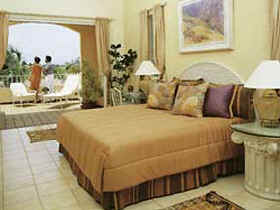 The resort offers 918 guestrooms and suites in four distinct lodging areas. The Grand Hotel sits atop a 300-foot-high cliff overlooking the Atlantic Ocean. La Marina Village, connected toThe Grand Hotel by two self-serve funiculars operating like elevators, lies at the cliff's bottom next to a marina, with ready access to the ferry boat shuttling guests to Palomino Island and the resort's beaches. Las Olas Village, a crescent building accessible by one of the funiculars, is terraced into the cliffside 100 feet above La Marina Village. Las Casitas Village is arrayed on a hillside below The Grand Hotel and inland from the ocean.
Tropical-decor rooms and suites feature extra-thick mattresses, radio and CD player combinations, VCRs and video-game consoles, high-speed Internet connections, and three telephones (one cordless).
---
Blossoms - Pan-Asian cuisine, including sushi bar, teppanyaki tables, Chinese specialties. Intimate room featuring elaborate red-roof decor, hanging lanterns. Located in The Grand Hotel. Dinner only.
Isabela's - Spanish-style dining room. High wood-beam ceiling, wrought-iron chandeliers, leather chair. Two levels divided by arches. Steaks, chops, seafood, lobster bisque, Cajun crab cakes. Located in The Grand Hotel. Dinner only


Otello Ristorante Italiano - Northern Italian dishes, extensive wine list. Intimate, candlelit ambience with white linens. Located in The Grand Hotel. Dinner only.
Le Bistro - French/Caribbean cuisine such as coq au vin, pepper steak, sea bass in caper butter. Dining in an intimate setting. Located in Las Casitas Village. Dinner only.

Golden Door Spa Café - Spa cuisine with breakfast choices such as egg-white omelet and bagels and all-day choices such as watermelon gazpacho, grilled portobello mushrooms with cous cous, whole-wheat pizza, grilled swordfish, lobster-shrimp salad.
Las Casitas Village Café - Overlooking Las Casitas Village pool. Open-air seating. Á la carte breakfast menu. Lunch choices include chicken with rice, churrasco steak, sandwiches, and salads. Golden Door Spa Café's spa-cuisine menu also available.

Las Brisas Restaurant - Casual restaurant with panoramic ocean view adjacent to main pool complex. Air-conditioned dining room, two-level outdoor terrace. Buffet and à la carte breakfast, lunch.

Café Bella Vista - Casual open-air spot on The Grand Hotel's terrace overlooking main pool complex, ocean, Palomino Island. Pizza, sandwiches, salads. Lunch and dinner. Café Caribe - Casual coffee-shop dining around skylighted fountain. Breakfast, lunch, dinner. Sandwiches, traditional American dishes, Caribbean specialties. Located in The Grand Hotel.

Cantina de las Olas - Ocean-view café located in Las Olas Village. Tex-Mex cuisine, tequila and margarita menus, mariachi music. Puerto Rican specials nightly. Dinner only.

Stingray Café - Casual spot next to dock in La Marina Village specializing in Caribbean dishes and seafood. Dinner only.

Ballyhoo Bar & Grill - Shrimp, conch fritters, pizza, burgers. Ocean and Palomino Island views. Located in Las Marina Village. Lunch and dinner.

The Golf Grill - Continental breakfast, lunch, cocktails overlooking the 18th hole, with views of El Yunque rainforest.

Iguana's - Burgers, chicken, seafood, snacks, tropical drinks. Open-air seating. Located on Palomino Island. Lunch only.

Sweet Corner Café - Coffee drinks, pastries, desserts, sandwiches. Open morning until night. Located in The Grand Hotel next to funicular station.

Splash Bar and Pool Grill - Swim-up bar in main pool complex. Kabobs, sandwiches, burgers, salads, tropical drinks at lunch.

Café Espress - Salads, sandwiches, coffee drinks. Located in The Grand Hotel.

Drake's Library Bar - Spacious lounge with wood floor, Asian rug, overstuffed seating, pool table. Dress code: long pants, collared shirts for men.

Willie's Ice Cream & Yogurt - Located in main pool complex.

Bar 21 - Sports and ocean-view bar inside casino.

Mino's - Casual bar located on Palomino Island.

Lobby Bar - Cocktails, pool table, piano music.

World class casino gambling, all-night dancing in the Casablanca Disco,
---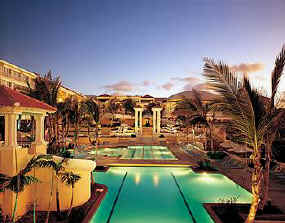 At Wyndham El Conquistador Resort & Golden Door Spa guests can choose between four unique resort environments ranging in design theme from Spanish colonial, to Moorish, to Mediterranean.

This resort features its own 100 acre private island where guests will enjoy exclusive use of the beach and watersport facilities. It also offers the 26,000 sq ft Golden Door Spa, and La Marina Village featuring boutique shops, music & art displays.
A destination resort with every facility imaginable for family and romantic vacations, El Conquistador features myriad activities, restaurants, pools, and panoramic views of the convergence of the Atlantic Ocean (to the north) and the Caribbean Sea (to the south). Glass elevators take guests from The Grand Hotel down to an oceanfront shopping promenade, where they use self-serve funiculars to reach Las Olas Village and La Marina Village.
Amenity highlights: Palomino Island is the resort's private island, just a 12-minute shuttle-boat ride from the resort's marina. It includes beaches, water sports, horseback riding, snorkeling, hiking trails, a restaurant, a bar, a gift/beachwear shop, and a children's center. The main pool complex terraces down the hillside below The Grand Hotel, offering sundecks and cushioned lounge chairs; a large pool with toddlers' section and swim-up bar; a 10-person spa secluded by hedges; an activity pool with 35-foot waterslide; a 25-meter lap pool; a toddler's pool; and private cabanas separated by raised gardens. Other guest-accommodation areas—Las Olas Village, La Marina Village, and Las Casitas Village—have their own pools.

Insider tip: Palomino Island includes secluded nude beaches accessible by hiking trails leading from the main beach over the island's hills.
---
An offshoot of the renowned Golden Door in Escondito, California, the 26,000-square-foot, three-floor Golden Door Spa includes men's and women's sections with saunas, steam rooms, and eight-person skylighted spas. A fitness center contains cardio and weight machines, free weights, and a workout studio equipped with spinners and offering yoga, Pilates, and yo-chi classes (fees). Personal training, fitness assessment, and body-composition analysis are also available. Spa guides lead power walks around the grounds and aerobics in the main pool. The spa includes a juice bar/café serving healthful spa cuisine.
Swimming pool - outdoor
Swim-up bar
Spa services on site
Complimentary newspapers in lobby
Bar/lounge
Room service (limited hours)
Limo or Town Car service available
On-site car rental
Conference room(s)
Cell phone rental
Safe-deposit box - front desk
Express check-in/check-out
Security guard
24-hour front desk
Currency exchange
Gift shops or newsstand
Hair salon
Babysitting or child care
Pool table
Garden
Suitable for children
Supervised child care/activities
Casino

Poolside bar
Swimming pool - children's
Concierge services
Fitness equipment
Restaurant(s) in hotel
Nightclub
Parking (valet)
Parking (surcharge)
Business center
Internet access in public areas - surcharge
Porter/bellhop
Doorman/doorwoman
Multilingual staff
Medical assistance available
Tour assistance
Shopping on site
ATM/banking
Dry cleaning service
Arcade/game room
Air-conditioned public areas
Caters to families
Wheelchair accessible

---
[ Previous Page ]

You can reach our office at 402-390-0909 or 800-356-8985