Don't Let this ship Sale Without You!

Settle in for fifteen days of exciting sailing across the sea when you reserve your cabin on the Royal Caribbean Vision of the Seas from Los Angeles to San Juan.
Stopping at once-in-a-lifetime cities such as Kralendijk, Puntarenas, and Puerto Quetzal makes this sailing noteworthy. This route is a special one for the Vision of the Seas. In fact, it sails it just once.
We include all entertainment, meals, port fees, and taxes in the price, so there are no surprises at checkout. With a cost of less than $90 a day, this value is very strong. Book quickly, because the price of this sailing is rising! Reserve your cabin before the price increases.

The Panama Canal Locks
Royal Caribbean
15 Day Panama Canal Cruise
(14 Nights Onboard)
Visions of the Seas Cruise Ship



$1999.00 ~ Per Person
Oceanview Cabin



$2469.00 ~ Per Person
Balcony Cabin
Includes
Roundtrip Airfare
All Onboard Meals
Onboard Entertainment & More!
Tax $149.00*

Departs Los Angeles
December 1st, 2019

Ports of Call:
Cabo San Lucas, Mexico
Puerto Vallarta, Mexico - Puerto Quetzal, Guatemala
Puntarenas, Costa Rica - Panama Canal, Panama
- Cartagena, Colombia - Kralendijk, Bonaire
San Juan, Puerto Rico
*Priced per person
Premium Alcohol Package Available - Additional $
(Check with our Vacation Planners for the details)
If you like to cruise in comfort and luxury, you'll find Jewel of the Seas hard to beat. One of Royal Caribbean's newest Radiance Class cruise ships, she offers tons of personal space, panoramic views, world-class facilities and a crew dedicated to meeting your every whim.
Jewel of the Seas has an innovative super-yacht design. Her abundance of glass gives this cruise ship an incredibly light and airy feel, as well as stunning sea views wherever you are onboard. Her plush public rooms have elegant furnishings and fabrics and are decorated with fabulous contemporary art and sculptur. Add to this a great range of formal and informal eateries, luxury solarium and spa, plus fully supervised activities for the kids and you have all the ingredients for a fabulous cruise.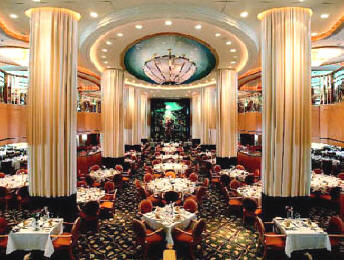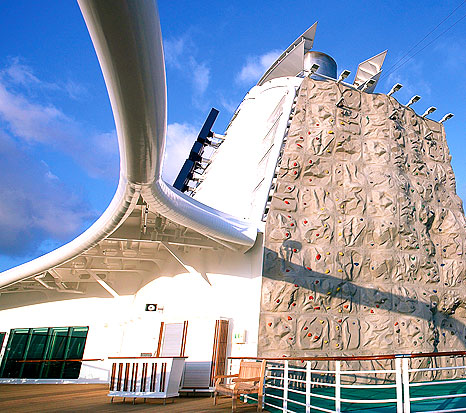 During the day you have plenty of places to relax, including a solarium, spa and colonial style bar with self-leveling pool tables. In the evenings, you may want a smart suit or tux for the odd formal night, but you'll also find a great choice of smart-casual and casual dining options available. Jewel of the Seas is the perfect place to kick back after busy days ashore. If you're cruising with the family there's plenty to do together, but the kids will also be thoroughly entertained by the fully supervised Adventure Ocean® Youth Programme or Optix Teen Center.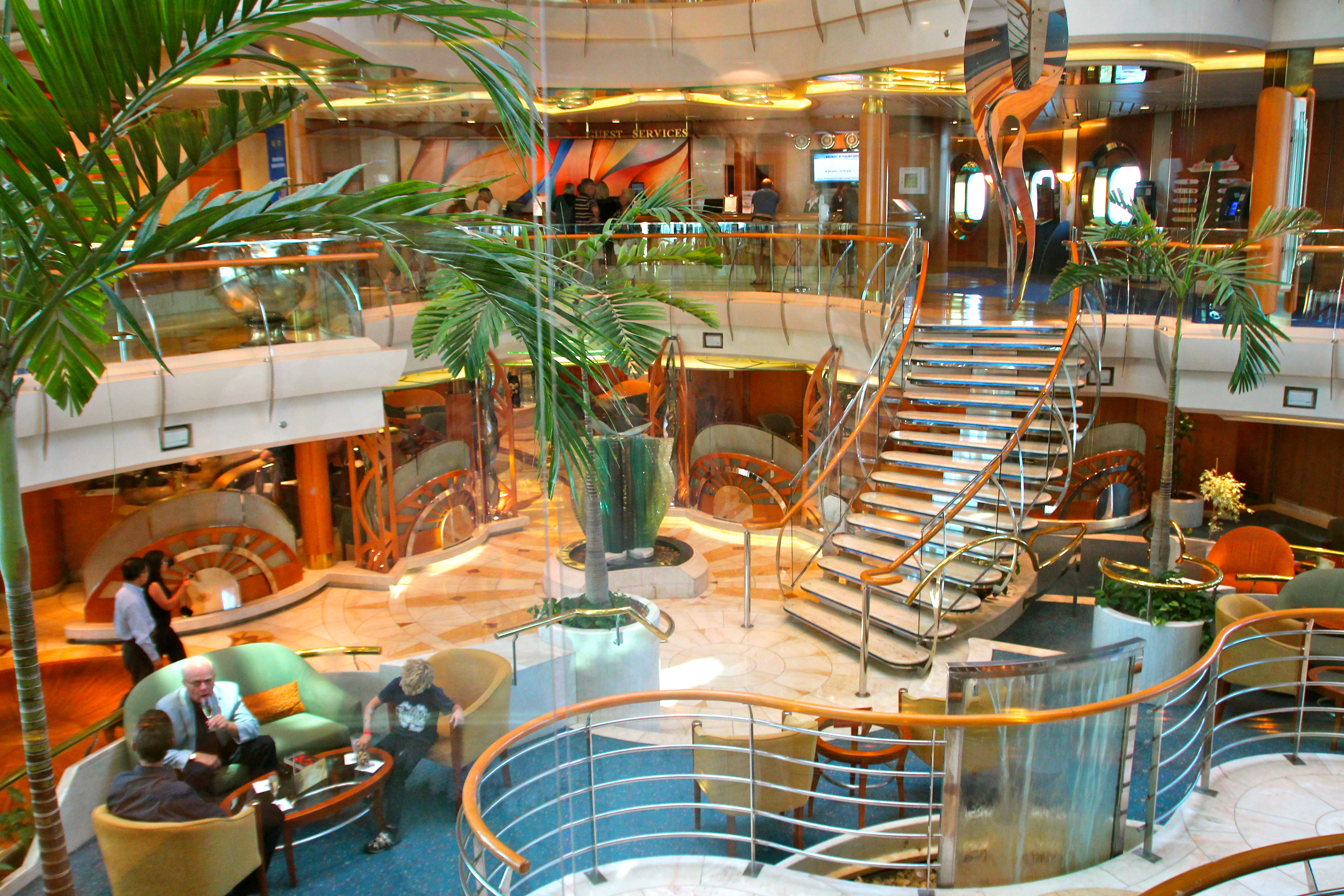 Meanwhile, you won't find it hard to enjoy a little 'me time' with so many first-rate facilities to choose from, including: Internet café, Sundeck and solarium with retractable glass roof, ShipShape® Spa and Fitness Centre, Putting green, Indoor/outdoor country club with golf simulator, Colony Club with self-levelling pool tables, rock-climbing wall, Basketball and volleyball courts.
Put on your Poker face at Casino RoyaleSM and you may just win the jackpot or, for a great evening of family entertainment, don't miss out on the West End style productions and variety acts at your cruise ship's fabulous theater.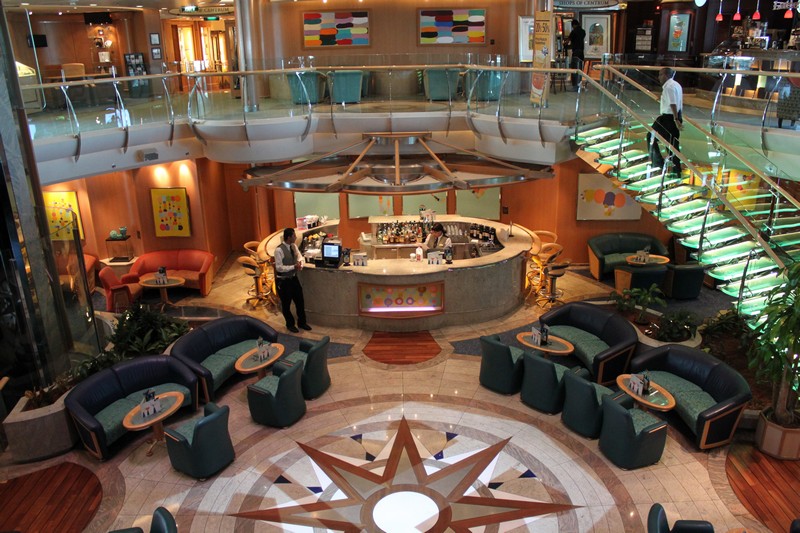 Your evening cruise entertainment, The bars and lounges on Jewel of the Seas are a great place to gather with family and friends as your evening entertainment begins. Break open a bottle of bubbly, enjoy pre-dinner cocktails and piano music or relax in the special ambiance of the Schooner Bar. After dinner, you'll find plenty more live music playing around your cruise ship and you might just feel the need to get up on the dance floor! If you prefer to disco on down, head for the nightclub where you can bop until the early hours.
Dining on Jewel of the Seas....If you enjoy formal, fine dining then you can indulge yourself with five fabulous courses in your cruise ship's elegant main restaurant. For an intimate atmosphere and authentic Italian fare, head for Portofino, while Chops Grill has a Continental feel and is the place for succulent steaks. The Seaview Café is a much more casual affair where you can feast on fabulous dishes, served buffet style while enjoying superb ocean views.


Click Me to go to the top

---