Jamaica
Travel Guide and Secure Online Reservations
---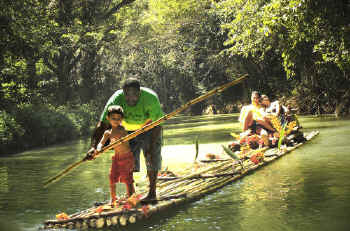 Come to Jamaica, where everything's "Irie". From the convenience and vitality of Montego Bay, to the natural beauty of Ocho Rios, and the laid-back atmosphere of Negril, the island of Jamaica possesses a personality and charm that keeps vacationers coming back for more! Accommodations run the gamut, from quaint and charming inns to deluxe and luxurious resorts. Pioneers of the all-inclusive concept, you won't find another island that does it better than Jamaica!
---
Major Resort Areas
Not Sure what area?
What is there to do in Jamaica you ask??

---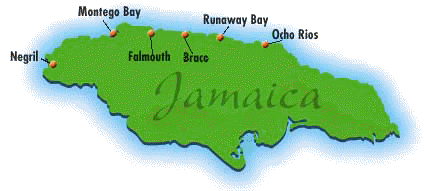 Jamaica Information
Jamaica is located in Eastern Standard Time and does not observe daylight savings time (therefore it is one hour earlier there during the summer)

Documentation: US Citizens - A valid passport (no visa required) is required for everyone.

Donald Sangster International Airport in Montego Bay is the desired and most efficient point of entry for travelers heading to Montego Bay, Ocho Rios, Runaway Bay or Negril. Kingston's Norman Manley International Airport is best for travelers to Kingston or Point Antonio.

The drinking age in Jamaica is 18.

Gambling - There are no casinos in Jamaica. The only legal betting is on the horse racing at the Caymanas Race Track in Kingston.

Electricity - The electrical outlets run the same current as North America (110 volts) and take two flat prongs. Adapters will be needed for three pronged appliances.

ATMs - Many of the major banks in Jamaica, including Scotia Bank and National Commercial Bank are a part of the Cirrus system, so participating cards will work on their of machines across the country. Jamaican dollars are the official currency, but US dollars are widely accepted. The rate of exchange is approximately $45 Jamaican to $1 US.

At 4,411 square miles, Jamaica is roughly the size of Connecticut.

Jamaica has more flowering species than any other country in the Western Hemisphere.

The official language is English with a mix of Jamaica's own dialect known as "Patois" a blend of English, French, Spanish and African.

Average annual temperature is 82 degrees. Northeast tradewinds and mountain breezes keep the temperature pleasant along the coast. Its always a good time to go to Jamaica, depending on what your interests are. There is little temperature variation on the island throughout the year, so weather is not a big factor.

Jamaica is the birthplace of Bellefonte's vintage calypso and Bob Marley's reggae music, not to mention Red Stripe beer. Bring home some of Jamaica's other specialties duty-free, including Blue Mountain coffee, premium Jamaican rums and Tia Maria liquor.

Jamaica is home to many music festivals including the celebrated Reggae Sunfest, the Jazz and Blues Festival and the Ocho Rios Jazz Festival. From music and dance to theatre, film and the fine arts; whether you're looking to retrace roots or just take in something new and different, you'll find more to learn about and lots more to love in Jamaica, long considered the cultural capital of the Caribbean.of the Caribbean.
---
[ Previous Page ]

You can reach our office at 402-390-0909 or 800-356-8985