Hawaiian Islands
Travel Guide and Secure Online Reservations
---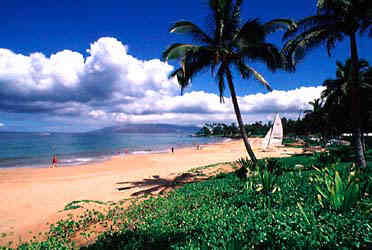 A magnificent royal blue sky mixes with a rainbow-colored tropical garden ... Pacific waves roll onto an endless white sand beach. World-class resorts pamper your every wish ... This is truly America's Paradise ... the breathtaking Hawaiian Islands. With our value-added programs like "See It All ... Do It All!" and "Hawaii Deluxe", Hawaii is closer than you think. Experience the true spirit of "Aloha" in Hawaii with the Vacation Superstore/eTravelOmaha.com, Omaha's Favorite Vacation Company!

---
Hawaii Activities
Instant access to the largest selection of the best Hawaii tours and activities, Hawaii tourist attractions, sight- seeing tours, and unique Hawaiian adventures. There are so many wonderful things to do in Hawaii and we've gathered the best Hawaii tour operators in one convenient place - begin your search now!
---
Islands of Hawaii
---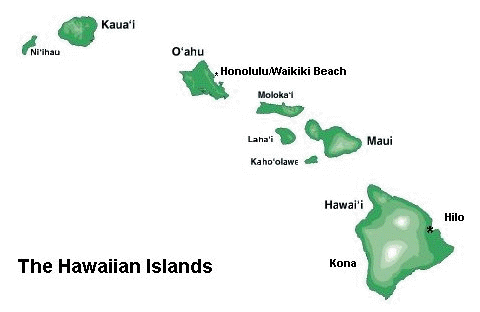 Hawaiian Island Information
With its majestic volcanoes and palm-fringed beaches, Hawaii holds some of the most superb scenery on earth. Firmly established among the world's greatest vacation playgrounds, it combines top-quality hotels and restaurants with almost unlimited opportunities not only for sheer self-indulgence, but also for activities such as surfing, diving, golf and hiking. Visiting Hawaii does not, however, have to be expensive; budget facilities on all the islands are listed throughout this guide, together with advice on making the most of your money.

Despite the crowds, the islands have not been ruined by tourism. Resort development is concentrated into surprisingly small regions - Waikiki is the classic example, holding half the state's hotel rooms in just two square miles - and it's always possible to venture off into pristine wilderness, or to camp on the seashore or mountainside.

The islands of Hawaii poke from the Pacific more than two thousand miles off the west coast of America. In total, there are well over a hundred of them, the weather-beaten summits of a chain of submarine volcanoes that stretches almost to Japan. Most, however, are no more than tiny atolls. Only the seven largest, lying south of the Tropic of Cancer at the southeast end of the archipelago, are inhabited, and only six welcome visitors. Those are Oahu (the site of the state capital Honolulu and its resort annex of Waikiki), Hawaii itself (more commonly known as the Big Island in a vain attempt to avoid confusion), Maui, and Kauai.
---
[ Previous Page ]

You can reach our office at 402-390-0909 or 800-356-8985