St. Lucia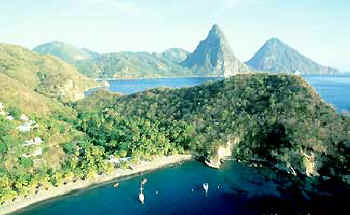 Often referred to as one of the Caribbean's best-kept secrets, St. Lucia is situated with the Caribbean Sea on one side, and the Atlantic Ocean on the other. Which is the key to the island's chief attractions -- anything to do with water.

Welcome to a paradise for sailers, parasailers, windsurfers, snorkelers and scuba divers, and anglers who come from all over the world in pursuit of the elusive, and
rare, white marlin.

Here, along a coastline where rain forest meets beach, you'll find natural harbors
and bays that help create some of the best dive sites in the Caribbean. The island's interior is stunning, with mountains and valleys criss-crossed by streams and water-
falls. It's easy to explore by hiking or horseback.

A member of the British Commonwealth since 1814, St. Lucia is a mix of people of African, European and East Indian descent. Every Friday night rocks to the rhythm
of zouk, reggae, ska and calypso ... and you're invited, as these islanders love sharing the beauty and culture of their island with visitors.
---
What is there to do in St. Lucia you ask?? Find out now!



---
Vacation Superstore Resort Recommendations
(We have many others available, these are the most popular)
---
[ Previous Page ]

You can reach our office at 402-390-0909 or 800-356-8985