Costa Rica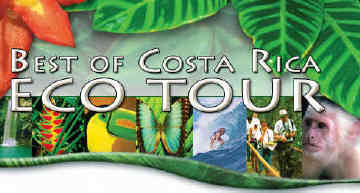 Man Cannot Live by Beach Alone
Beaches...over 735 miles of glistening sandy beach outline lush rainforest where orchids boom, toucans primp their feathers and troops of howler monkeys prance from branch to branch. A climate which guarantees perfect sunny days and temperatures of 81 average. Costa Rica is also known as " Little Switzerland" and was awarded the Nobel Peace Prize. Exotic ferns, flowers, butterflies and over 800 species of birds, plus sparkling waterfalls, thermal springs and majestic volcanoes are on the menu for the best vacation yet.

Gambling is allowed in Costa Rica, and many hotels offer small gaming rooms (there aren't many Las Vegas-style Casinos in Costa Rica). Costa Rica is a small mountainous country on the narrow Central American isthmus. Guanacaste is located on the northwestern coast of Costa Rica.
---
What is there to do in Costa Rica / Belize you ask?? Find out now!
---
Vacation Superstore Resort Recommendations
(We have many others available, these are the most popular)
---
[ Previous Page ]

You can reach our office at 402-390-0909 or 800-356-8985