Cancun Mexico


Xcaret Park


Chichen Itza


Cancun City Tour


Tour of Cancun's Hot Spots!


Tour of Cancun
Cancun and the Costa Maya, on the Caribbean side of Mexico's Yucatan Peninsula, is a modern playground with spectacular resorts.

A fishing village of 120 people as recently as 1970, CANCUN is now a city with a resident population of half a million and receives almost two million visitors a year. Cancun is marginally closer to Miami than it is to Mexico City, and if you come on an all-inclusive package tour the place has a lot to offer: striking modern hotels on white-sand beaches; high-class entertainment including parachuting, jet-skiing, scuba-diving and golf; a hectic nightlife; and from here much of the rest of the Yucatan is easily accessible.

There are, in effect, two quite separate parts to Cancun: the zone commercial downtown - the shopping and residential center which, as it gets older, is becoming genuinely earthy - and the hotel zone, a string of hotels and tourist amenities around "Cancun Island", actually a narrow strip of sandy land connected to the mainland at each end by causeways. It encloses a huge lagoon, so there's water on both sides.
---
What is there to do in Cancun you ask?? Find out now!
Getting Married In Mexico?
---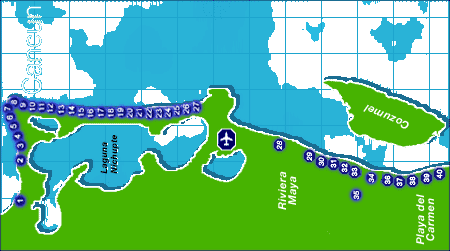 For an interactive map that shows ALL Cancun Hotels
CLICK HERE
---
Vacation Superstore Resort Recommendations
(We have many other Hotels available, these are our most popular)
Ratings

Resort

All-Inclusive

Map

Riu Palace Las Americas

Yes

5

Fiesta Americana Condesa

Fiesta Americana Coral Beach

No

7

JW Marriott Cancun Resort

No

19

Sun Palace

Yes

25

Cancun Palace

Yes

20

Riu Cancun

Yes

6

Gran Melia Cancun

Either

21

Hyatt Cancun Caribe

No

12

Krystal

Either

8

Crown Paradise

Yes

24

tr>

Westin

Either

27

Grand Oasis

Yes

23

Barcelo Tucan Cun Beach

Yes

19

Flamingo Cancun

Yes

11

Oasis Playa

Yes

25

Oasis Cancun

Yes

22

Solymar

Either

26

We have many more to choose from, give us a call.
---
[ Previous Page ]

You can reach our office at 402-390-0909 or 800-356-8985