Acapulco Mexico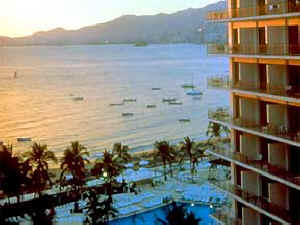 ---
The fun never stops in Acapulco, where you can literally dance the night away.

Acapulco's beautiful natural bay is the focal point of much of the activity in this world-class resort area, but there is much to see and do throughout the city.

There are a variety of golden and white sand beaches, each with its own unique character and appeal. You can enjoy everything from sun-bathing to sport fishing to parasailing to catamaran cruises to snorkeling to windsurfing.

A visit to this tropical playground should include a stop at world famous La Quebrada, where divers plunge 136 feet off of the rugged cliffs into a perilous, narrow cove.

Take a fascinating trip to San Diego Fort, which was built in 1617 to defend the port city from pirates. The Fort now houses the Acapulco Historical Museum.

Enjoy golf, tennis, horseback riding, bullfights, and, of course, shopping in many plazas throughout Acapulco. And, when it comes to eating, you'll find cafes and restaurants throughout the area to meet any taste.

Acapulco is a vibrant resort that also provides tranquility to those who desire a slower pace.
---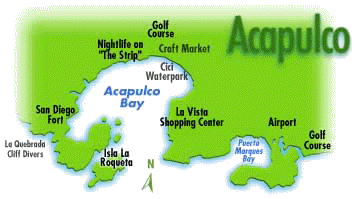 ---
Vacation Superstore Resort Recommendations
(We have many others available, these are the most popular)
---
[ Previous Page ]

You can reach our office at 402-390-0909 or 800-356-8985