Located on the Mayan Riviera, 40 minutes from Cancun's International Airport and just 5 minutes from Playa del Carmen. This unique environmental friendly 24 hours All Inclusive Beach Resort features seventy eight 3-storey buildings with a total of 996 rooms and lies in an extensive natural area at the edge of an exotic jungle surrounded by mangroves and natural lagoons.
---
Rooms offer 2 double or one King size bed. Most feature balcony (garden, pool or jungle view). Ceiling fan, central air conditioning, clock radio with alarm, in-room safe, telephone and minibar. Satellite color TV. Private bathroom with shower and hairdryer.
---
In the 3 main restaurants, reservations are required. These offer ala carte dining and should not be missed!

Enjoy their spectacular shows every night: comedy, dances, music and much more on the theater's stage. The hotel features a new program every week to please all the audiences we are certain that you will love all of them!
6 Restaurants are available on the All-Inclusive Package

*Two buffet restaurants serving breakfast, lunch and dinner.
*Two snack bars-snacks available 24 hours
*Italian Restaurant buffet style
*Grill Steakhouse-A la carte
*Mediterranean Restaurant-A la carte
*Oriental Restaurant-A la carte

9 Lounges/Bars are included!!

*Lobby bar with terrace
*Lounge bar with terrace
*Cafeteria bar with terrace
*Bar Plaza
*Sports Bar
*Beach Bar
*Swim up bar
*2 pool bars

The AI program consists of breakfast (07:00–10:30), lunch (12:30–15:00) and dinner (18:30-22:00), all buffet style (international cuisine), served in the La Laguna main restaurant. Also at the disposal of the AI guests is the El Bandito with international & Mexican buffet (Br: 08:00-10:30, L: 12:30-15:00, D: 18:30-22:00), the Italian buffet restaurant (D: 18:30-22:00) and three A la Carte restaurants for dinner (18:30-20:00 & 20:00-21:30); La Riviera (Mediterranean specialties with salad & dessert bar), El Gaucho (grill-steakhouse with salad & dessert bar), Oriental (Oriental cuisine). During meals water, soda, beer, cocktails, wine, coffee and milk are offered. Snacks such as hot dogs, sandwiches, pizza, pasta and French fries are available at the beach snack (12:00–17:00), the pool snack (12:00–22:30) and at the La Plaza bar (22:30–07:00). Alcoholic & non-alcoholic drinks like water, orange juice, whiskey, brandy, soda, mineral water, coffee and milk are served at hotel's restaurants (during meals) and at the nine hotel bars on a 24 hour basis.
---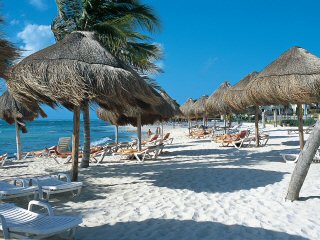 Playa del Carmen- The Sandos Caracol Beach Resort & Spa is situated along a beautiful white sandy beach. This fabulous resort was constructed in an extensive area close to an exotic jungle, immersed in unique vegetation, mangrove lagoons and nature lakes. Here you will discover all of the beauty which the Mexican Caribbean has to offer.
Set on a secluded pristine Caribbean beach, the hotel is a 40 minute drive from Cancun's International Airport. It is set on the outskirts of Playa del Carmen and only a short cab ride to the shopping, dining, beach bars, and the ferry. The resort is situated along one of the most unspoiled beaches on the Yucatan Peninsula.

The casual, Mexican-Caribbean resort attracts families and couples seeking a comfortable base from which to explore Playa del Carmen, Cozumel, and the Riviera Maya. Playa del Carmen's 5th Avenue, a mile-long promenade of shops and restaurants.
All Inclusive Sports & Entertainment

Sport facilities at the hotel include day & night tennis, tennis equipment (balls & rackets), gym (free use of exercise equipment, sauna, steam room and whirlpool), daily activities programme with archery, darts, boccia, table tennis, dancing courses, billiards, football, basketball, aerobics and beach activities as well as pool games & water aerobics, water polo, beach volley ball & water volley ball. Windsurfing, pedaloes, kayaking, sailing, boogie board and snorkel gear & diving lessons in the pool are also included (according to ocean conditions). Also available are guided walking tours, language lessons, kids club for children aged 4-8 & 9-12 with supervised full activities program (09:30-13:00 & 15:00-17:00), children's pool, playground, games & crafts, mini disco and night entertainment with cabaret shows, music halls and theme nights.
---

You will love this beach resort! For the price, it can't be beat!
The hotel's staff speaks fluent English. The hotel purifies its water.
Swimming pool - outdoor

Swim-up bar

Massage - treatment rooms

Pool table on site

Restaurants in hotel

Parking (free)

Meeting rooms (small groups)

Conference rooms

Business services

Internet access in public areas

Porter/bellhop

Safe-deposit box - front desk

Number of rooms: 185

Tour assistance

Water Sports on Site

Fishing: Additional Charge

Sunfish Sailing: Additional Charge

Scuba: Additional Charge

Snorkeling: Complimentary

Hobie Cats: Additional Charge

Paddle Boats: Additional Charge

Motorboats: Additional Charge

JetSki / Waverunner: Additional Charge

Waterskiing: Additional Charge

Wind Surf: Complimentary







Health Club / Spa

Aerobics: Additional Charge

Jacuzzi: Complimentary

Massage: Additional Charge

Nautilus Equipment:Additional


Sauna: Complimentary

Spa: Additional Charge

Steam Room: Complimentary

Manicure /Pedicure:Addition'l

Facials: $$ Addition'l

---
[ Previous Page ]

You can reach our office at 402-390-0909 or 800-356-8985