The inviting 100% newly remodeled Outrigger Reef is ideally located on Waikiki Beach, conveniently near Fort De Russy Park and lively Lewers Street. Spend long sunny days enjoying a variety of watersports activities, then browse through the many specialty shops in the hotel. Waikiki's top dining and entertainment facilities are near by.
---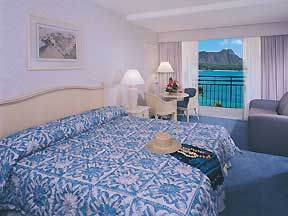 Three-tower beachfront hotel provides 885 rooms with light-colored island-style furniture and tropical colors. All rooms are air conditioned and feature video game consoles and refrigerators.

* Air conditioning
* Cable/satellite TV
* Pay movies
* Internet access - dial-up
* Coffee/tea maker
* Iron/ironing board
* Clock radio
* Hypo-allergenic bedding available



* Non-smoking rooms
* Video-game console
* Voice mail
* Refrigerator
* Hair dryer
* In-room safe
* Wheelchair accessible
---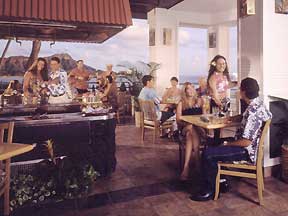 Ocean House - This oceanfront dinner-only restaurant resembles a gracious plantation house. The interior is all wood painted gray and white, and furniture is dark wood. The menu features Hawaiian-accented food, including prime rib slow-roasted in Hawaiian salt.
Bali by the Sea - Open at the front for a romantic beach/ocean view, this lovely restaurant blends soft greens, recessed lighting, and tropical plants into a soothing backdrop for island-inspired Pacific Rim cuisine and an award-winning wine list. Look for preparations such as roast rack of sonoma or sautéed opakapaka.

Shorebird Beach Restaurant & Beach Bar - Situated along the beach and offering a view of Diamond Head, this open-air place serves a bountiful buffet breakfast, lunch, and "broil-your-own" choices at dinner. The bar jumps at night with live entertainment.

Chief's Hut - Breakfast, lunch, and dinner are served in this open-air restaurant near the gentle burbling of the hotel's large water garden.

Pool Terrace Bar - A big-screen television is turned to the Big Game at this spot adjacent to the pool, while drinks and snacks are served.

Aloha Lobby Lounge - This is where people gather in the evenings for a tropical drink and Hawaiian entertainment, while the waterscape adds soft background sounds.
Hawaiian entertainment in the lobby bar across from the registration desk.
---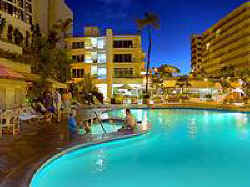 Outrigger Reef on the Beach is one of only seven deluxe hotels located on Waikiki Beach, offering a tropical, open-air Hawaiian atmosphere. Each air-conditioned room has a coffee maker, iron and ironing board, room safe and refrigerator.
This resort features a wonderful open-air lobby, a beachfront restaurant and bar, 24-hour fitness center, a shopping arcade, and nightly entertainment. And the Serenity Spa offers a full array of modern day Spa services to pamper, relax and rejuvenate.

An air of good cheer and utter casualness prevails, as families and adults seeking to make the most of their Hawaiian vacations mingle happily with one another and the ultra-friendly staff. None of the resort's many facilities and services goes unused, including the two adults-only spas, where contentment seems contagious. From three dining locations, Hawaiian music floats over the property nightly.

Amenity highlights: One step from the hotel and guests' toes land in Waikiki Beach's light-colored sand. If that doesn't suit, there's the large kidney-shaped pool, the huge flagstone sundeck, the large family spa, two adults-only spas, and a poolside bar. Just off the sundeck, the full-service, 4,500-square-foot Serenity Spa specializes in exotic Hawaiian treatments. A waterscape sends water burbling over lava rock and through a lush tropical garden, soothing by sight and sound.

Insider tip: All OHANA and Outrigger hotels in Waikiki offer interchangeable hospitality. Guests at any hotel are invited to enjoy dining, entertainment, and facilities at the other hotels while charging to their rooms. Exceptions are that the pool at The Outrigger Waikiki on the Beach is reserved for that hotel's guests and that the fitness center at this hotel is reserved for hotel guests and for Outrigger Waikiki Shore guests.
---
The Outrigger Reef on the Beach is a three-tower, full-service resort. Broad corridors lined by shops branch off the large, airy lobby. Car-rental and tour desks assist guests planning visits around Oahu. Hawaiian history and culture are recognized throughout the hotel. Sepia-toned historical photographs grace public spaces, and a cabinet in the lobby exhibits bowls carved of various woods in the traditional Hawaiian manner.

Cowabunga Kids Club – Available for children ages 5–13, this daily activity program is open for all guests who make advance reservations with the hotel. Daily fee for half- or full-day program includes T-shirt, lunch, snacks, entry fees, and transportation costs. The half-day program runs from early morning until after lunch and is $30–35 per child. The full-day program runs until early evening and is $45–50 per child. Fees and schedule subject to change without advance notification. Please contact the hotel directly for additional details.
* Swimming pool - outdoor
* Health club
* Poolside bar
* Supervised child care/activities
* Business services
* Concierge services
* Parking (valet)
* Babysitting or child care
* Multilingual staff
* Garden
* Gift shops or newsstand
* Suitable for children
* Coffee shop or café

* Spa tub
* Spa services on site
* Tour assistance
* Conference room(s)
* Room service (limited hours)
* Hair salon
* On-site car rental
* Laundry service
* Complimentary newspapers in lobby
* ATM/banking
* Shopping on site
* Bar/lounge
* Number of rooms: 885

---
[ Previous Page ]

You can reach our office at 402-390-0909 or 800-356-8985