More than just a resort, Moon Palace Golf Resort and Spa is a self-contained village populated by several thousand guests and staff, containing extraordinary recreational facilities, offering endless activities, and pampering guests with warm Mexican hospitality. Families visit for fun, couples for romance.
---
Superior Deluxe - Each elegantly appointed guestroom features a private balcony, minibar, security safe, direct-dial telephone, TV, and hair dryer. Partial ocean view or garden view. Bathroom has marble walk-in shower and Jacuzzi whirlpool tub for two facing the Caribbean
---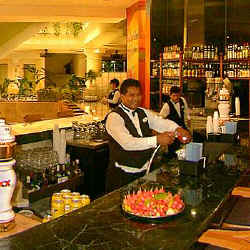 Palapa Barracuda
Seafood Restaurant serving lunch and dinner. There is a semi-formal dress code at dinner.
Bugambillas
A buffet restaurant located in the main building serving breakfast, lunch and dinner.

Café Manglar
An Italian restaurant serving a buffet breakfast, lunch and dinner, with Night Owl snack service.

La Gondola
An indoor restaurant serving a breakfast and lunch buffet, and Italian and International cuisine for dinner.

Los Arrecifes
A indoor restaurant located poolside serving a Mexican breakfast buffet, an International lunch buffet, and a Seafood dinner buffet.

Los Caporales
An a la carte dinner restaurant serving Mexican cuisine. There is a semi-formal dress code at dinner.

Mo Mo No Hana/Peach Blossom
An a la carte dinner restaurant serving Oriental Cuisine. There is a semi-formal dress code at dinner.

Palapa Delfines
A Mexican taco bar.

Palapa Norte Fragata
Located by the pool, serving buffet snack service and dinner.

Palapa Pelicanos
A Grill and Barbecue restaurant serving a barbecue dinner with live music, plus snacks, soft drinks, juice, beer, and cocktails.
Evening Theme Parties (Latin Show, Hollywood Show, Hollywood Show, Tropical Show, Mexican Show, Cats, Moon Vision Show, Beach Party)
---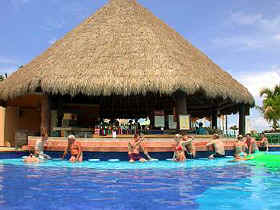 Resort amenities include 6 restaurants, 8 bars (availability based on plan purchased), room service (EP plan only), nightly entertainment Up & Down Disco (Thursday only), two lighted tennis courts and a network of swimming pools with swim-up bars.
Lagoon-style pools in each section are among the largest in all Latin America. Each runs more than 650 feet along the Caribbean shore and includes cool-water spas, swim-up bars, and children's sections. Lounge chairs, thatched-roof palapas, and palm trees surround each pool—and there are more lounges and palapas on the long, deep beach. Snorkeling enthusiasts can book excursions to the immense reef offshore.

Insider tip: As part of the All-Inclusive Plan, guests are entitled to use pools and beaches and dine and drink in restaurants and bars at all six Palace Resorts and the Riviera Maya. Transportation is complimentary to the Beach Palace.

The luxurious Moon Palace is located 5 miles south of the airport on Cancun's tranquil south shore, amidst 55 acres of lush tropical foliage. Spend an unforgettable vacation enjoying the secluded, natural beauty of Mexico. Take an excursion to the nearby Mayan ruins for an afternoon of exploration, relax within the sparkling waters of the massive pool area, or participate in any of Moon Palace's vast array of recreational activities. Swimming, dancing, cycling, watersports and a host of other delightful options await your pleasure. And since your vacation is All-Inclusive, your time is as carefree as a childhood dream. Stay at one and enjoy all Palace Resorts! (Complimentary scheduled transportation to Cancun hotel zone three times per day.
The Moon Palace features the largest swimming pool in Cancun, an indoor pool w/Jacuzzi, an amphitheatre, an exciting selection of nightly theme shows, 10 delicious restaurants, and 7 bars serving domestic and imported beverages.

Moon Palace is on a 55 acre plot of land only 10 minutes from Cancun International Airport and 15 minutes from Cancun Island. This secluded resort complex is on Cancun's south shore, between mangroves and a pristine beach. The Moon Palace is nestled along a stretch of beach surrounded by beautiful coral. Perfect for snorkeling.

This vast resort covers 123 acres, includes some 2,000 rooms located in 16 three-story buildings, and is divided into two sections—north (Sunrise) and south (Punta Nizuc)—that nearly mirror one another in terms of size, pools, restaurants, and other facilities. Each section has its own fitness center with saunas and steam rooms. The south section contains a children's activities center. The north section contains a business center with Internet access. Disco dancing occurs nightly in the Andromeda nightclub in the north section. Like all major Cancun hotels, the Moon Palace Golf Resort is equipped with a water-purification system.
---
* All Meals / Theme Parties / Snacks
* Unlimited Drinks
* Ten Restaurants
* Seven Indoor / Outdoor Bars & Lounges
* Evening Entertainment
* Two Discos / Nightly Shows
* Two Outdoor Pools / Two Indoor Pools / Two Swim-up Bars / Jacuzzi
* Six Lighted Tennis Courts
* Non-Motorized Watersports

* Scuba Diving / Scuba Lessons (one scuba diving lesson per stay)
* Daily Activities Program / Game Room
* Basketball / Rollerblades / Bicycles
* Two State of The Art Fitness Centers / Sauna / Steam Bath
* Spa
* Children's Activities / Playground
* Satellite Color TV In All Rooms

---
[ Previous Page ]

You can reach our office at 402-390-0909 or 800-356-8985