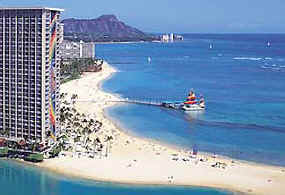 Situated on twenty acres of palm- lined beachfront, Waikiki's only self- contained resort has four luxury towers with every room beautifully appointed. You'll enjoy over 100 specialty shops, award- winning dining, international shows, three pools, a private lagoon and the largest beach in Waikiki. There is no need to leave this village.
---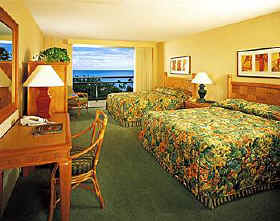 Massive 22-acre self-contained resort provides 2,545 rooms in four towers. Tropical-flavored furnishings in spacious, air-conditioned rooms. All rooms have balconies with garden or ocean views.

Alii Village/Garden View - One king or two double beds. Balcony with views of blooming gardens. Largest rooms, at 450 square feet, are located in Village's exclusive Ali'i Tower. Access to private pool, sundeck, fitness center, and concierge. Tropical-flavored furnishings. Maid service three times daily, designer robes, three telephones, fax machine, compact refrigerator, refreshment center. Fruit and flowers upon arrival.

Alii Ocean View - The Alibi Tower is virtually a resort within a resort, with personalized amenities and services. Rooms have European-design dressing areas, bathrobes, two TVs, three phones, ocean views. Housekeeping three times daily, including turndown service. Weekday newspapers. Fax machine. Deluxe refreshment center. Linen hamper. Guests receive complimentary hors d'oeuvres nightly on the Tower's Oceanview Terrace. Other social amenities include concierge services, private pool, sun terrace, and spa tub, complimentary tropical fruit, use of private fitness center with massage services.

Rainbow Tower - Deluxe Ocean Front - The Rainbow Tower is located right on Waikiki Beach, steps away from the Super Pool. Ocean views and tropical-inspired decor. Marble-top desk, wooden armoire with intricately carved leaf motifs, refreshment center, and colorful bedspreads. Dual-line speakerphones with voice mail, high-speed Internet access, refrigerator, work desk with lamp. Spacious bathrooms with marble vanities.

Kalia Mountain View - The newest resort tower in Waikiki, the Kalia features a dramatic lobby with 45-foot-high ceiling, extraordinary Hawaiian artwork, and an indoor-outdoor cafe serving Hawaiian coffee drinks, casual meals, and cocktails. Rooms have mountain views, work desks, dual-line speaker phones with voice mail, TVs with LodgeNet high-speed Internet access and wireless keyboards, on-demand movies, and Nintendo games.

Ocean View - One king or two double beds. Balcony with broad view of Pacific. Tropical-flavored furnishings. Desk and chairs, compact refrigerator, video game console, in-room safe.

Kalia Ocean View - One king or two double beds. Located in the Kalia Tower, set back from the beach. Balcony with view of palm trees and the Pacific. Tropical-flavored furnishings. Desk and chairs, compact refrigerator, video game console, in-room safe.
---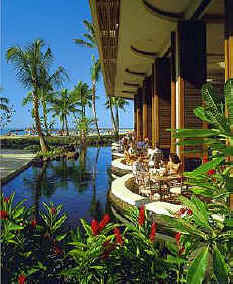 With 22 restaurants and lounges to choose from, Village guests have no trouble satisfying appetites. Social options abound, also, with barefoot bars along the beach, Hawaiian music in the Paradise lounge, and contemporary music in the lively Shell Bar.
Bali by the Sea - Open at the front for a romantic beach/ocean view, this lovely restaurant blends soft greens, recessed lighting, and tropical plants into a soothing backdrop for island-inspired Pacific Rim cuisine and an award-winning wine list. Look for preparations such as roast rack of sonoma or sautéed opakapaka.

Golden Dragon - Widely thought of as one of Hawaii's best Szechuan/Cantonese restaurants, the Golden Dragon joins Bali by the Sea on the Rainbow's Tower's second floor to provide guests with another fine dining option. Here, the beach/ocean view is supplemented by a view of the Village's lagoon along one side, and the decor features lacquered wood and fine porcelain.

The Village Steak & Seafood Restaurant - This popular spot offers menu options ranging from crab cakes, hickory-smoked baby back ribs, Hawaiian lobster alfredo, and Black Angus prime rib to sashimi and catch-of-the-day Canton-style, Thai-style, or broiled with lemon-caper butter. A lava-stone back wall, oil lamps, and light-wood pillars and beams create a casually elegant ambiance.

Tapa Café and Pasta Festival - Styled the Tapa Café for bountiful buffet breakfasts, this place becomes the family-style Pasta Festival for dinner, offering traditional Italian preparations.

Rainbow Lanai - Next to a waterfall and a koi pond, this outdoor/indoor restaurant is the place for buffet breakfasts, international-themed buffet dinners, and à la carte lunches. Sundays offer exquisite brunch with over 55 menu items.
Aloha Friday King's Jubilee & Fireworks; Torch Lighting Ceremony; Music, Song & Dance of Polynesia Show; Contemporary Entertainment.
---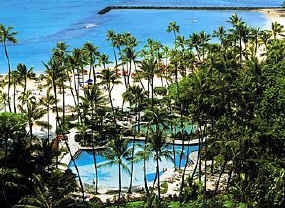 Hilton Hawaiian Village is a complete resort set on 20 acres of lush palm-shaded Waikiki beachfront. The Rainbow Tower is only steps away from Waikiki Beach, while the Tapa and Diamond Head Towers are centrally located and offer spacious guestrooms.

Property features include the incredible two-tiered 10,000-sq ft Super Pool (Waikiki's largest), eight restaurants, six lounges, full spa facilities, an exciting day and night entertainment, 90 on-site boutiques and shops, and organized kids activities
Situated on one of Waikiki's best beaches, the Hilton Hawaiian Village is conveniently located 3 miles from downtown , 20 minutes from Honolulu International Airport and less than 10 minutes walking distance from the Hawaii Convention Center. The property is situated on 20 acres of beautiful palm-lined white sand beachfront. Guests can enjoy unique beach activities, rent beach chairs, umbrellas or other beach equipment such as surfboards oraqua cycles at the Waikiki Beach Activities stand.

Giving new meaning to "Global Village," this resort draws guests from all over the world by providing a sanctuary for a vacation as energetic or relaxed as guests choose it to be. Despite the number of guestrooms and the presence of conventions, conferences, and even beauty pageants, the Village never seems crowded and the pace seldom picks up beyond a stroll—unless the five swimming pools, the vast beach, and the blue ocean are involved.

Amenity highlights: Take your pick. The 33,000-square-foot, two-floor Mandara Spa and Holistic Hawaii Preventive Medicine center with sun terrace, infinity pool, spa-cuisine indoor/outdoor cafe, full-body diagnostic scan, therapeutic treatments, exotic facials, and state-of-the-art cardio center? Over 90 shops and boutiques? The Atlantis Submarine underwater discovery voyages? The colony of tropical, black-footed penguins? The Friday night Polynesian extravaganza complete with fireworks? The lush gardens, waterfalls, and lava-rock koi pools? Waikiki's widest beach and the warm Pacific with its line of offshore surf and surfers? The options compete for guest attention.

Insider tip: The resort's South African penguins are fed twice on weekdays, 9 AM and 3 PM, at their grotto lodgings between the Alii Tower and the lobby.
---
The Village offers something for everyone. Energetic vacationers hit the beach for surfing, boogie boarding, and swimming. Romantic couples stroll beach and gardens under starlight. The culturally-minded frequent the Bishop Museum Collection at the Hawaiian Arts & Cultural Center of Hawaiian history and culture for family educational activities. Sybarites revel in the spa's pampering treatments. Business guests appreciate the 24-hour business center, which provides a full range of services and rents computers, printers, copiers, fax machines, cellular phones, and two-way radios. The hotel even offers lessons in snorkeling, hula-dancing, lei-making, and aerobics at no charge to guests.

The Village provides many activities for children. Parents can leave kids for full- or half-day programs at the Rainbow Express Keiki Club, which features various recreational and educational activities with a focus on Polynesian life. Free activities in the Village include a wildlife and ecology tour to visit the tropical penguins, flamingos, turtles, and koi carp living there; a lending library of books, toys, and games; and the opportunity to parade with the King, Village Guards, and Drummers during Friday evening's King's Jubilee Polynesian extravaganza and fireworks show.
* Swimming pool - outdoor
* Poolside bar
* Bar/lounge
* Shopping on site
* Room service (limited hours)
* Computer rental
* Internet access in public areas - surcharge
* Concierge services
* Parking (valet)
* Supervised child care/activities
* Garden
* Safe-deposit box - front desk
* Currency exchange
* Fitness equipment
* Laundry service
* ATM/banking
* Conference room(s)
* Business services
* Parking (surcharge)
* Audio-visual equipment
* Wheelchair accessible
* On-site car rental
* Library
* Exhibit space
* Multilingual staff
* Number of rooms: 2,545
---
[ Previous Page ]

You can reach our office at 402-390-0909 or 800-356-8985