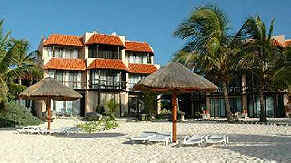 An exclusive getaway with the highest standards of quality, to enjoy a relaxed, chill out atmosphere. Enjoy the ambiance of candlelight dinners or relax to the sound of the ocean waves as you take a gastronomical stroll through the ample supply of restaurants and bars that offer a variety of flavors from the Sushi to the gourmet offerings of the new Mexican kitchen. Tropical drinks mixed with Caribbean breezes continuously stir the senses. In order to harmonize with the dawn, make use of new the Spa that will transport you by a sea of relaxing feelings, merging the body and spirit with the Zen-Maya style.

This resort has just undergone a multi-million dollar renovation. You will love it!
---
The resort's 186 guestrooms are located in two 2-story buildings (no elevator) connected by seashell-and-stone walkways and screened by lush tropical landscaping, giving guests more privacy than the extensive grounds suggest. Room decor has a colonial Mexico look, with tile floors and wood-and-iron furnishings. Walls are sponge-painted. Bathrooms have porthole windows and deep tubs or Roman-style showers (step-in shower with high sides). Amenities include air conditioning, cable TV, and dial-up Internet access (surcharge). Rooms are available only under the All-Inclusive Plan. The Servi Bar in each room is stocked with soda, water and beer and replenished daily with soda, beer and water, all at no additional charge.

All-Inclusive Plan - Rate includes the following:

* All meals and snacks
* Unlimited domestic and international alcoholic drinks
* House wines
* Pool and beach wait-staff service
* Daily sports and entertainment activities
* Non-motorized water sports: water bikes, kayaks, snorkeling
* Introductory scuba demo in pool
* Fitness equipment
* Tennis - day and night play
* Nightly live theater shows
* Taxes and gratuities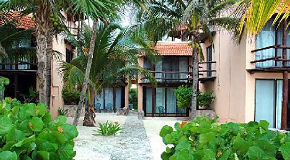 ---
Arrecife Restaurant - Lunch and dinner buffets only. Semi-formal dining in high-ceilinged room with terra-cotta tile floor and views of ocean. Reservations required during high season.

Gourmet Offerings

Their Executive Chef takes special care with every preparation using only the best products of Mexico and a variety of imported delicacies. Succulent menus of different cuisines are offered in all of our restaurants.

With 7 Restaurants and 8 Bars, you are never to far away from something wonderful!

GOURMET BUFFET

Breakfast 7:00 am – 10:30 am

Lunch 12:30 pm - 3:30 pm

Dinner 6:00 pm –10:00 pm


Enjoy dining inside or on the terrace with spectacular views of the Caribbean. Arrecifes offers a magnificent Buffet with national and international specialties and show cooking stations for prepared to order variety. Menu changes daily.


ITALIAN
Breakfast 8:00 am – 11:00 am

Lunch 1:00 pm - 4:00 pm

Dinner* 6:30 pm –10:30 pm


A combination of the traditional Italian cuisine, decorated with the flavors of the Caribbean Sea. Relax and enjoy new and exotic flavors.


MEXICAN A LA CARTE

Dinner* 7:00 pm –10:30 pm


The traditional flavors of the Mexican kitchen prepared with the expression of "nouvelle cuisine" provide a gourmet taste of the Mexican-Caribbean ,


ASIA LOUNGE

Dinner* 7:00 pm –10:30 pm


The diversity of flavors with offerings of fresh fish and seafood in a fusion from their Asian kitchen to delight the palate.


TEX-MEX AND GRILL

Lunch 11:30 am - 4:30 pm

Rodizio* 6:00 pm – 10:00 pm


Authentic Tex-Mex menu during Lunch and the tastiest variety of grilled meats at dinner served Rodizio style daily.


SUSHI BEACH BAR

Service 12:00 pm – 6:00 pm


Along the edge of the beach, with a splendid view of the Mexican Caribbean, in a relaxed atmosphere, they offer a variety of distant flavors.


SNACK LA TERRAZA

Service 12:00 pm – 10:00 pm


Snacks and sandwiches designed with the best products and seasonings for superior taste, for in-between meals or light snacks.


Their Bars

Thought to cover your desires during all the hours of the day, there are offerings from the first coffee of the morning to tropical nightcap, all offered in Caribbean elegance.

CAFÉ DEL MAR

In a modern, chill-out atmosphere, providing a wonderful view of the turquoise waters of the Caribbean, enjoy an exotic drink as you relax and seek the suns touch.

COCKTAIL BAR

From the first welcome drink at the Resort to the appetizer before the supper, enjoy an elegant atmosphere.

SUSHI BEACH BAR

Light food, balanced with an Oriental flair to tempt every palate. Situated on the beach of the Caribbean Sea.

CIGAR & COFFEE BAR

An exclusive place, for the most demanding guest to partake of the best offering of select coffees which can be laced with vast selection of liqueur from our ample supply. Enjoy the best Havana has to offer in our hideaway of pure satisfaction.

SWIM-UP BAR SARAPE

Enjoy a refreshing cocktail, soda or tropical juice while relaxing in one of our free-form pools. Ideal for socializing with friends or making new ones.

KIN HA HEALTH BAR

Next to the beautiful "infinity pool" and one of our Spas, partake of 100% natural fruit juice, smoothies and refreshments.

SWIM-UP HEALTH BAR TULUM

Inside the pool, next to the Spa, refreshing drinks to the beat of Caribbean music with a chill-out mood.

THE CLUBHOUSE BAR

Begin and finish your golf practice at this select bar to share your experiences. A special place for golfers and non-golfers alike. Continental Breakfast and Snacks are served daily.
Live nightly entertainment, theme parties.
---
A vast coral reef, considered the world's second largest, lies one-third of a mile off the resort's white-sand beach, making the calm, clear water perfect for snorkeling. The Oasis Akumal also has four pools (including a quiet pool), two theaters with regular evening shows, restaurants, and on-site tour services.
The Oasis Akumal is a magnificent tropical beach resort tucked away in the beautiful and secluded oceanfront community of Akumal. This resort features a Mexican-regional style of architecture and a relaxing atmosphere.

The coral reef directly in front of the hotel provides a wonderful site for snorkeling, and the hotel offers unlimited domestic drinks, nightly entertainment, three swimming pools two beachfront Jacuzzis, and two tennis courts. The Hotel Oasis Akumal is on 700 meters of white sandy beach on Akumal Bay, offering peaceful surf and coral reefs. This is considered one of the best beach areas of the Mexican Caribbean.

This laid-back beach resort attracts a largely European clientele of couples and families with older children. Low-slung, two-story buildings are spread out along the edge of the Caribbean's blue-green waters. Open-air, thatched-roof huts house most of the public areas, lending a spacious, airy feeling to the resort.


This property features an excellent location in Akumal, close to Tulum and Xel-Ha. Cancun Airport is60 miles north, downtown Cancun is 75 miles away

Three of the resort's four pools are located by the beach and feature daily activities; the fourth is at the back of the property and is designated as a quiet pool. Guests have access to two lighted hard-surface tennis courts (surcharge for electricity use). Other on-site activities including snorkeling, a free introductory scuba lesson, water aerobics, and yoga classes.
Massages are available in a treatment room located at the end of a pier, over the water. The hotel hosts nightly shows in two open-air theaters; one show is in English, the other in Italian. Fitness equipment, located in a thatched-roof hut, includes free weights and exercise machines. Dining and refreshment options range from a semi-formal, ocean-view room to a Mexican-style buffet restaurant to an open-air bar with live music.
---
* Swimming pool - outdoor
* Poolside bar
* Concierge desk
* Complimentary newspapers in lobby
* Restaurants in hotel
* Nightclub
* Parking (secure)
* Internet access in public areas - high speed
* Internet access in public areas - surcharge
* Multilingual staff
* Porter/bellhop
* Number of rooms: 186
* Gift shops or newsstand
* Currency exchange
* Dry cleaning service
* Library

* Private beach
* Massage - treatment rooms
* Complimentary breakfast
* Fitness equipment
* Bar/lounge
* Parking (free)
* Limo or Town Car service available
* Business services
* Safe-deposit box - front desk
* 24-hour front desk
* Security guard
* Translation services
* Tour assistance
* Medical assistance available
* Picnic area

---
[ Previous Page ]

You can reach our office at 402-390-0909 or 800-356-8985