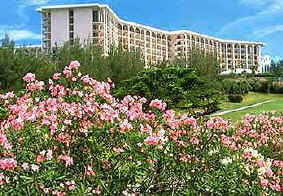 A $64-million renovation and expansion completed in 2003 refreshed the resort, which attracts families and romantic couples seeking activity-filled vacations or rest and relaxation. Restaurants offer both casual and resort-elegant dining. Expansive grounds complement the panoramic ocean views visible from the resort's hilltop location.
---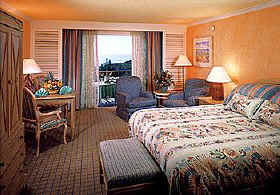 The resort offers 593 guestrooms in a six-story pink resort located on Bermuda's highest hill. Each room includes an ocean-view balcony furnished with a two-chair dining set. White ceilings, crown molding, light-colored wood furniture, and marine-life prints contribute to the Bermuda-pastel ambience. Most bathrooms are lined in pink marble, with outside gray-marble vanities. Down comforters dress triple-sheeted beds. Dressing benches and walk-in closets add convenience. Televisions offer U.S. cable channels. King-bed rooms come with couch and table, double-bed rooms with chair/ottoman and table.
---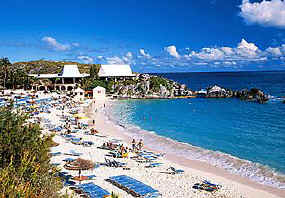 Waterlot Inn - This historic waterfront inn, located dockside on Jew's Bay, has been offering sunset views and Bermudian fare over 320 years. Specialties include prime and dry-aged steaks. The outdoor terrace and adjoining gardens are popular for pre-dinner cocktails. Open for dinner only. Jackets suggested.
The Newport Room - French cuisine is presented on bone china, silver, and crystal amid brass and mahogany decor. Open each evening for dinner only. Jackets required; tie suggested.
Bacci - This fine-dining restaurant offers Italian cuisine for lunch daily and dinners Tuesday–Sunday evenings. Dress code: smart casual.

Wickets - Family food headlines the menu at this poolside restaurant. Open for breakfast, lunch, and dinner, Wickets offers burgers, sandwiches, and salads.

Windows on the Sound - Located just off the hotel's main lobby, Windows offers views of the Great Sound and a wide variety of breakfast food. Specialties include omelet and waffle stations, smoked salmon, and pastries. A breakfast buffet featuring authentic Bermudian dishes takes center stage on Sundays.
Whaler Inn - Perched above the beach on the South Shore, this casual seafood restaurant is open for dinners only. Live local music is featured most evenings, and, during the summer months, alfresco dining is available on the terrace overlooking the shore.

Wine Cellar Pub - Adjacent to the indoor pool, this English-style pub offers a variety of drinks. Guests can also catch their favorite sport matches on the TV, play a game of pool on the cherry-wood pool table or dance to live, local entertainment. Open Tuesday–Sunday evenings only.

Jasmine Lobby Lounge - Cocktails are served throughout the day at this casual lounge, along with a selection of light entrees, snacks, sandwiches, salads, and rich desserts. Jasmine also offers a traditional tea each afternoon and live entertainment in the evenings.

Cabana Bar & Grill - Located right on the hotel's pink-sand beach, the Cabana serves up cocktails and fast foods. Open daily.

Golf Hut - Located on the golf course, this handy restaurant offers simple sustenance such as sandwiches, salads, hot dogs, beer, and other refreshments. Hours vary.
---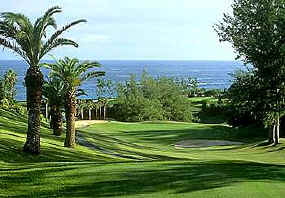 Expansive grounds complement the panoramic ocean views visible from the resort's hilltop location. Complimentary trolley buses transport guests to the beach, golf course, and a waterside restaurant and water-sports cove, from where guests can catch a complimentary ferry to downtown Hamilton for shopping and dining.
Amenity highlights: Accessible by complimentary trolley bus from the hotel's hilltop location, the resort's pink-sand beach runs 200 yards beside a turquoise cove protected by offshore reef and rock formations. Lounge chairs offer sunning opportunities; umbrellas provide shade. A casual beachside restaurant and bar serve light meals and tropical drinks. Up the hill at the hotel, large, heated outdoor and indoor pools supply freshwater swimming and additional sunbathing space. The hotel's 30,000-square-foot health-and-beauty spa offers a variety of relaxation and rejuvenation treatments. The resort's boat provides complimentary ferry service to a sister hotel located just 3 blocks from Hamilton's shopping and dining center.
Insider tip: A quarter-mile path leads from the hotel to Bermuda's signature Gibbs Hill Lighthouse, which has an observation platform 185 steps up that overlooks the 22-mile-long island and the turquoise-and-blue Atlantic surrounding it.
---
Willow Stream, the resort's 30,000-square-foot health-and-beauty spa, features a heated 75-by-30-foot indoor pool under an arched bleached-wood ceiling that's available exclusively to spa patrons for most of the day. (All guests enjoy complimentary access to the pool after 6:30 PM.) Thickly cushioned lounge chairs surround the pool. Soothing music and a triple marble waterfall spilling from a rock garden promote relaxation. Outside the pool enclosure, two large decks—also furnished with cushioned lounge chairs—provide relaxation, panoramic ocean views, and starlit tranquility after dark. Each deck contains a bubbling spa tub for convivial soaking, one accommodating 16 persons, the other eight. Bento-box spa-cuisine meals are served at the pool and in the spa's relaxation areas.

The spa includes men's and women's steam rooms and saunas and an ocean-view air-conditioned fitness center equipped with cardio machines that include television screens, weight machines, and free weights. (Day passes can be purchased for use of the fitness center, steam rooms, saunas, and indoor pool.) The spa's beauty-salon side includes vibrating throne chairs for pedicures and also offers manicures, hair care, waxing, and makeup.
Massage, hydrotherapy, body treatments, and facials are available in the spa's treatment rooms, including a twin-bed couple's room. Massage options include aromatherapy, sports, shiatsu, and LaStone (Ayurvedic-style, with scented oils, warm stones). Hydrotherapy sessions include Vichy showers, with sea-salt scrubs, body polishing, and buffing offered. Body treatments include moor-mud wraps and "body sorbet" (floral applications). Facials choices include cellular-repair and aromatherapy.
Private beach
Swimming pool - outdoor
Swimming pool - children's
Concierge services
Fitness equipment
Restaurant(s) in hotel
Banquet facilities
Internet access in public areas - dial-up
Cell phone rental
Porter/bellhop
Doorman/doorwoman
Multilingual staff
Number of rooms: 593
Babysitting or child care
Gift shops or newsstand
ATM/banking
Arcade/game room
Pool table
Suitable for children
Supervised child care/activities

Swimming pool - indoor
Poolside bar
Sauna
Complimentary newspapers in lobby
Bar/lounge
Conference room(s)
Business center
Audio-visual equipment
Secretarial services
Express check-in/check-out
24-hour front desk
Safe-deposit box - front desk
Currency exchange
Beauty services
Shopping on site
Dry cleaning service
Garden
Air-conditioned public areas
Caters to families
Wheelchair accessible

---
[ Previous Page ]

You can reach our office at 402-390-0909 or 800-356-8985