Barcelo Maya
Tropcial/Colonial Beach Resort

This resort is made up of 4 Different Resorts
The Colonial and Tropical is the newest resorts
When you stay at one, you get to use all four!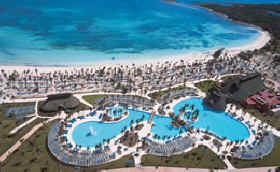 Barcelo Maya Beach Resort is superbly set along a magnificent white sand beach where guests can relax on chaise lounges under the shade of palm trees, and watch the clear waters of the turquoise Caribbean lap over the offshore reef. The exceptionally beautiful beachfront conveniently offers snorkelers a dock where they can step onto natural coral ledges and find themselves immersed in the amazing undersea life of the Caribbean.
All Inclusive Plus - EXCLUSIVE - With our Early Buy Sale, this is included at no extra cost! This is exclusive ONLY thru us, not available other places.
The All Inclusive Plus program provides the following exclusive amenities: Express check in and check out, special welcome gift, fruit basket in room upon arrival, dedicated concierge available for resort assistance and dinner reservations, unlimited a la carte dining options with unlimited reservations guaranteed per stay, (without our Exclusive Package, you would only get 2 dining coupons for the nice restaurants, per stay - other meals would be only in the buffets) beach towels, bath robes and slippers in room for use throughout stay, mini bar with bottled water, soft drinks, beer and light snacks restocked daily, upgraded in-room amenities including soaps and lotions, nightly turn down service, and a special all-inclusive bracelet to identify guest at part of the All Inclusive Plus program. Ask for details, not availabe on certain Airlines - subject to change or discontinued at anytime.
---
Guestrooms are located in five, three-story buildings (without elevators) running toward the beach. Each building has a garden courtyard containing an oversized Mayan-inspired statue. Rooms are cool and comfortable, with textured, cream-colored walls, and red-marble accents (desk top and vanity). Each room has a balcony furnished with two chairs and a small table with views of the resort's lush tropical grounds and gardens. Bathrooms include a tub/shower combination and a scale. Compact refrigerators are stocked daily with beer, soft drinks, and bottled water as part of the All-Inclusive Plan.
---
Captain Morgan Streakhouse
Located to the north of the property, Captain Morgan's is a palapa restaurant with a big galleon ship and masts reaching to the center of a thatched dome. Casual restaurant by day and steak house by night, later a lively disco
Agave
Mexican cuisine served with a Mexican ambiance, open for dinner only, reservations are required (gentlemen must wear long trousers, ladies casual elegant).

Buffet Restaurant
A casual buffet restaurant serving breakfast, lunch and dinner(1 in each hotel).

Don Quijote
Spanish cuisine served with a Spanish ambiance, open for dinner only, reservations are required (gentlemen must wear long trousers, ladies casual elegant).

Grill Restaurant
Grill restaurant serving snacks and casual cuisine, open from 10:30 am until 6:30 pm.

Rancho Grande (Snack Bar)
A beach restaurant under a gigantic palapa with pizza and buffet service.
Disco, karaoke, and different shows every night in an impressive split level Mayan- style amphitheater.
---
Located on a long stretch of virgin beach, the property features a full spa with Turkish bath, a mini-golf course surrounding a natural cenote, PADI dive center with an array of non-motorized watersports.
The Barceló Maya Beach Resort is located on a private two-kilometer beach of white sand, very close to the Xcaret and Xel-Ha eco-archeological recreational parks. In addition, there are important Mayan archeological sites such as the walled city of Tulum, the ruins of Chichen Itzá, the Kukulcan Pyramid and the ceremonial natural wells--for many the sources of eternal youth. We are located 95 kilometers from Cancun and 80 kilometers from Cancun's International Airport, 25 kilometers from Playa del Carmen and 35 kilometers from Tulum.

Experience the splendor of dawn on our unspoiled and extraordinarily beautiful beaches. Immerse yourself in the turquoise blue of the Caribbean Sea. You can take part in an endless range of activities - canoeing, sailing, windsurfing, water skiing, pedal boats, diving — or just enjoy the warm, transparent Caribbean waters.

Be prepared for an unforgettable day! We can assure you of fun, entertainment, service and the undivided attention of our extraordinarily talented staff. Our entertainment team organizes a large number of daily activities for your enjoyment, on the beach or in the swimming pool. Just a few meters from the beach you can enjoy the spectacular swimming pools with Jacuzzi or sunbathe on one of our loungers while sipping your favorite drink.

The Barceló Maya Beach Resort has mini-golf, set in the midst of tropical vegetation, close to a natural well. It also has a pitch and putt. After a little exercise in our gymnasium, enjoy a relaxing and revitalizing Jacuzzi or even a professional massage in the Spa. Sporting facilities include five tennis courts, a multi-sport court and many more activities for your enjoyment during your holidays.
Each side of the 1,020-room resort—Beach and Garden—has a brightly colored, open-air lobby. The resort offers vast, airy spaces. Against the dark green of the surrounding mangrove jungle, buildings are as colorful as parrots, all reds, yellows, oranges, and terra cottas, with bright blue accents. As part of the All-Inclusive Plan, complimentary services and facilities include a children's center offering playground equipment, activities, movies, and games; a large, state-of-the-art, open-air fitness center under a huge palapa; a health spa with men's and women's saunas and steam rooms, a hot tub; and a relaxation garden.

Activities run all day and night. The activities staff presents a nightly show in the theater involving dance, music, and numerous costume changes. Like all major Mayan Riviera hotels, the resort is equipped with a water-purification system.
---
* Restaurant(s) in hotel
* Swimming pool - children's
* Swim-up bar
* Spa tub
* Garden
* Currency exchange
* Multilingual staff
* Complimentary newspapers in lobby
* Audio-visual equipment
* Nightclub
* Gift shops or newsstand
* Babysitting or child care
* Library
* Wheelchair accessible

* Swimming pool - outdoor
* Fitness equipment
* Health club
* Room service (24 hours)
* Patio
* Concierge services
* Pool table
* Bar/lounge
* Parking (free)
* Conference room(s)
* Shopping on site
* Supervised child care/activities
* Business services

---
[ Previous Page ]

You can reach our office at 402-390-0909 or 800-356-8985