Winter Is here - Be-Lize Me!

Well, winter finally reared it's ugly head here in Omaha! (We knew it would!) And I want to get outta here! Let's get to planning that get-a-way for you too! Just imagine - going to the ultimate in laid-back island life. Take a breath, let's head to Belize! Belize's bright blue water will make you want to sail off into the horizon. Go sailing or kayaking to experience the ocean up close. Wade into the shallows to do some casual snorkeling. When you're ready for a scuba diving adventure, legendary dive spots like the Lighthouse Reef and the Belize Blue Hole await. Its shabby chic downtown area, San Pedro, is home to barefoot strollers, adventurous fishermen and clusters of family-owned businesses, openly inviting you to meet, eat, shop and enjoy the 2nd largest Barrier Reef in the world.

The Famous Blue Hole
Diving, snorkeling and beach lovin' enthusiasts will fall in love with Belize more and more each time they visit. And this little gem is the first adults-only resort to hit the shores in Ambergris Caye. Located on this stunning island, the 4 Star, Costa Blu Resort is only 10 minutes from San Pedro Airport. With no kids around, you will sink into a deep relaxation while being pampered by the resort's staff. The on-site restaurant and bar cater to all your sea-loving whims, creating fresh Caribbean fare and handcrafted cocktails that taste even better with views as jaw-dropping as you'll find at The Costa Blu Resort!
Belize, Ambergris Caye Island
$1489.00 ~ Per Person
6 Nights/7 Days - Costa Blu Resort
Adult Only Resort
1 Bedroom Suite - Seaview
Roundtrip Airfare & Transfers
Roundtrip Inter-Island Flights
4 Star Resort
$109.00* Taxes
NOT All-Inclusive
*Priced Per Person
This price may not be available for your dates of travel
This price may not be available for Holiday or Spring Break Travel
Blackout dates apply - (Packages at this price are limited)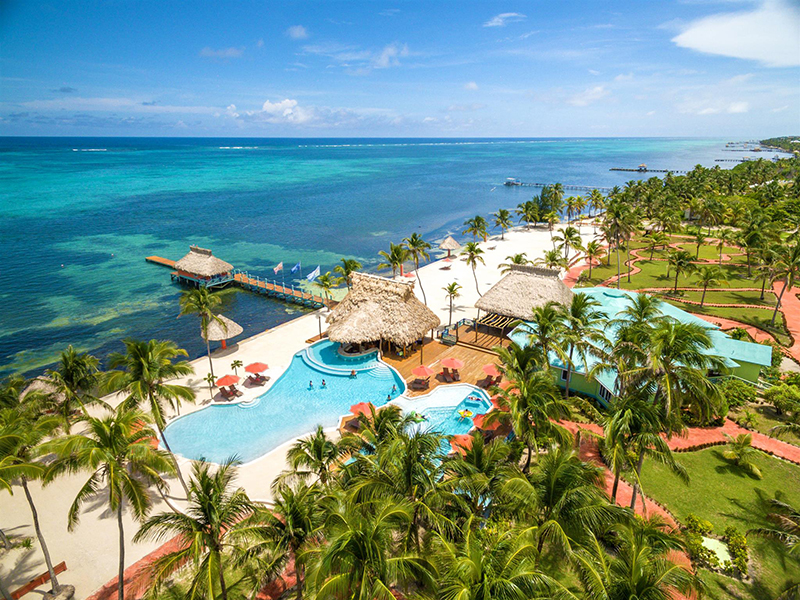 Click this link or the pic for the resort website
It's quiet, peaceful and sits on a gorgeous stretch of white sands and blue Caribbean waters, with coconut palms dotting the seafront and hammocks are strung between the arched trees. Costa Blu sits along Ambergris Caye's northern shore. It's 30-minutes by car or a 20-minute water taxi ride to San Pedro where the lion's share of Ambergris Caye's restaurants, bars, shops, etc. are located when you're looking to throw a little variety into your seaside stay!

Click this link or the pic link for all
the restaurants and shopping info in San Pedro
Just offshore, protecting the island from the strong currents of the Caribbean, is the Belize Barrier Reef, the second-largest barrier reef in the world. Declared a UNESCO World Heritage Site because of the unique beauty of the coral reef, and the tremendous diversity of wildlife that it protects. Take one of the resorts complimentary kayaks for a quick ride to explore this natural wonder. At Costa Blu Adults Only Beach Resort there's no need to make special arrangements to experience the reef because you're already there!
Unfortunately, the beach is not a swimmable beach, but from the end of the resort's private pier, you can swim and snorkel all you want! The waters off the coast are calm and do not experience strong waves. The warm waters provide the perfect experience for paddleboarders, kayakers, and they are complimentary! Plus, the Costa Blu has a great, sandy, zero-entry pool that's surrounded by a wooden deck with lots of lounge chairs and umbrellas.
Never worry about meal times! The only restaurant on the property - The Blu Restaurant is open from 7 am-8: 45 pm. Food is served all day, with generous menus for each meal. You will be delighted with dishes featuring the freshest ingredients, an array of flavors, and drinks with a tropical twist. Blu offers three distinct menus for breakfast, lunch, and dinner. You've got one rockin' bar for all your refreshing beachy cocktails. That's all you'll need.
Speaking of serenity, why not book a special treatment at the Escape Day Spa. They offer a variety of unique massage options, and use many organic ingredients, including coconut oil and seaweed harvested in Belize. All guests are given a cell phone on arrival they can use to reach the concierge, order food, arrange spa treatments or make plans for a tour.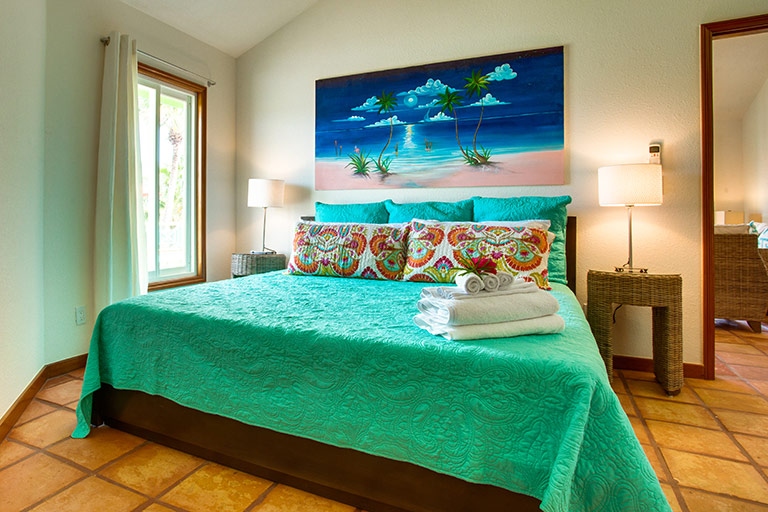 With only 36 airconditioned suites, you'll find getting away from it all a delight! Surrounded by landscaped tropical gardens, all suites offer a large private balcony, perfect for taking in the tropical breezes and viewing the beautiful Belizean sea. Each suite has all of the amenities you need for your stay away from home including a fully equipped kitchenette that offers a mini-refrigerator, microwave (perfect for those late-night snacks!), complimentary beach towels, and a coffee maker.
The comfortably furnished living area has a 40" flat-screen cable TV, phone and wireless internet connection. No unit is more than a few steps away from the swimming pool and within easy reach of refreshment at the seaside pool bar. Why not greet the morning on your own private balcony or veranda with a cup of java - for two!
The beach-vibe here is definitely laid-back. You'll have plenty of room to lounge, swim and take in the ocean views. If you're in need of a little exploring, you can always taxi or take the ferry into San Pedro! Or, check with the onsite dive shop and excursion center, you can book a diving trip, catamaran sail, go adventuring through ancient Mayan ruins, or zip-line through the jungle canopy and enjoy the treetop vista. You can experience as much adventure as you can handle or none at all!
---