Time To Redeem Those Precious Pennies!

Are you one that saves every penny for that "special" vacay, now, it's time to spend those babies and pamper yourself! It's a lot of pennies, (and don't bring me those pennies!) but the price is right on this "Early Buy" winter get-a-way to Jamaica. Warm sun shining on you, as you drift in and out of a cat nap, it's hypnotizing! Sounds great for relaxing, am I right? - You know I am! And, Jamaica, with its slow pace, long sandy beaches, lush rainforests, stunning waterfalls, and a great music scene (Reggae started here!), is exactly what you need ~ a tropical vacation.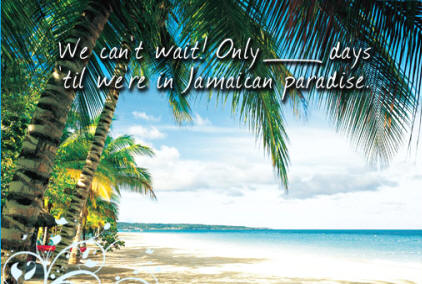 I'm not sure how anyone could NOT fall in love with this island (or this resort)! Great beaches, awesome music - swaying to the rhythms of Reggae, well? Here's a terrific beach resort for you to experience just that! What is it about Jamaica that continues to charm and entices so many people year after year? Does it have anything to do with the magnificent sunsets that set your heart to thumping? Or the fabulous powder soft white sandy beaches? Maybe the dramatic mountain ranges in the backdrop of the postcard-perfect scenery? For me add in the Reggae with the beautiful azure sea and its heaven on earth!!
Did you know? Ian Fleming wrote many of his James Bond spy thrillers, right here in Jamaica? This was his second home for over 20 years! I'm sure this exotic island, inspired him, it always inspires me (to watch the beautiful sunsets, lounge on the soft powdery beach and drink martinis!) every time I vacation here! Runaway Bay is a beautiful secret waiting for you to uncover. Relax on a private white sand cove among the beautiful natural surroundings - OH YEAH!
Jamaica, Runaway Bay
$1299.00 ~ Per Person
6 Nights/7 Days - Grand Bahia Principe
Roundtrip Airfare & All Transfers
4 1/2 Star - All-Inclusive Resort
Tax $99.00*
Family, Group & Wedding Packages Available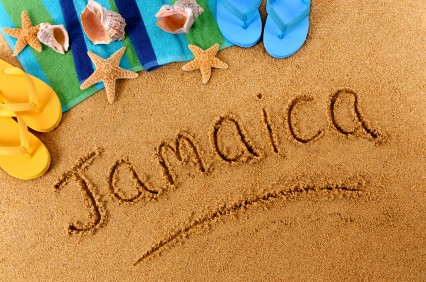 *Price is Per Person
This Price may not be available for your dates of travel
This Price may not be available for Holiday Travel
Blackout dates apply - (Packages at this price are limited)
Hurry! Space is limited at this price!


Click this link or the pic for more pics & details on this resort
This wonderful trip to Jamaica is home to many features fabulous flora and fauna, picturesque waterfalls, and her famous "glistening waters". Here, millions of dinoflagellates, virtually glow at night, the lagoon sparkles and glistens neon green when disturbed, as these microscopic organisms produce an eerie glow, reflecting the outlines of fish and other objects in the water. The Luminous Lagoon is said to be the largest and most brilliant of the four in the world. It continually attracts and awes scientists and the curious from around the world. And it's just a short distance from this resort!

The Luminous Lagoon glistens when you move!
The Grand Bahia Principe Jamaica is the perfect All-Inclusive Resort for your paradise vacation among beautiful natural surroundings. Allow the white sand and the sound of waves to replenish your mind and get you into the vacation spirit. Presenting to you 850 exquisite rooms, 3 pools, 7 restaurants, 4 bars, a spa, children's water park, kids club and venues for meetings and events, the Resort boasts all you will need during your stay. This is the ideal resort for your family vacations in Jamaica; you will have access to entertainment from sunrise to sunset, itineraries available for children's activities each day, many opportunities to relax by the sea and 5-star exquisite cuisine.
The Gran Bahia Principe Jamaica is situated in the heart of Jamaica's northern coastal region. Surrounded by lush fauna and tropical beaches, the Bahia Principe all-inclusive resort is home to 700 welcoming junior suites, all with whirlpool baths. Located in the Runaway Bay area between Montego Bay and Ocho Rios, this new all-inclusive hotel comes complete with a shopping and entertainment plaza referred to as the Pueblo Principe.
A collection of spacious and elegantly designed suites with canopy beds, mahogany rich wood furniture, hydro-massage bathtubs and relaxing balconies await you at the Grand Bahia Principe Jamaica for your dream Jamaica vacation. The balconies will be the perfect place to enjoy mesmerizing sunsets and sunrises each night and morning under the beautiful Jamaican sun. The suites are equipped with air conditioning, satellite television, direct telephone, coffee facilities, mini-bar, and bathroom amenities.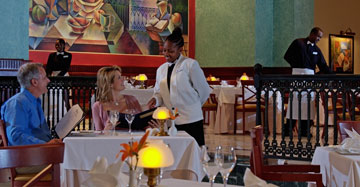 Dining at Grand Bahia Principe Jamaica is an amazing experience featuring some of the best cuisine styles in the world. Every reservation includes three specialty restaurant dinners per week of stay, and the specialty restaurants require prior reservation and have a dress code. The resorts' all-inclusive plan features a choice of 6 dining venues which include international cuisine buffet, Jamaican cuisine, grill, Italian buffet, modern cuisine, and Japanese dishes. In addition, there are five free-flowing bars, pouring domestic and International beverages for the adults to enjoy cocktails throughout the day and night, until you say stop.

Click the link or the pic for all dining options
Get in fit shape at the on-property gym, take a swing at the tennis courts or relax with a multitude of treatments at the Gran Bahia spa. Kid's will delight in attending the activities of the Bahia Principe's kid's club. At the Bahia Principe Jamaica, three lake-style freshwater pools are surrounded by large sun terraces and gardens with sunshades and sun beds. Feeling active? There are plenty of activities that you can participate in! Or if the fancy strikes, book a host of optional excursions, or take in the nightly entertainment.
In order to create your most memorable vacation yet, there is a variety of things to do on the property for everyone. The children will have so much fun on the water slides while you sit nearby at the pool bar with a drink in hand. You can also leave your kids with your partner or with the resorts kids club while you enjoy a refreshing spa treatment. Imagine your children waking up in the morning excited for the scheduled day ahead of them. The Kid's Club offers an amazing way to keep your kids busy while having fun with the numerous activities scheduled by the resort. This gives them the opportunity to participate in different activities like the children's water park, sports, activities, and entertainment will all be planned into an amazing itinerary for the kids.
Adults enjoy a variety of all-inclusive entertainment options to keep the days and nights moving. The social lounge is a favorite of the adult crowd for hanging out with new friends or sharing a romantic evening with your loved one. The Gran Bahia Principe Jamaica features an amphitheater for dazzling floor shows and dancing to the house band.
Whatever your heart desires, the Gran Bahia Principe Jamaica stands tall as an all-inclusive vacation paradise on Jamaica's north coast. Call our Vacation Planners today for a no-obligation quote and begin your journey to the all-inclusive resort in Runaway Bay!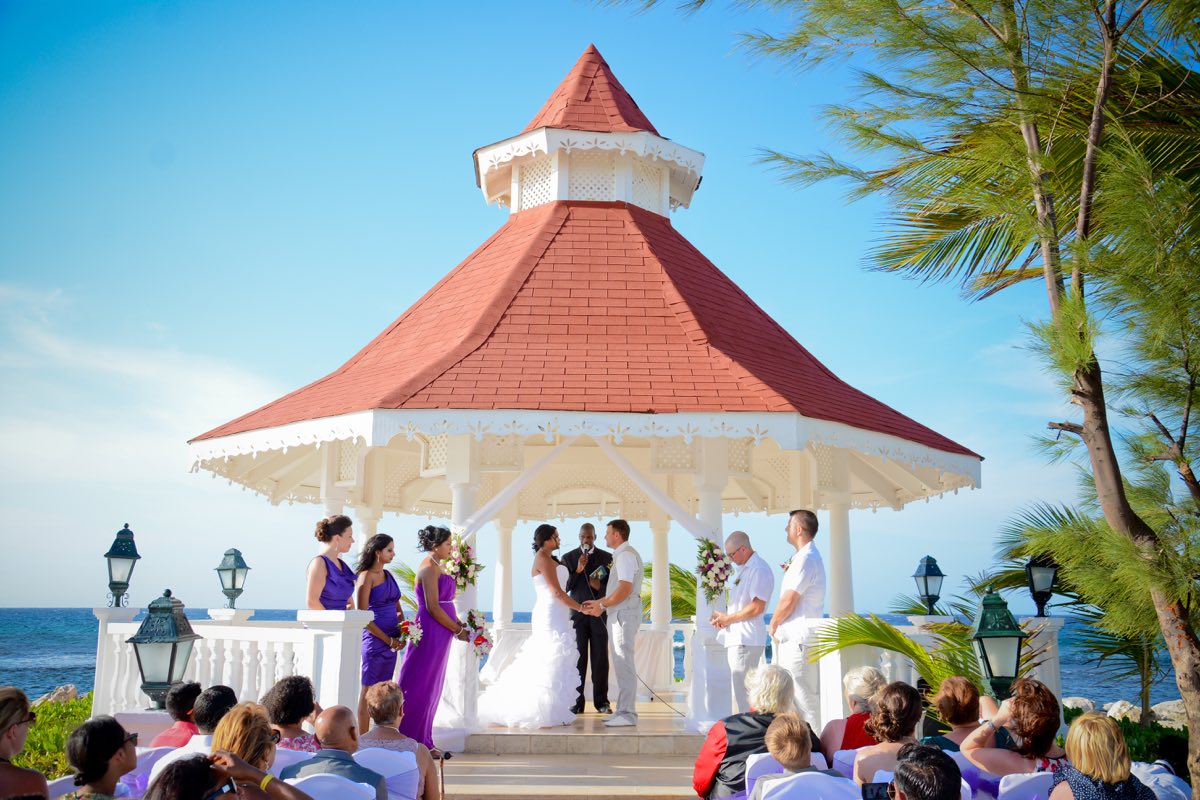 One love united by two hearts. Feel the Jamaican vibes and happiness as your spirits are brought together along the turquoise blue waters of the Caribbean Sea. Make your dreams come true with a wedding in the Caribbean. Enjoy a day straight out of a fairytale with turquoise waters, white-sand beaches, the perfect climate. Live your wedding dreams in Jamaica ... Ask our Vacation Planners to help you with a package for you and your guests - Live your dream wedding- in Jamaica!


Click Me! - I'll Take you to top

---