Romance Vibes Only!

Imagine: You're On A Dragon Boat... The one that sails you to the private island, where you will dine in luxury at the authentic Thai restaurant! Also on this romantic island is a beach area (including a clothing-optional section - Oh my!), a bar, and a pool for daytime playfulness! This is a BIG "WOW"! Can you imagine this for a honeymoon? Or a really romantic get-a-way? Factor in it's an adult-only, all-inclusive resort, (ohh!), private beaches & coves (ahhh), both land and over-water bungalow suites - oh yeah! Did you know? They are the only ones in the Caribbean & they have their own private pool & butler.
So, now you know why the Sandals Royal Caribbean Resort is a luxury escape that really caters to those seeking a relaxing and romantic getaway. Look for the peacocks that parade for your total amusement -feel like royalty? And here, you can linger over a delicious continental breakfast graciously served to you in a sumptuous bed than makes sleeping the ultimate temptation!
Jamaica
$1829.00 ~ Per Person
Fall Travel Package
$2099.00 ~ Per Person
Winter Travel Package
Packages Include:
6 Nights -Sandals Royal Caribbean
Roundtrip Airfare & Roundtrip Resort Shuttle
Stay at 1 Resort ~ Play at 3
(Free shuttle between resorts)
5 Star, All-Inclusive Resort
Wedding, Honeymoons,
& Group Package Available!
Tax $169.00*
*Price is Per Person
Price may not be available over Holiday Travel
This Price may not be available for your dates of travel
Blackout dates apply
Hurry! Packages at this price are limited


Click this link or the pic for more videos and pics of this resort
With a Tahitian theme in the Caribbean sea, this resort offers something a little different along with with the usuals top-notch service you can expect from the Sandals brand. Elegant arches, dramatic porticos, and picturesque promenades set the stage for a gracious escape to a more charming era. Where time moves at a more leisurely pace as the two of you stroll the grounds of a stately English manor romantically set amid the lush natural beauty of Jamaica.
A kaleidoscope of cultures from Britain to Bali awaits you at Sandals Royal Caribbean. Sandals Royal Caribbean offers two opposite sides of the world from its regal British Manor, service and décor, to the mystical Orient on the private offshore island just a few minutes from the resort, all complemented with well-heeled traditions like afternoon tea and a rousing game of croquet.
And minutes away, on the resort's private offshore island, the mysteries of the Orient unfold in a secluded natural setting where casual poolside and beachside pleasures beckon by day, while chic parties, an authentic Thai restaurant, and island-style extravaganzas invite excitement by night. At Jamaica's most alluring resort, two diverse vacations are woven into one and served with warm island hospitality, making your stay a journey to remember.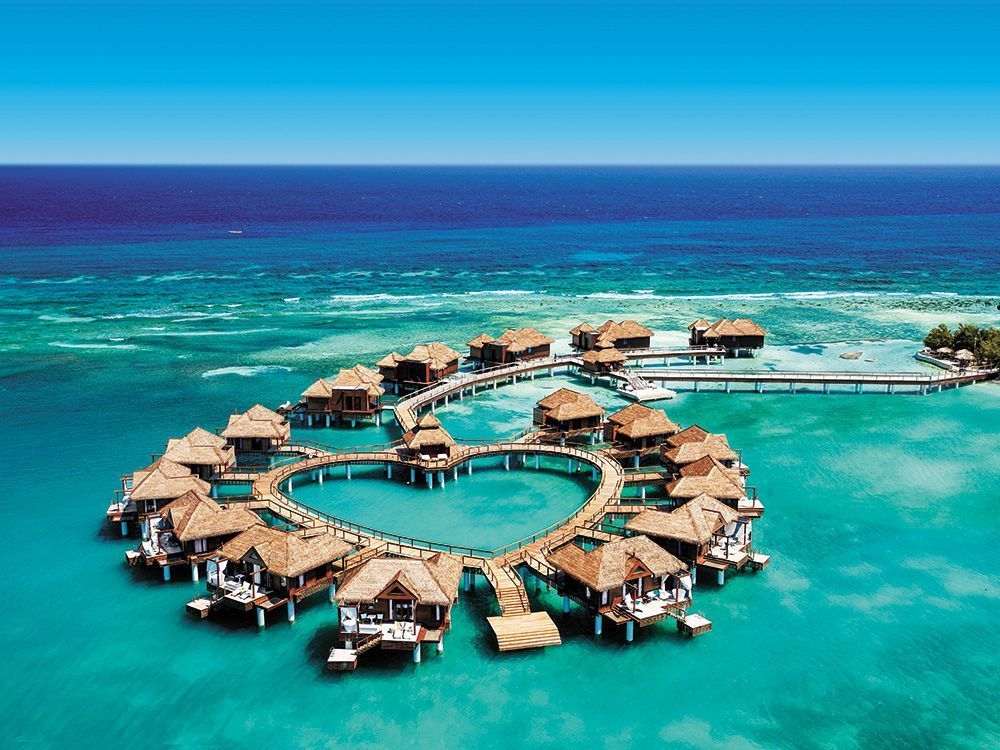 Click this link or the pic for more info on all the different room types,
and these amazing bungalow suites
One of the main stars of this Sandals' is the first "Over the water Bungalows"** in the Caribbean. These gorgeous over-the-water bungalows feature glass vision floor panels and lit water to provide undersea views at any time. The interior of every bungalow captures the height of luxury with hardwood floors, vaulted ceilings, custom crafted king-size beds adorned with soft linens and plush pillows for the ultimate sleep experience. Outside, the private patio is equipped with an extended sun deck, outdoor shower, sun loungers and a bistro set for two. **(P.S. These book more than 15 months in advance)
There are a number of great rooms that you can stay in at Sandals Royal Caribbean. All of the rooms here have now been re-modeled. The atmosphere is calm and there is a wonderful pool area along with a nice beach area to relax and rejuvenate on. All these room types are well-appointed rooms and are exquisitely decorated with elegant mahogany furnishings, a four-poster, king-size bed, flat-screen TV and an elegant en-suite bathroom complete with marble tiles and a large whirlpool tub. For your refreshment, your room includes Robert Mondavi varietal wines and a refrigerator stocked with bottled water, juice, soda and local beer, and more.

Swim-Up Room
Another star is Private Offshore Island! A mere sea breeze away from the Great House is our own private offshore island featuring a circular pool with a swim-up bar, as well as an ever-so-private beach that makes this like two resorts in one. This unique Bali Ha'i-style enclave also features an authentic Thai restaurant where some of the secret recipes are said to enhance one's appetite for more than food. You can get there via the hotel's dragon-themed boat.

Sandals Royal Caribbean Private Island
There are six great ala carte restaurants on the resort itself plus the famous Royal Thai restaurant (A boat runs back and forth between the main property and the private island, giving you easy access to the Thai restaurant,) on the Private Island. There is a different taste for all moods and pallets. Enjoy Indonesian flair on the Island, International cuisine with an ocean view at The Regency, French delicacies in a garden courtyard, authentic Jamaican dishes that will tingle your taste buds, as well as an English Pub and two causal beachside grills. To add more choices, (20 gourmet restaurants in all) you can spend some time at 2 nearby Sandals as you have full exchange privileges to hang out and dine!
Dive into an endless variety of things to do in or out of the water. Enjoy unlimited scuba diving (certification costs extra), snorkeling, sailing, waterskiing and paddleboarding on the water, oceanside spa services, and additional beaches with cabanas, and a pool with swim-up bar. On land, there's beach volleyball, tennis courts, croquet, golf, and billiards. A variety of events are available, including daily afternoon tea, talent shows, reggae fests, and karaoke. Or do nothing but lounge together on the shoreline and soak up the sun. Romance is always smooth sailing with plenty of cozy places created expressly for the two of you.
As the evening stars shine bright so do the stars that light up the stage. From dancing the night away in the disco to romantic strolls under the Caribbean moon, Sandals Royal Caribbean satisfies your desires to be endlessly entertained. Whether it's sharing intimate conversations at seven bars or applauding the nightly shows with international and Caribbean themes, the pleasure of choice is already yours.
Whatever you dream of for your special day, we can make it a reality. No matter how big, or how intimate, Sandal Royal Caribbean Resort understands that your love story is unique and special… and your wedding should be, too! Ask our Vacation Planners about a FREE quote for your destination wedding!
---