All Aboard The Vacation Train!

Your heading to "dreamtastic" turquoise waters, palm-dotted, sugar-white sand, and Spanish-style architecture - I'm telling you about the, swathed in Caribbean beauty, All-Inclusive, Occidental Punta Cana. Follow the calm ocean breeze to Bavaro Beach, the best stretch of white sand in Punta Cana, and you can discover endless tropical fish, coral reefs, water sports and of course rum punch. Known for lush coconut groves and the dazzling Caribbean Sea, there's no better destination in the Dominican Republic.
This resort offers an atmosphere and a wide variety of facilities, amenities, and services that will keep you happy with plenty of activities and all-inclusive perks, not to mention a guarantee for an unforgettable vacation experience. You'll enjoy a beautiful white-sand beach, with two enormous, lake-sized pools featuring isles of tropical foliage, plus one for the kids, 11 restaurants, 7 of which are à la carte, and 10 bars in strategically located areas where you can enjoy exquisite tropical drinks, including a swim-up bar, jacuzzi, fitness center, tennis and basketball courts, and a supervised children's club.
Punta Cana, D.R.
$1089.00 ~ Per Person
6 Nights - Occidental Punta Cana
Roundtrip Airfare & All Transfers
4 Star - All-Inclusive Resort
Tax $89.00*
Wedding, Honeymoon, & Group Packages Available
*Price is Per Person
This price may not be available for your dates of travel
This price may not be available for Holiday, or Spring Break Travel.
Blackout dates apply - (Packages at this price are limited)

Click this link or the pic for the resort website
Start with a pampering day that can include deep-tissue massages, beachside massages, aromatherapy, and hydrotherapy along with access to the sauna from the full-service spa. One of the best experiences is, without a doubt, is a massage on the beach, plus in treatment rooms designed to transport you to a haven of peace and tranquility. The Spa has a large professional team, which is very experienced and highly qualified, and who use the most up-to-date techniques in a luxurious and relaxing setting.
There are ample dining options with 11 onsite restaurants 7 of which are à la carte, including La Taqueria, which specializes in tacos, Las Reses: the Steakhouse, Vía Veneto: the Italian Cuisine Restaurant, La Hacienda; With Mexican Cuisine, D'Oriental; With An Assortment of Asian Cuisines; Caracolas; With Seafood Cuisine, and the Royal Level Restaurant; Exclusively for Royal Level Guests cuisine. Or savor a meal from the comfort of your room with room service, or get a quick energy boost at the 3 coffee shops/cafés. You'll find 8 bars that are strategically placed where you can enjoy delicious tropical drinks with the excellent service Occidental Punta Cana is known for. Another unique feature is an upper-esplanade of open-air kiosks with tacos and ice cream and snacks.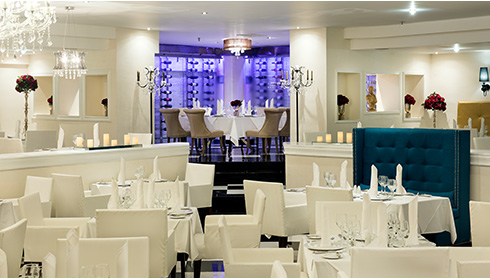 Vía Veneto Restaurant
When you're ready to retire for the evening, your colonial-style, air-conditioned room features terraces or balconies with views of the pool, gardens, or water, minibars stocked daily and LCD TVs with cable. Light interiors, flower-splashed fabrics, and tile floors highlight the décor. WiFi is available (surcharge), and Safety deposit box.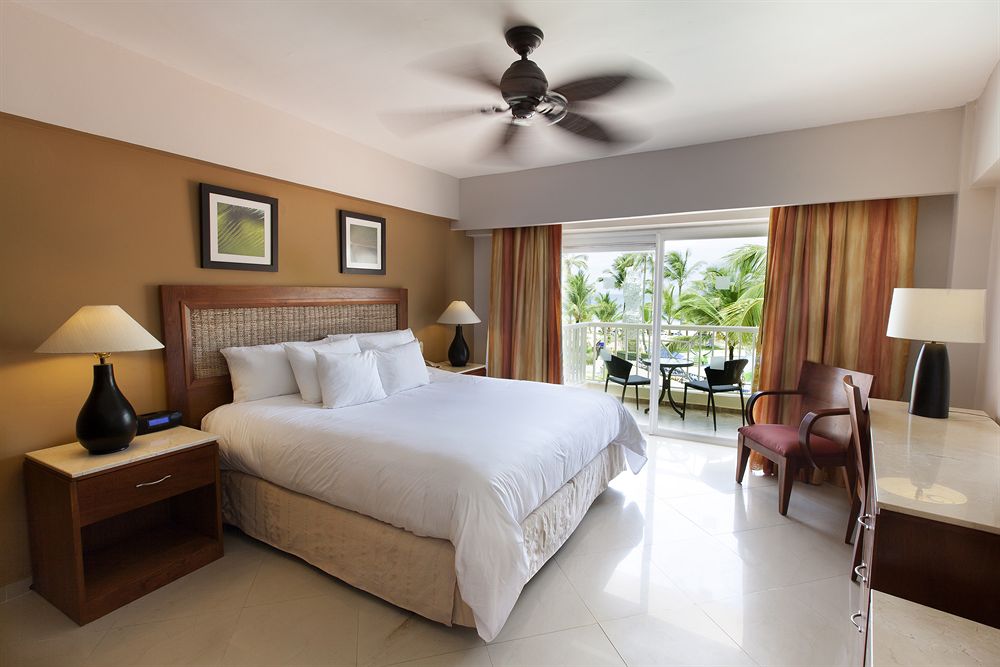 The Occidental has it all and it's all for you and your brood: 3 pools designed to offer the best possible relaxation and, at the same time, it provides a superb drinks service unlimited grub and drinks. Lagoon-style pools where you can bronze and booze (or snooze), while you sunbathe or enjoy a cooling dip. Water sports for your complete and utter splashification. There's so much. The fun here just keeps rolling in, wave after wave.
Follow the calling of an ocean breeze to the exciting all-inclusive water sports at Grand Punta Cana. Complimentary snorkeling gear, diving clinics, and kayaking fill every day with aquatic fun. A myriad of coastal pleasures, such as rifle shooting, tennis, archery, beach soccer, badminton, darts, water-aerobic classes in the pool, dance classes and merengue, aerobics, basketball court, gym, yoga, giant chess, and 2 tennis courts, creating unforgettable experiences for the entire family. Supervised kids' activities keep the little ones busy. You'll never lack for things to do! Interested in trying golf? You'll be 1.5 mi from White Sands Golf Course and 3.6 mi from Iberostar Golf Course. Ask the concierge for discount details.
Getting ready to make plans for the BIG day? You're busy – and now that you are planning your wedding, things are even more hectic. The list of things to do seems to be multiplying by the minute – will there ever be an end to the craziness, you ask? Take a breath! A destination wedding or honeymoon with this gorgeous, unique resort can turn your beautiful fantasy wedding into a reality! Plus with an all-inclusive resort - all your family and friends are taken care of too. Ask one of our Vacation Planners for a FREE quote today!
---