Happy Valentine's Day - Honey!

Surprise! We're Going To Tahiti

That's right! This special looked so good, I booked it for myself and hubby. Valentine is extra special, for us, it's our Anniversary. Can you picture your vacation (or honeymoon, or anniversary) in Tahiti? - balmy year-round temperatures, jagged green mountains jutting up from crystal clear, multi-hued lagoons, enchanting white sand or black volcanic beaches, and a luxurious bungalow suspended over coral reefs. It's hard to find a place where sunsets are more romantic, the waters of the Pacific warmer, or the ambiance more relaxing. Combine all this with the luxurious accommodations, and you have yourself an unforgettable Tahiti vacation (or honeymoon). It's no surprise that a Tahiti vacation is on a bucket list for so many people, and a honeymoon in Tahiti is the dream of countless brides and grooms. Now that's a Valentines' Day You'll remember!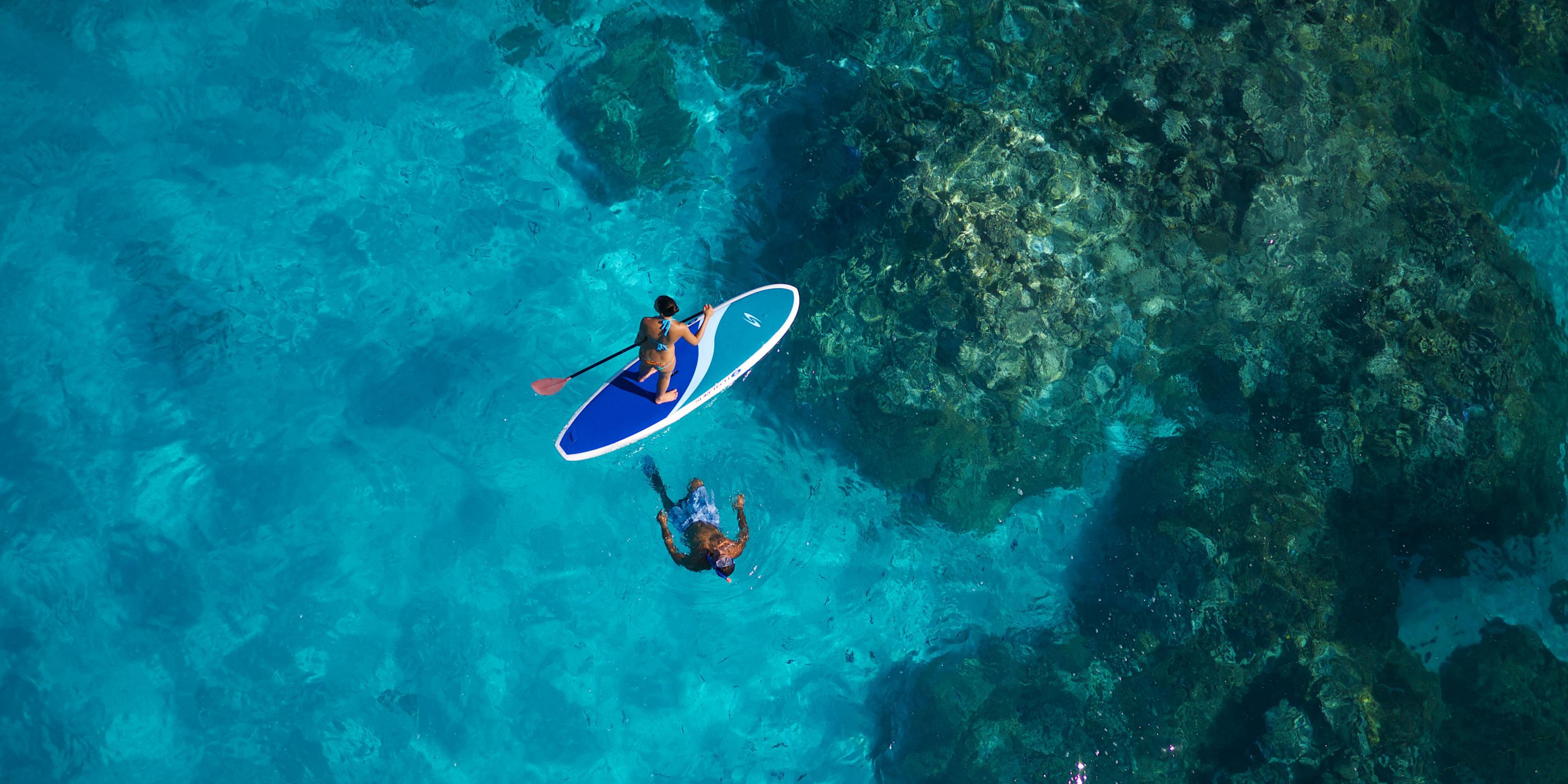 Island Valentine Special

Tahiti, Morea, & Bora Bora
$3649.00 ~ Per Person
**1 Night - Tahiti
Intercontinental Papeete
**3 Nights - Morea
Intercontinental Morea
**3 Nights - Bora Bora

Bor Bora - Overwater Bungalow

Roundtrip Airfare & Al Transfers
All Inter-Island Flights
Breakfast Daily
Welcome Lei Upon Arrival
Depart February 11th, 2019


Tax $299.00*
*Price is Per Person
Other Dates of travel may be available
This price may not be available for Holiday Travel
Blackout dates apply
Hurry! Packages at this price are limited
The Society archipelagos are the most popular with vacationers, encompassing the romantic island of Bora Bora, the magical island of Mo'orea and of course the Queen of the Pacific- Tahiti. Located in the heart of French Polynesia, Tahiti is not just a tropical destination, it's also the name given to a vast stretch of 118 islands scattered across the South Pacific Ocean. Famous for its warm clear lagoons and incredible marine life, Tahiti is also home to some of the most popular and exclusive unique black, and white sand beaches, cascading waterfalls, lush mountains and amazing archaeological sites, Tahiti is the experience of a lifetime.
Located on the main island, Papeete is the capital of French Polynesia and also the largest city. Frequented by luxury liners, Papeete, Tahiti is a busy harbor town. Although Papeete doesn't offer the same tropical paradise as the surrounding islands, it's still a lovely, laidback island destination offering lovely little doses of French and Polynesian charm. Famous for its beautiful black pearls, Papeete is home to a wide range of handicrafts, French fashions and sidewalk cafes and is great for people-watching, shopping, eating and drinking.

Intercontinental Papeete Resort
There is an excellent range of restaurants around Papeete, however, some of these can be pricey. 'Le Roulottes' or 'food trucks' in Vai'ete Square along the waterfront, are a cheaper alternative and offer a fun way to try a variety of foods and cuisines. This well-organized food tuck truck scene serves crepes, steak frites, chow mein and egg rolls, burgers, of course, poisson cru. For shopping, a visit to the Public Market of Papeete 'Le Marche de Papeete' is a must. Located in the heart of the city, vendors from all over the island come to sell their traditional wares at this authentic market. From fruit to flowers, Tahitian black pearls, and some fantastic Tahitian collectibles including native wood carvings, pareu, Tahitian pearls and monoi oil.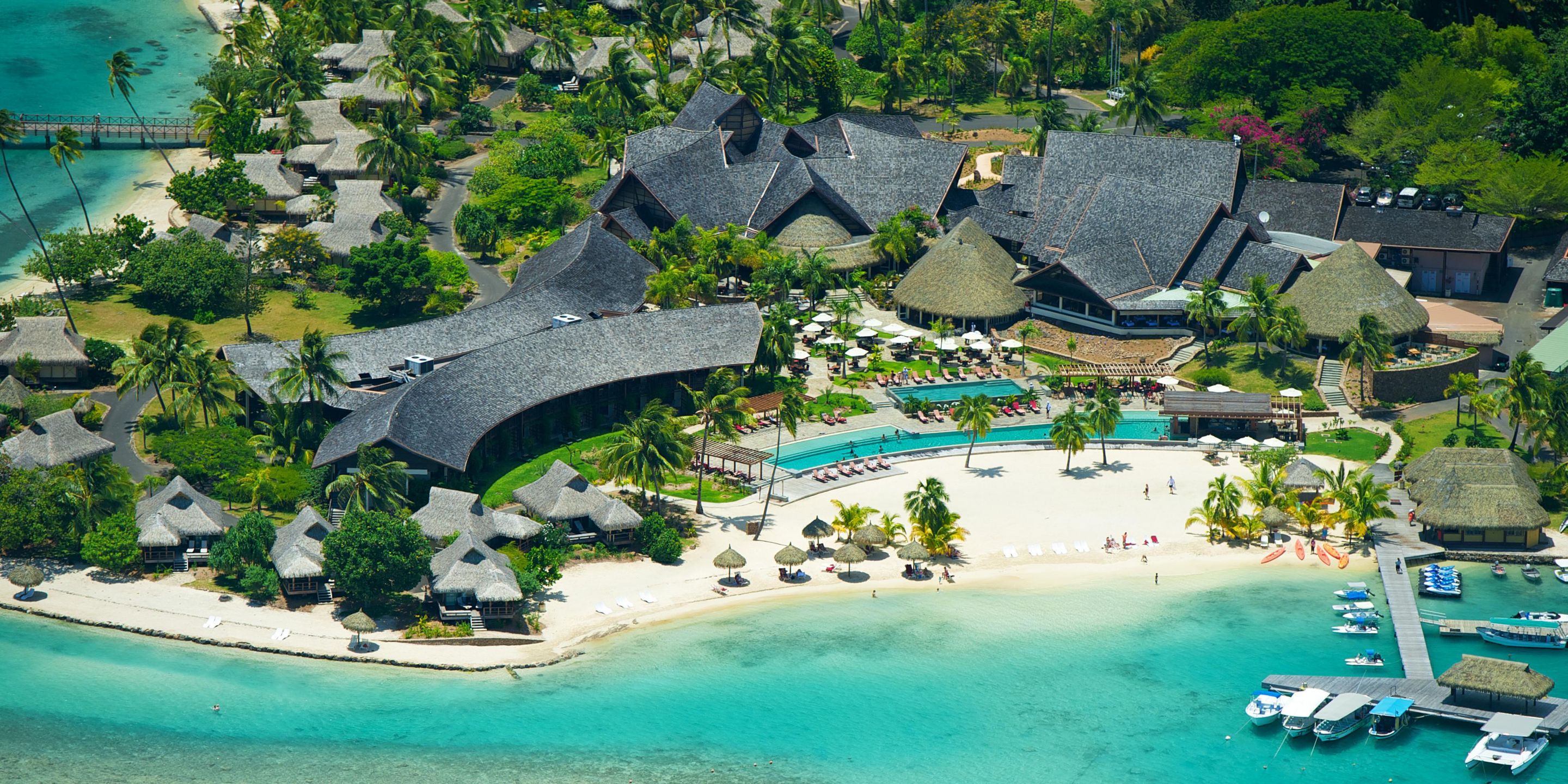 Click this link or the pic for more pics & details on this resort
The InterContinental Tahiti Resort & Spa is located on 32 acres of lush tropical garden alongside an idyllic lagoon. This well-known resort in Tahiti offers fine dining at two restaurants and world-class dinner shows. Guests can indulge in a host of activities, from diving amongst coral reefs to unwinding at the Deep Nature Spa. If you are looking for Tahiti resorts for your honeymoon, anniversary, or a romantic get-a-way, this is the ideal starting point to your unforgettable South Pacific getaway.

Cook's Bay Mo'orea
Believed to have inspired the mythical Bali Hai from James Michener's Tales of the South Pacific, Moorea is one of the most scenically striking islands in French Polynesia. Despite her immaculate beauty, she is far from unapproachable. Possessing a relaxed vibe and welcoming spirit, Moorea is just as warm and inviting as the Tahitians lucky enough to call this island home. Moorea rises magically out of the ocean like a cathedral. High, sharp, inspiring green spires, crowned by clouds. Poetic threads of waterfalls tumble down fern-softened cliffs. Peaceful meadows flanked by pinnacles of emerald green will renew your belief in the majesty of nature, and Moorea's bright blue lagoon will bring to life the South Seas idyll of your dreams. Pastel-painted houses, surrounded by gardens of hibiscus and birds of paradise, circle the island in a necklace of happy, simple villages that will elevate your senses and remind you that this is what life is all about. La vie heureuse, as they say in Tahiti, a happy life. One of the most memorable locations in The Islands of Tahiti, Moorea's beauty is unforgettable.

Intercontinental Mo'orea Lobby
The attraction toward Moorea comes as no surprise; the island is a geographical marvel. Eight voluminous mountain peaks rise from its translucent lagoon, creating a distinctive and rugged silhouette visible from the western coast of Tahiti. Splitting the northern shore are two symmetrical bays: Cook's (Paopao) and Opunohu Bay. The island is roughly shaped like a heart from overhead; and in the theme of love and romance, Moorea is one of the top honeymoon destinations in Tahiti—second only to Bora Bora. Try snorkeling, kayaking, hiking, feed the sharks & stingrays, or enjoy Moorea Dolphin Center, the only natural refuge where you can swim and play with dolphins. For complete exhilaration, try a helmet dive or skydiving!

Click this link or the pic for more pics & details
of the IntercontinentalMo'orea
With 27 acres of lush gardens, sandy beaches and a tropical lagoon, InterContinental® Resort and Spa Moorea is an oasis of luxury surrounded by nature. You can dive into the warm sea from the terrace of an overwater bungalow suite, or bathe in a private plunge pool in one of the garden-view bungalows. Borrow a kayak or paddleboard to explore the lagoon, or gaze at coral while snorkeling. After, dine in The Shell restaurant, or enjoy a themed evening of Polynesian dining, song, and dance. Your resort is also home to Mo'orea's Dolphin Center! Apart from the (pay for) programs, anybody can walk in the vicinity of the center, observe the dolphins in their lagoon, discuss any topics with the trainers on site.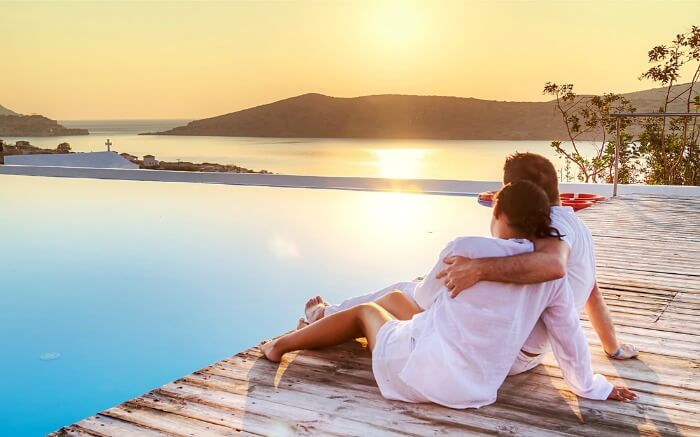 Bora Bora
Undoubtedly the most celebrated island in the South Pacific, Bora Bora is French Polynesia's leading lady. Her beauty is unrivaled and her fame, unwavering. Bora Bora is one of the few places on earth that everyone hopes to witness in their lifetime—and once you see it, you are forever enamored. Knick-named - 'Pearl of the Pacific', and 'Romance Central', Bora Bora often conjures up images of romance, in a tropical paradise, in the middle of the Pacific. Bora Bora rises from the velvet blues of the deep water up through the softer hues of the lagoon and into the air that surrounds the island. Its' touch on the sea breeze tingles the skin. And its power fills each beat of the heart.
A brief 50-minute flight from Moorea, you'll see the lagoon resembling an artist's palette of bright blues and greens,- it's love at first sight. Romantics from around the world celebrate Bora Bora where the lush tropical slopes and valleys of Mount Otemanu blossom with hibiscus, while palm-covered motu, circle the illuminated lagoon like a delicate necklace. With incredible turquoise waters which appear to be almost neon-lit from below, it's no surprise that the most popular Bora Bora activities revolve around the water. Unlike anything you've seen before, you can't pass up the opportunity to immerse yourself in these unbelievable waters. Simply put, Bora Bora is one of the most beautiful islands in the world. If you have too much sand between your toes and saltwater in your eyes, or you just need a break from your resort, consider exploring the island There are tour packages that include everything from half-day cultural island expeditions to romantic sunset and Champagne tours to wild deep safari jungle treks. Plus, most of the tour guides are locals and will be more than willing to share their favorite island secrets!

Click this link or the pic for more details
and pics of the overwater bungalows
At InterContinental® Bora Bora Le Moana Resort, the day starts with breakfast in your overwater bungalow, delivered on a wooden canoe decorated with exotic flowers. Spend the morning exploring world-class dive sites, jumping straight off your private pontoon into azure waters for a swim, or beachcombing along stunning Matira Beach. Want to wander? Explore the island, Mount Otemanu provides some vigorous hiking and stunning views, or just potter about the main village for famed Tahitian black pearls.
---