Feeling A Little Bit Wild?
Getting a "Wild Hare" To do something in the southwestern? If you love year-round sunshine, championship golf and exquisite pampering at the spa, I have a terrific deal for you!! Phoenix offers a relaxing, warm escape, and the Pointe Hilton Squaw Peak Resort has it all!
With this perfect package you can also enjoy the Cactus League (Major League Baseball spring training), if you want, or go explore the deep colors of Sedona's rock formations. Explore Old Town Scottsdale, browse the art galleries in Copper Square and discover the historic homes of Heritage Square. So much to do! So Little time

(Extra Nights Available)!
Scottsdale/Phoenix, AZ
$859.00 ~ Per Person
4 Nights - Pointe Hilton Squaw Peak
(Extra Nights Available)
1 Bedroom Suite
Non-Stop Roundtrip Airfare
Rental Car - Unlimited Mileage
*Price is Per Person
This Price may not be available for your dates of travel
This price may not be available for Holiday Travel
Blackout dates apply
Packages at this price are limited!
Enjoy the Arizona sunshine at this popular River Ranch Water Park, complete with waterfalls, a water slide, lazy river and multiple pools. Stay active on the tennis and basketball courts, nearby hiking trails or in the spacious fitness center.
There's always something fun to fill your time.
Centrally located, Squaw Peak is nestled next to a 300-acre desert mountain preserve.
Bring the kids - it's famous for being a family-friendly resort, the Pointe Hilton Squaw Peak has it all. From spacious studios to three-bedroom Casitas with their own car port, there's a suite to fit your needs at Pointe Hilton Squaw Peak Resort. Each suite offers modern amenities including WiFi, HDTV, and plenty of living space.
The award-winning Coyote Camp program (children ages 4-12) offers a variety of educational events and activities geared to educate children about Arizona's colorful Western folklore, culture and geography.
Dining choices on the property include; Slim Picken's - it's servin' up some favorites poolside. Whether yer hankerin'
fer
one of them thar foo-foo drinks, or jus' wanna sink yer teeth into one of Slim's famous burgers ... this here's the place
fer
you! Mosey on over to the River Ranch and say ''howdy'' to Slim.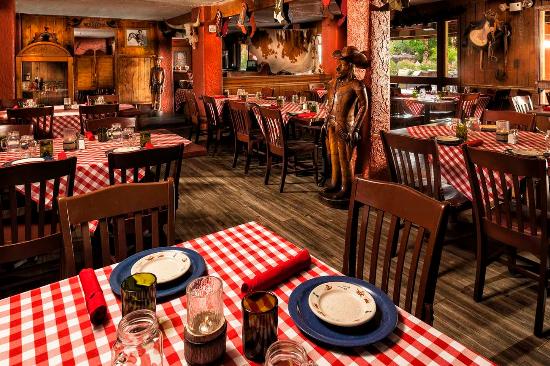 And The Hole In The Wall- Features western family-style dining. Located in an old ranch house built by hand in the early 1940's the restaurant serves breakfast, lunch
and
dinner. Dine in the authentic dining room or outside on one of two patios. A sunken bar overlooks the resorts' eight-acre waterfall feature.
Rico's American Grill: Cultivate your appetite with menu favorites, including fresh-chopped salads, decadent burgers, sandwiches, and grilled seafood. Enjoy dining and cocktails at Rico's Backyard, the popular outdoor patio.
---