"Aloha" From The Hawaiian Islands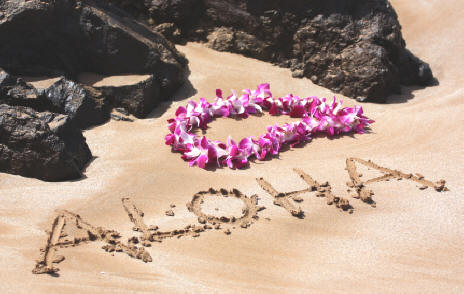 You'll love spending the time exploring our Hawaiian Islands - without ever packing and unpacking on each island. A cruise ship isn't just transportation to exciting ports of call. The ship itself is also an exciting destination with a wealth of onboard amenities. Use our experienced Vacation Planners to give you inside exclusive information that Internet Web Based Agencies and big corporate websites just can't offer. The bottom line is we want to make your wishes and your desires come true.
Norwegian Cruise Line
$1999.00 - Per Person


Inside Cabin


$2249.00 - Per Person


Oceanview Cabin


Sail Departs February 22, 2020
7 Night ~ Cruise - The Pride of America
1 Pre-Night In Honolulu (Waikiki Area)
Roundtrip Airfare
Tax $159.00*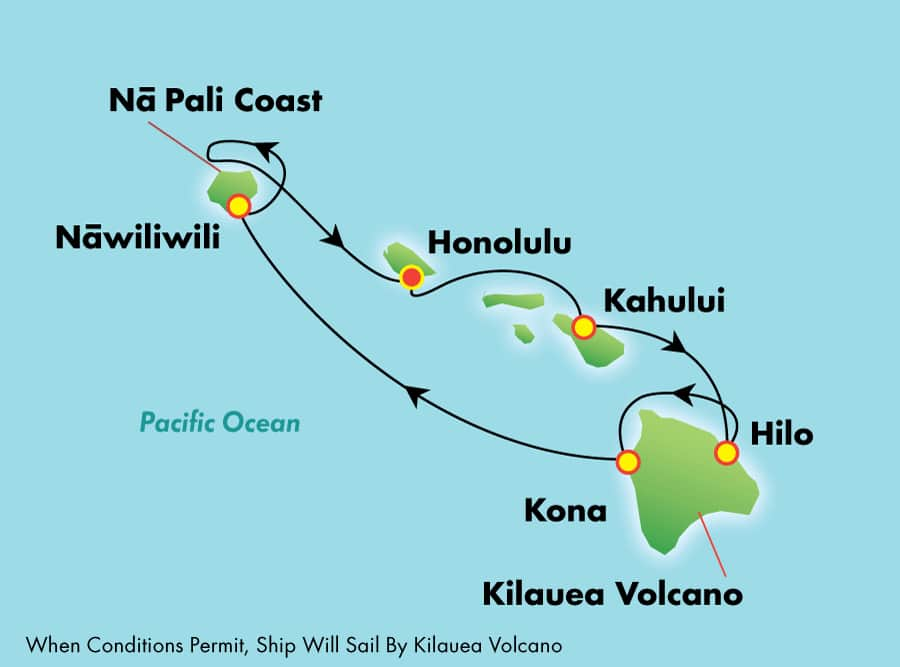 Sailing To Ports Of Call:
From Honolulu, HI
To, Maui, Hilo, Kona (Kailua Bay),
Kauai, Cruising Napali Coast Kauai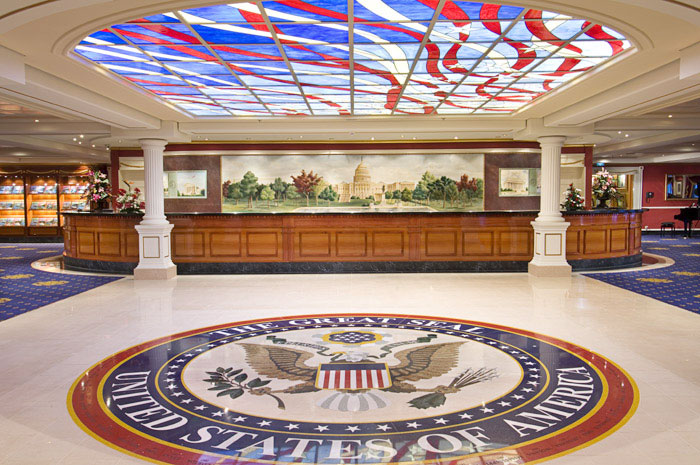 Come aboard the Pride of America it's sleek, a beautiful ship that delivers world-class amenities and accommodations, along with a friendly crew ready to share their warm and welcoming "Aloha Spirit" with you. Enjoy a wonderful 7-day inter-island cruise to five fabulous ports of call on Oahu, Maui, Kauai and the Big Island of Hawaii. You'll be sailing from Honolulu, after a spectacular 2 nights/3 days touring the island. It's a great way to discover all the beauty of Hawaii from the vantage point of your own floating resort, and it's only from NCL America.
Inspired by the architecture of the Capitol Building and White House, Pride of America's grand atrium features a stunning glass dome that is at the heart of this U.S.-flagged vessel. Void of schedules, you'll have ample opportunities to venture about, scoping out the decor, spacious staterooms and regional dishes served in 11 restaurants - or whatever else you feel like doing.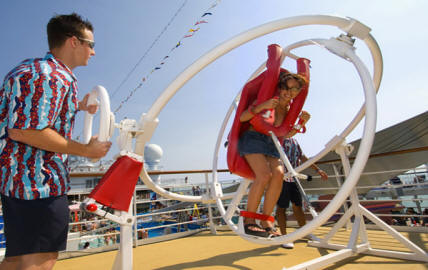 Plus, she has a warm and friendly American crew ready to assist you on your Hawaiian island adventure and to make sure your cruise is just that, yours. Fun for the whole family? You bet! You'll find a selection of Family Penthouses and Suites on board as well as an array of family-friendly connecting staterooms - "family suites" catering to families and groups traveling together.
The Pride of America is highlighted with amenities such as the Santa Fe Spa and Fitness Center, a swimming area capturing the fun and energy of Miami's South Beach, the Soho Art Gallery, Hollywood showroom and regionally themed lounges like Mardi Gras Cabaret Lounge, Napa Wine Bar and Waikiki Bar. The Conservatory, a tropical garden that houses exotic birds and children will enjoy many activities, with a recreation center, pool and cafe all their own.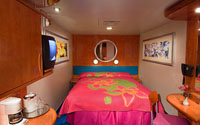 Inside Cabin Oceanview Cabin
With NCL's "Freestyle Cruising" program, passengers are free to dine at their leisure in two main dining rooms and a variety of specialty restaurants including China Town, Order a juicy steak at the Lazy J Steakhouse, or tantalize your taste-buds with some superb dining at the "Little Italy" Restaurant. Pride of America has 10 bars and lounges where you can kick back and relax and a choice of 8 restaurants serving a wide selection of international cuisine. The décor throughout is inspired by different periods of American history so you've got everything from a wild west saloon and colonial dining room to a 50s retro diner, complete with red Cadillac seating!
And when the sun goes down, catch a show at the Hollywood Theater or dance the night away at the Mardi Gras Cabaret Lounge & Nightclub. Whatever floats your boat – you'll find it on this lively cruise ship. Enjoy champagne and canapés in Pink's Champagne and Cigar Bar, fine wines in the Napa Bar or grab a beer in the Gold Rush saloon. Don't miss out on the evening extravaganzas! But, if you prefer just to sit and enjoy a drink and conversation – the Conservatory is a great place to relax and take in the views.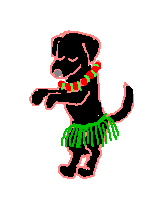 Click me - I'll take you to the top

---