Unpack Once - See 4 Countries!

If sailing on a riverboat cruise has been a dream of yours, this is the trip for you! Explore one of Europe's best-loved rivers, the Rhine. Discover the turreted fortresses, grand cathedrals, historic cities, medieval towns, and spectacular scenery of the Middle Rhine—a UNESCO World Heritage Site. Sip the region's renowned white wines, the roots of its terraced vineyards reaching back to Roman times. Savor the various culinary traditions of Alsace. From Basel and Cologne to Amsterdam, this journey reveals a rich landscape of beauty and culture.




Plan Your Voyage Risk....Free. If you don't want to travel or are concerned about the COVID in Europe this Spring you can:
"Change Your Cruise Date Up Until 24 Hours of Departure", "All Change Fees Are Waived," and with Viking's Ultimate Flexibility:
You Have 24 Months to Select Your New Cruise Date so get in on this huge sale now, and now have to worry if your plans change!
Viking Riverboat Cruise
$2759.00 ~ Per Person
(Inside Cabin)


$xxxx.00 ~ Per Person
(French Balcony Cabin)


Vikings' Rhine River Getaway
Basel, Switzerland To Amsterdam
7 Nights/8 Days - Longship Hermod
Roundtrip Airfare
***March 25th, 2022 Sailing***
(Other Dates May Be Available)
Cruise Includes:
Welcome Cocktail Reception & Dinner
20 meals: 7 breakfasts, 6 lunches, 7 dinners
Wine, Beer & Soda (FREE) with Lunch & Dinner
Evening entertainment
Cruise porterage
*Wireless Audio System for Excursions
English Speaking Guides
6 Guided Tours with Audio Headset*
Visit 5 Heritage Sites
Free Onboard Lectures
(On Culture Affairs
& Origins of Rhine River Cruising)
All port charges
Free Wi-Fi, connection speed may vary
Add Tax $219.00
(per person - not included)
Ask About Pre & Post Extensions
Sometimes all you want to do is sit back, perhaps with a nice glass of wine or your morning coffee, and have some time to reflect. A river cruise aboard the Viking Hermod allows you to make time for yourself. You'll find beautiful lounges and quiet corners to sit and peacefully reflect while gazing out at the passing castles, rolling hills, and windmills.
Sailing along on one of Europe's favorite rivers, and explore medieval towns, historic cities, fairy-tale castles, and spectacular scenery, on this 8 day Rhine journey of beauty and culture. Unpack just once on your state-of-the-art ship, enjoy your spacious stateroom, and spend more time immersed in your destination. See why Viking is the world's leader in river cruising.
After each day delving into the culture and traditions of each port and engaging in delightful conversation with your tour guides and fellow passengers, you'll need these quiet moments of reflection aboard the Viking Hermod to process the fantastic sights and experiences. You'll be sailing on the longship The Mimir - Norse God of Wisdom. Mimir is said to have gained wisdom and knowledge by drinking from the Well of Wisdom.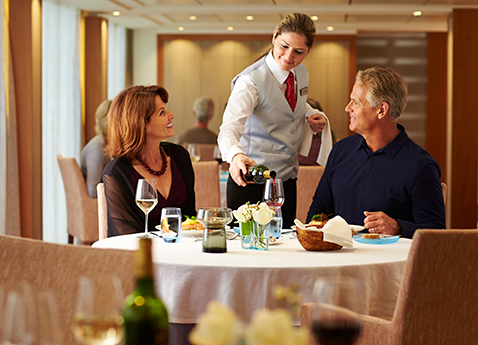 Click this link or the pic for a tour of the Longship Mimir
Viking ocean and river cruises offer intimate, inclusive cruise itineraries designed to encourage you to explore and engage with your destinations through their food, culture, countryside, and customs. Every aspect of your Viking cruise is for the curious traveler seeking rich cultural immersion: onshore, onboard, as well as pre-and post-travel. Each Viking ship is elegant, light-filled, and intimate, thoughtfully designed by experienced architects and designers to help you connect with your destination in every way.

Veranda Stateroom With Full Balcony
This Viking Longship features more full-size verandas and full-size staterooms than ever before. The Aquavit Terrace has a unique design that allows floor-to-ceiling windows that open to create an area that combines the comfort of the indoors with the fresh air of the outdoors. Accommodations for 190 passengers there are 95 comfortable outside staterooms, (25 Standard Staterooms, 22 French Balcony Staterooms, 39 Veranda Staterooms, 7 Veranda Suites, 2 Explorer Suites).
Not to mention the Sun Deck with 360-degree views & shaded sitting area, an organic herb garden with solar panels, putting green & walking track, a fabulous Aquavit Terrace & Lounge, a revolutionary indoor/outdoor viewing area at the bow of the ship for al fresco dining, and of course the Viking Lounge & Bar with floor-to-ceiling glass doors. There is so much more to a Viking Riverboat Cruise - You need to explore it for yourself!
Due to limited availability on sailings,
the demand for Viking's 2022 cruises is already high and as Vikings' agent,
we are delighted to offer you this exclusive offer!
---