Hyatt Cancun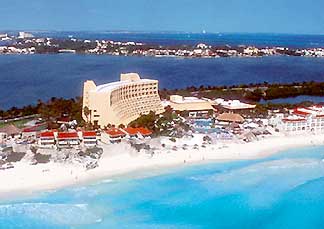 "If we put you any closer to the water, you would have sand in your bed."" The AAA 4-Diamond Award Winner for both Resort & Blue Bayou Dinner Club is one of the finest hotels in Cancun!. Enjoy the personal service and elegance of this modern boutique resort where attention to detail is the hallmark. This Resort is located in the heart of Cancun on beautifully landscaped grounds fronting the breathtaking Caribbean.
---
Accommodations
This hotel offers 226 guestrooms and suites located in a seven-story tower and in 21 three-level villas along the beach. Styling/décor includes high ceilings; tiled floors; blue and white tones.

All the resort's rooms and suites are offered in the European Plan (without meals).
---
Dining
Blue Bayou - This elegant, romantic restaurant serves Cajun and Creole cuisines. Fronting the restaurant is a bar/lounge, Le Jazz Club, featuring live jazz on most nights.
Café Cocay - Located off the lobby, this restaurant serves breakfast and dinner buffets and also offers à la carte selections.
La Concha - This casual lunch spot offers inside and terrace seating to sunbathers around the main pool and on the beach. The restaurant features Mexican favorites and seafood.
Pizzeria - Located right on the beach, this is the place to grab a quick slice of pizza, with cold drinks available at an adjacent pool bar.
---
Property Amenities
Hyatt Cancun Caribe faces a private, half-kilometer extension of gleaming white sand beach, stretched along the clear, blue-green waters of the Caribbean Sea. On the beach or by the pool, Fresco's Pool Bar will always have something refreshing.
Guests choose among three swimming pools. A large, free-form main pool located adjacent to the beach contains a children's section and is surrounded by an expansive stone sundeck furnished with thatch-roof palapas and padded lounge chairs. Two small pools, one next to a 10-foot diameter hot tub, lie half-hidden among the villas arrayed along the sea. Toward the south end of the beach, a 20-foot-high promontory called Love Rock interrupts the beach. Famous as a wedding site, Love Rock also serves as a barrier protecting a 75-yard stretch of white sand south of it, creating a semi-private beach where in-the-know guests retreat for utter tranquility.
Enjoy fabulous dining at Blue Bayou, a Di Rona Award winner, perhaps the finest restaurant in all of Cancun with live jazz. Sumptuous steaks, lobster and Cajun recipes are served in an tiered atrium setting with a deep south ambience. Highly recommended for a romantic evening.
This boutique resort features 226 ocean front rooms, including 139 deluxe rooms with balconies, 28 beachfront rooms, and 58 villas with direct access to the beach. Set along beautifully landscaped grounds, all rooms are guaranteed ocean view.
---
The 226-room Hyatt Cancun Caribe offers the intimacy and personal hospitality of a boutique hotel. Facilities and services include a business center with Internet access, outdoor massage services, a beauty shop, pool tables in Le Jazz Club, a car rental desk, and a tour desk for booking excursions to eco-adventure parks and archeological sites on the Yucatan Peninsula. Like all major Cancun hotels, the Hyatt Cancun Caribe has a water-purification system.
* Room service (24 hours)
* Spa tub
* Spa services on site
* Currency exchange
* Hair salon
* Garden
* On-site car rental
* Medical assistance available
* Gift shops or newsstand
* Complimentary newspapers in lobby
* Shopping on site
* Wheelchair accessible
* Conference room(s)
* Audio-visual equipment
* Number of rooms: 226

* Swimming pool - outdoor
* Poolside bar
* Concierge services
* Multilingual staff
* Parking (valet)
* Patio
* Pool table
* Safe-deposit box - front desk
* Business center
* Parking (free)
* Business services
* Supervised child care/activities
* Babysitting or child care
* Internet access in public areas - surcharge

---
[ Previous Page ]
You can reach our office at 402-390-0909 or 800-356-8985