Sol Cabanas del Caribe is an intimate hotel retreat located amid lush gardens, overlooking the sparkling Caribbean Sea and a pristine beach. Enjoy dining on a variety of local, international and tempting seafood specialties. One of the main watersports centers on the island is located on property.
---
Accommodations
This two-story hotel offers 48 rooms with spacious balconies or ground-floor patios, all facing the sea and all with multi-colored hammocks. Rooms have white walls and rustic wood ceilings and dark furniture. The separate sitting area has a large cushioned chair. The small tile bathrooms have a shower (no tub) and a wide marble vanity. Rooms have no television or telephones. All are air-conditioned.
---
Dining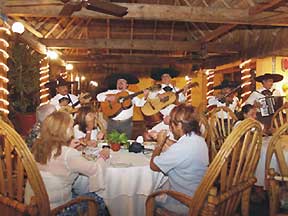 Las Gaviotas - "The Seagulls," as the name translates, serves breakfast, lunch, and dinner under a soaring, open-air palapa equipped with ceiling fans or on an oceanfront terrace. The breakfast menu offers both Mexican and American selections. The lunch/dinner menu features salads, burgers, Mexican specialties, pasta, seafood, chicken, and steak.
Snack Bar - Situated between the pool and the beach, this spot serves tropical drinks and snack foods such as nachos.

Room service is available from early morning to late night.
---
Property Amenities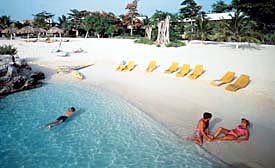 This is the place to go for those who want to be far away from technology, and very close to nature. One of the main watersports centers on the island is located on property, and guests will enjoy casual a la carte dining at Las Gaviotas Restaurant.

Although rock shelves line the beach for most of its length in front of the hotel, one 30-foot-wide spot provides sandy access to the Caribbean's turquoise water. The hotel pool is L-shaped and raised on a rock terrace above the beach and is only spacious enough for paddling and cooling off. Adjacent to it are a round children's pool and a bar serving tropical drinks and snack foods. At the south end of the beach and under a thatch-roof palapa, guests can rent sailboards, small sailboats, snorkel sets, and jet skis. Arrangements can also be made to go snorkeling, scuba diving, and fishing.

This property is on the northwest coast of the island, on a large extension of natural beach. It is 5.2 km away from the Downtown area, and 10-minutes away from the airport.
---
Low rise, all white, and rustic, the 48-room hotel is surrounded by trees, lawns, and flowering hedges. The open-air lobby contains two lounge areas with colorfully cushioned furniture, a shelf of paperbacks, and televisions. Off the lobby is a tiny gift shop. A safe-deposit box at the front desk protects guests' valuables. Like most Cozumel hotels, Sol Cabanas del Caribe recommends guests do not drink tap water and provides bottled water.
Swimming pool - outdoor
Poolside bar
Bar/lounge
Multilingual staff
Garden
Safe-deposit box - front desk
Swimming pool - children's
Room service (limited hours)
Babysitting or child care
Gift shops or newsstand
Parking (free)
Number of rooms: 48
---
[ Previous Page ]
You can reach our office at 402-390-0909 or 800-356-8985