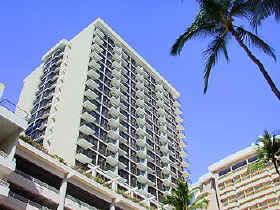 Peacefully tucked away from all the hustle and bustle, the Waikiki Parc Hotel is steps away from Waikiki Beach and its sister hotel, Halekulani. This resort features casually elegant accommodations in an intimate boutique setting-perfect for the savvy traveler!
---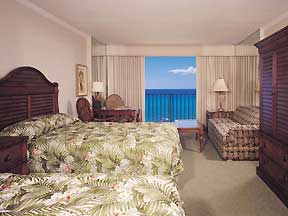 This 23-story hotel offers 297 guestrooms, all with view balconies. Decorated with island pastel colors and tropical green accents. Ceramic-tile floors with plush inlaid carpeting; conversation areas. Each room has two telephones, a compact refrigerator, cable television with a pullout swivel base, and individual overhead bedside reading lamps with dimmers. Bathrobes are included.
---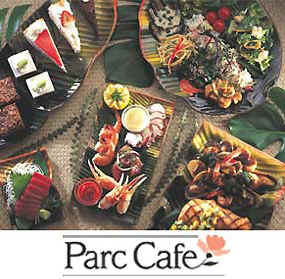 Parc Café - The Parc Café provides a relaxed garden setting for breakfast, lunch, and dinner buffets, with an emphasis on Hawaiian food at lunch and prime rib at dinner.
Kacho - Elegant in classic, understated Japanese style with an entryway displaying a single orchid floating in a beautiful bowl, this intimate restaurant includes a marble sushi bar and serves Kyoto-style cuisine for breakfast, lunch, and dinner.
---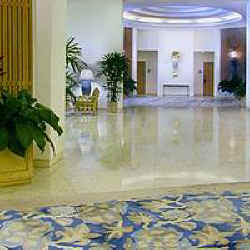 Waikiki Parc Hotel is Honolulu's best value offering an intimate and comfortable environment with free breakfast, and easy access to rooms. Signing privileges at Halekulani.

Centrally located in the heart of Waikiki, within five minutes walking to the best shopping, dining and entertainment. Downtown Honolulu is just a short drive away.

Within 100 yards from the famous Waikiki Beach!
Regular return here loyally, drawn by the secluded-yet-convenient locale and the hushed, peaceful atmosphere where even corridor lighting is artfully muted. When the lobby's modern brass-and-glass pendulum clock chimes gentle musical notes, it sets the tone prevailing here: tasteful and tranquil.

Amenity highlights: The beach is right across the street at the end of a short walkway. (All Hawaiian beaches are public.) Guests can also opt for the open-air swimming pool atop an extension of the garage comprising the hotel's first seven floors. The pool's surrounding sundeck catches cooling trade winds, includes umbrellas, and is graced by potted palms and tropical plants. World-class shopping begins a block away.

Insider tip: The Waikiki Parc's sister hotel, the elegant Halekulani, lies just across the street, and Waikiki Parc guests enjoy signing privileges at the Halekulani's restaurants.
---
Half-hidden at the end of a row of Waikiki's mega hotels, the 297-room Waikiki Parc rises 23 stories and provides free guest parking in a garage occupying the first seven stories. Small restaurants abound in the quiet little neighborhood.
* Fitness equipment
* Internet access in public areas - surcharge
* Room service (limited hours)
* Complimentary breakfast
* Laundry service
* Parking (valet)
* Parking (free)
* Wheelchair accessible

* Swimming pool - outdoor
* Business services
* Multilingual staff
* Currency exchange
* Babysitting or child care
* Concierge services
* Safe-deposit box - front desk
* Number of rooms: 297

---
[ Previous Page ]
You can reach our office at 402-390-0909 or 800-356-8985