A part of the Sandals Signature Spa Collection, this impressive couples-only retreat is situated on 155 acres with a dramatic half-mile crescent-shaped beach. Bask in the large pool with a dramatic waterfall, swim-up bar and romantic bridges. The resort also features the new villas on Sunset Bluff, a luxurious enclave perched atop a coral bluff overlooking the Caribbean.
---

The resort offers 328 air-conditioned guestrooms and suites in brightly colored buildings arrayed on hillsides above the beach and on Sunset Bluff overlooking the open Caribbean Sea. Nearly all rooms and suites feature four-poster mahogany beds. (A few are two-posters.) Most rooms or suites include upper-floor balconies or first-floor terraces furnished with a two-chair dining set and two lounge chairs. Decor includes pastel walls, terra-cotta tile floors, mahogany furniture, and brightly colored floral bedspreads. Louvered doors and ceiling fans permit natural cooling as an alternative to rooms and suites' air conditioning.
---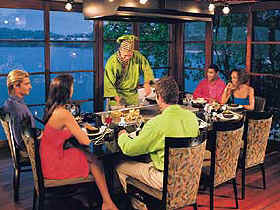 Kimonos - Colorful restaurant featuring Teppanyaki tables. Reservations required. Dress code: long pants or dress shorts; collared shirts for men.
Pavilion - Open-air restaurant under three-story ceiling adjacent to main pool. Breakfast and buffets. Á la carte dinners six nights weekly and Saturday buffet. International cuisine. Pasta bar and grilled foods. Live music nightly. Dinner dress code: long pants or dress shorts; collared shirts for men.

Pitons - Open-air under two conical wood roofs. West Indian choices such as salt cod fritters, vegetable gumbo, coconut shrimp, lamb curry, flank steak, coffee-caramel cheesecake. Dinner only. Dress code: no beachwear.

Armando's - Air-conditioned restaurant featuring deep rose walls, Roman columns. Italian cuisine. Breakfast, lunch, dinner.

Arizona - Open-air next to beach. Wood deck, colorful peaked-wood ceiling. Southwestern cuisine such as flank steak, ribs, fish. Dessert bar. Becomes Arizona Beach Bar & Grill for á la carte lunch and late-night dining serving burgers, hot dogs, chicken wings, pizza. Dress code: no beachwear.

Le Toc - Intimate room with red satin draped windows, blue linens, soft lighting. French cuisine such as escargot, smoked salmon, lobster bisque, rack of lamb, turbot with scallops. Dress code: long pants and collared shirts for men.

Monday nights feature a beach party with barbecue buffet on the beach. The resort has nine bars, including those in the amphitheater where nightly entertainment is presented, a late-night piano bar, a sports bar, and two swim-up bars.
Welcome Party, Jamie's Disco, Karaoke, Herbie's Piano Bar, Amphitheater, Sports Bar, Lover's Night, Pirates Night & more.
---
Considered the emerald of the Caribbean, this impressive resort is situated on 210 lush acres fronting a half mile of crescent-shaped, white-sand beach. Sandals St. Lucia is the only hotel on the island to offer a full-service European spa.

The All-Inclusive Plan includes unlimited premium brand beverages, anytime snacks at the Beach Grill and a choice of six gourmet restaurants. There is complimentary golf on-site, and guests have full exchange privileges both of the other Sandals resorts.

Resembling a colorful seaside village, the hilly, 210-acre resort features a 100-foot coral bluff overlooking the ocean and tropical gardens replete with flowers, doves, and nocturnal singing tree frogs. Ample space exists for tranquil relaxation—especially on pool floats and the uncrowded beach—with group games and activities for those wishing them. Both middle age couples and young honeymooners come here, with the latter group predominating. Vans shuttle guests up and down the hills around the clock, although many guests choose to stroll through the green grounds.

Amenity highlights: Three free-form pools provide alternatives to the resort's 500-yard beach. A huge main pool sprawls 250 feet along the beachfront and includes a swim-up bar and a semi-circular section containing a rock formation from which waterfalls cascade. Adjacent is a 20-person spa. A second, good-size pool is terraced just above the beach halfway between the main building cluster and the bluff. A large pool with rock waterfall lies within the Sunset Bluff lodging section and includes a swim-up bar. Adjacent to this pool is a 10-person spa on the edge of the bluff looking down to the sea.

Insider tip: As part of Sandals Regency's All-Inclusive Plan, guests are also entitled to dine and use facilities at Sandals' other St. Lucia resorts, Sandals Halcyon (3 miles away) and Sandals Grande St. Lucian Spa & Beach Resort (6 miles). Complimentary shuttle service connects the three resorts.
---
The resort features a 9-hole golf course climbing up hillsides. Play is complimentary, but fees are charged for caddies, shoe rental, and golf carts (all mandatory). Clubs are available for a fee. Other recreational facilities and equipment are complimentary, including five tennis courts (all lighted), kayaks, windsurfers, sailboats, snorkeling gear, Aquatics, and Waterskiing and scuba diving. Scuba-diving certification lessons are available for additional fees. Land sports include basketball, croquet, horseshoes, shuffleboard, beach volleyball, and pool.
* Complimentary nine-hole golf course*
* Full-service European spa (not included in rate)
* Three freshwater swimming pools
* One scuba pool
* Four whirlpools
* Unlimited meals and premium brand drinks
* A choice of six restaurants
* Tour desk
* Gift shop
* Money exchange bureau
* Car rental
* Dry cleaning and laundry
* Language translators
* Airport transportation
* Unlimited land and water sports including Waterskiing, snorkeling, windsurfing, and scuba diving.
* Swimming pool - outdoor
* Swim-up bar
* Airport transportation (complimentary)

* Complimentary newspapers in lobby
* Restaurant's) in hotel
* On-site car rental
* Limo or Town Car service available
* Conference room's)
* Safe-deposit box - front desk
* Multilingual staff
* Porter/bellhop
* Doorman/doorwoman
* Medical assistance available
* Shopping on site
* Hair salon
* Tour assistance
* Garden
* Video library
* conditioned public areas
* Wheelchair accessible
---
[ Previous Page ]
You can reach our office at 402-390-0909 or 800-356-8985