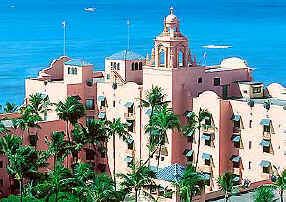 A member of The Luxury Collection of Starwood Hotels & Resorts Worldwide, the "Pink Palace of the Pacific" has been welcoming visitors since 1927. For generations of discriminating travelers The Royal Hawaiian has become synonymous with luxury, Hawaiian tradition, and romantic elegance.
---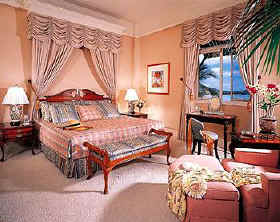 Palatial pink stucco oceanfront hotel with 556 rooms. Historic Wing was built in 1927. Tower was built in 1969, and 2002-2003 remodeling has brought rooms up to 21st-century standards, with contemporary furnishings. All rooms air conditioned. Other features: Pink sheets and towels, soft bathrobes, high-speed Internet access, video-game consoles.

Deluxe Ocean - These guestrooms are located on the 2nd and 6th floors in the historic building. 333 sq. ft. Views of Waikiki Beach.

Deluxe Garden - Guestrooms are located on floors 1-6, have garden views, and comply with ADA regulations for handicapped access. 333 square feet. Bathrooms have roll-in shower and separate tub.

Garden Suite - These suites offer 885 square feet and are located on floors 1-6. Historic appeal with high ceilings and wet bar.

Tower Ocean Suite - Guestrooms offer 486 square feet and are located on the 16th and 17th floors. 486 sq. ft. Rooms comply with ADA regulations for handicapped access.
---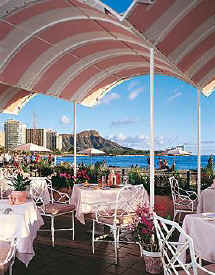 The Beach Club - The spot for casual breakfast, light lunches, and afternoon snacks, the aptly named Beach Club is located near the beach and sundeck/pool.
Royal Luau - This traditional feast on the beach includes Hawaiian music and entertainment.

The Surf Room - Situated alongside the beach, this fine-dining restaurant serves breakfast, lunch, and dinner with style and finesse. Hawaiian musical entertainment graces dinner. On Friday evenings, a seafood buffet complements the à la carte menu. Sunday brunch is another special attraction.
"Nightly free entertainment at the Mai Tai Bar, and there is a disco/nightclub a" the Sheraton Waikiki.
---
Royal Hawaiian's unique blend of Moorish-Spanish design and stunning coral pink stucco has made it the most celebrated landmark on Waikiki Beach.

Enjoy being pampered at the Abhasa Spa, lounge in the sun at the Royal Beachside Café or participate in the Royal Luau on Monday nights. Also available to guests are valet parking and 24-hour room service. Exchange Privileges with Waikiki Sheraton hotels.
Pink, as in sheets and towels. An international cast of regulars and first-timers accustomed to hushed, luxurious leisure. More pink, as in striped umbrellas and awnings. Lush gardens and grassy swaths throughout the 10-acre site. Even more pink, as in the lobby's vaulted ceiling and in the wood-beam ceiling of the lobby's T-shaped extension. Art deco touches like huge arched mirrors in the public spaces and above the hotel's shops. Still more pink, as in the long, frilly dresses worn by some female staff and in the shirts of male staff. Gorgeous floral rugs in the lobby. And, finally, blue, as in the large pots balancing atop exterior walls and containing spiky pale-green plants.

Amenity highlights: The Royal Hawaiian offers Waikiki's only beach luau, including the music and dancing of The Royal Polynesian Extravaganza. Other distinctions include one of the only two private, roped-off beaches on Waikiki; the renowned, open-air Mai Tai Bar where (legend has it) the drink was invented; a luxurious, full-service health-and-beauty spa; and afternoon high tea service on the terrace overlooking a tranquil coconut grove.

Insider tip: Clustered within two blocks of one another, Waikiki's four Sheraton hotels offer the convenience of "Stay at One, Play at All" hospitality. Guests at any hotel are invited to enjoy dining, entertainment, and facilities—except swimming pools—at the other hotels while simply charging to their rooms.
---
This hotel, for example, includes the health-and beauty Abhasa Waikiki Spa. Next door, the Sheraton Waikiki offers daily Keiki Aloha activities for kids 5–12, with morning, afternoon, and/or evening sessions as well as lunch and dinner options. The Sheraton Waikiki's fitness center, the Princess Kaiulani Hotel 24-hour medical clinic, and the Sheraton Moana Surfrider's famous Banyan Veranda afternoon high tea similarly are available to Royal Hawaiian guests.

From a fresh-flower lei greeting to fresh banana bread served upon arrival, from sunning on a roped-off private beach to luaus on the beach, from the Queen Anne–style room decor to the tranquil lush-grass coconut grove outside the original entrance, Royal Hawaiian guests recognize this hotel is a special place where graceful hospitality is paramount and tradition is honored. The exercise facility and children's programs are offered at the hotel's sister Sheraton properties.
* Swimming pool - outdoor
* Use of nearby fitness center
* Supervised child care/activities
* Audio-visual equipment
* Internet access in public areas - surcharge
* Room service (24 hours)
* Parking (valet)
* Concierge services
* Laundry service
* Shopping on site
* Complimentary newspapers in lobby
* Wheelchair accessible
* Number of rooms: 556
* Spa services on site
* Tour assistance
* Conference room(s)
* Business services
* Currency exchange
* Multilingual staff
* Hair salon
* Babysitting or child care
* Gift shops or newsstand
* Parking (surcharge)
* Safe-deposit box - front desk
* Bar/lounge
---
[ Previous Page ]
You can reach our office at 402-390-0909 or 800-356-8985