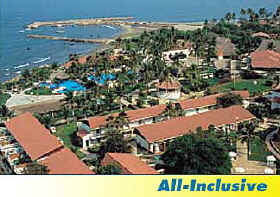 The Qualton Club Ixtapa offers plenty to do for adults and children. Nestled among 17 acres of lush tropical vegetation, this two-story All-Inclusive resort runs along a private beach just 30 minutes from the airport and 5 minutes from the hotel zone. Ixtapa Island is located just offshore.
---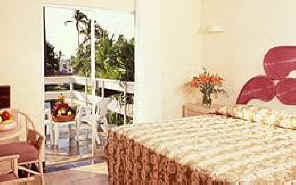 Standard Room - All rooms have a balcony or terrace with an ocean or garden view. The rooms have one king bed or two double beds, bathroom with shower, air conditioning, direct dial telephones, safety deposit box and satellite color television with remote control.

On the all-inclusive plan your accommodations, all meals (buffet breakfast, lunch and dinner), snacks, unlimited drinks, activities program which includes bike tour and ecological tour, non-motorized water sports, snorkeling classes at the pool, evening shows, disco, children's program, game room, all tips and taxes are included in the price..
---
Hola Ola
Open from 10:30 p.m. to 1:00 a.m.
The "Disco" is the perfect place to finish an exciting day! with exciting ambience, and geat music to dance the night away. Drinks are included.
Jalapeños
Delicious snacks and light fare for the mid morning crave or to have with cocktails in the afternoon.

Villalinda
Delicious and excellent quality buffets will make the difference in your vacation. Serving breakfast, lunch and dinner.

Berny´s
Try out the most exotic drink at the pool bar.

Coco Loco
An oasis of fresh nature! Try something refreshing at the beach bar.

La Fiesta
Enjoy your favorite drink surrounded by nature.

Margaritas
Enjoy a festive meeting point in the lobby bar.
---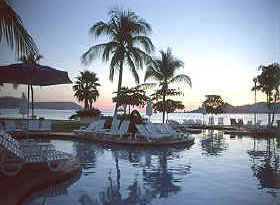 When you stay at the Qualton Club Ixtapa, a modern world-class resort, you'll be stepping into an Ixtapa vacation that's so spectacular it will seem like a dream. Surrounded by 17 acres of lush, tropical vegetation, you can take a bike ride through a steamy jungle, watch colorful fish swim by as you snorkel, and gaze up at the stars as they saturate the sky on a moonlit walk in the gardens. Fine dining, fresh water pools, and elegant accommodations create the perfect Ixtapa vacation. Come and enjoy the beauties of Ixtapa -Zihuatanejo only at the all-inclusive Qualton Club Ixtapa.
The All-Inclusive plan includes all meals, unlimited beverages and daytime activities are included in the modest nightly rate. The Qualton Club features two restaurants just for breakfast and lunch, a third restaurant for snacks, and the dinner is served on the main plaza each evening, along with a different evening show each night. There are five bars on the resort.

The guest rooms are beautifully appointed and spacious. Each has a balcony or a patio, in-room safe, satellite television and view of either the sea or the hotel's gardens.

The property has two main pools, outside Jacuzzi, children's pool, pool bar, outdoor disco, game room, outdoor theatre, children's club, two lighted tennis courts, an exercise room, two meeting rooms, car rental desk, boutique and a tobacco shop. The large swimming pool is especially striking, with lush landscaping around it. The Qualton Club Ixtapa is convenient to fine dining, shopping and entertainment venues. There is a boat pier beside the property, which takes it's guests to Ixtapa Island, right in front of the hotel.
---
* Swimming pool - outdoor
* Swimming pool - children's
* 24 Hour Front Desk
* Air Conditioning
* Alarm Clock
* Babysitting Service
* Boutique
* Car Rental
* Children's Club
* Concierge Desk
* Direct Dial Telephone
* Entertainment
* Game Room
* Gift Shop

* Laundry Facilities
* Lounge/Bar
* Meeting Facilities
* No-Smoking Rooms
* Parking
* Restaurants
* Room Service
* Safety Deposit Box
* Satellite TV
* Swimming Pool
* Tennis Court
* Tour Desk

---
[ Previous Page ]
You can reach our office at 402-390-0909 or 800-356-8985