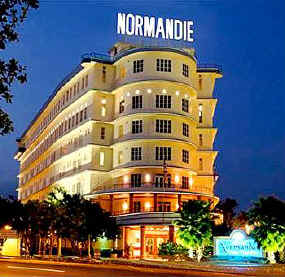 Built in the 1940's, the Normandie Hotel is located on a private stretch of beach just ten minutes away from the airport. Guests are only five minutes away from the history and excitement of Old and New San Juan. A historic landmark, this beautiful hotel is one of the finest examples of art deco in the Caribbean, with a unique design reminiscent of the famous French ocean liner of the 1950s. Guests have a choice of dining at two charming restaurants, followed by the soothing sounds of live piano music in the Atrium Lounge.
---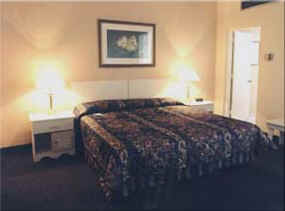 The Art Deco hotel offers 174 spacious, air-conditioned, carpeted guestrooms and suites in a tan, seven-story, triangular building with a curved front representing the decks of an ocean liner. The rooms' shape, decor, and furnishings are modeled after an ocean-liner's staterooms, with cream-colored walls and white furniture.
---
Café Paris - Parisian-style bar/lounge open until early morning Fridays and Saturdays. Lunch-and-dinner menu of sandwiches, burgers, salads, fish and chips, Puerto Rican specialties.
El Patio Grill - Located in atrium. Peach and white linens. Buffet and á la carte breakfasts. Sunday brunch featuring Puerto Rican dishes and local crafts people's wares. Lunch menu of sandwiches, salads, steak, pasta. Dinner menu of seafood Newburgh, tuna capriccio, lobster salad, steak, veal chop. Seafood buffet on Friday nights.
---
One of the finest examples of art deco in the Caribbean, the Park Plaza Normandie was meant to recall the famous French ocean liner of the 1950s.

Built on a historic site, the Park Plaza Normandie offers a private beach, two restaurants, two bars, piano music in the Atrium Lounge, a beachfront swimming pool, fitness center and room service.
Opened in 1942 by a Puerto Rican engineer as a tribute to his French wife, Moineau, whom he had met on the French ocean liner SS Normandie , the Art Deco hotel with its Roman, Egyptian, and French details was a sensation among social elites when it opened. The design includes luxury-liner-like details such as the famous curved front, high ceilings, and corridors looking down into a central skylighted atrium. Moineau's high-spirited, high-living life and the hotel's history are chronicled in photographs on lobby walls. Fittingly, the hotel now attracts pre- and post-cruise passengers from ships docking 1 mile away.
Amenity highlights: A 50-yard beach fronts the hotel, and its grounds adjoin a public park that includes a 75-yard beach. Terraced above the hotel's beach is a large triangular pool with surrounding sundeck. The Normandie's central skylighted atrium serves a quiet, airy location for conversation and relaxation.

Insider tip: The public park adjacent to the hotel includes a track-and-field stadium with an oval track that is open to hotel guests for running, jogging, and power walking.
---
A business center includes three Internet-connected computers. On Wednesday evenings, the hotel offers a complimentary cocktail hour.
Swimming pool - outdoor
Spa services on site
Bar/lounge
Room service (limited hours)
Limo or Town Car service available
Conference room(s)
Internet access in public areas - surcharge
Security guard
24-hour front desk
Hair salon
Gift shops or newsstand
Dry cleaning service
Air-conditioned public areas
Wheelchair accessible

Poolside bar
Fitness equipment
Restaurant(s) in hotel
Parking (surcharge)
Business center
Audio-visual equipment
Porter/bellhop
Multilingual staff
Number of rooms: 174
ATM/banking
Babysitting or child care
Laundry facilities
Suitable for children

---
[ Previous Page ]
You can reach our office at 402-390-0909 or 800-356-8985