King Kamehameha Beach Resort
A Courtyard by Marriott
On the only white sand beach in Kailua-Kona you'll discover the history and excitement of King Kamehameha's Kona Beach Resort! Featuring an ideal location in the heart of town, guests are close to all of the fun and entertainment of this lively seaside village. Adjacent to the pier, the hotel boasts a large shopping mall, two restaurants, two lounges, a pool, Jacuzzi, sauna and two tennis courts.
---
This waterfront resort offers 460 air-conditioned rooms in two six-story wings. Rooms have cream-colored walls, green carpets, and dark-wood furniture. Paintings on the walls depict the hotel's site as it would have looked in King Kamehameha's day. All rooms have patios or balconies with views of the surroundings. Conveniences include refrigerators and dial-up Internet access.
* Cable/satellite TV
* Balcony
* Air conditioning
* Coffee/tea maker
* Voice mail
* Iron/ironing board
* Wheelchair accessible
* Cribs available
* Pay movies
* Non-smoking rooms
* Refrigerator
* Internet access - dial-up
* Hair dryer
* In-room safe
* Clock radio
---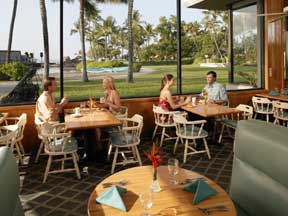 Island Breeze Luau - Luau with Polynesian music featured four times a week. Arts and crafts displays; torch lighting ceremony; arrival of the Royal Court on Kamakahonu Bay.
Kona Beach Restaurant - Faces beach and bay. Buffet; à la carte selections for breakfast, dinner, and Sunday brunch.

Billfish Bar - Located next to pool. Salads, sandwiches, and light fare served. Hawaiian musical entertainment on weekend evenings.
Luau - dinner and show four nights a week, entertainment at the Poolside Bar.
---
Rich in Hawaiian culture, this charming resort rests on a historical site considered to be the last known residence of King Kamehameha. Each air-conditioned room has a refrigerator, coffee maker, in- room safe and private lanai
King Kamehameha's Kona Beach Resort is located in the quaint seaside village of Kailua-Kona on the Big Island of Hawaii,8 minutes away from the airport.

Travelers seeking a central Kona location and full resort services find this place suits their wishes. Regulars return annually for the hospitality and casual atmosphere. In the hotel's hallways are numerous Hawaiian artifacts, such as a feathered cape and helmet, and portraits of Hawaiian royalty. Two mounted, record-setting blue marlin are also on display. Both artifacts and marlin pay tribute to Kona's special attractions and fascinating history.

Amenity highlights: Though the pool complex with its hot tub and sundeck offer a relaxing option, the pretty beach is a gem. About 60 yards wide, deep, and half-moon shaped, it fronts a cove that offers calm-water swimming and snorkeling.

Insider tip: With his court established on Oahu and his reign secure, King Kamehameha returned to his homeland of Kona in 1812 and established his residence on a lava-stone platform in the cove fronting the hotel. He also commanded a temple to be built and religious totems to be carved and erected. Replicas of all of these have been constructed as part of National Historic Site preservation. The history can be absorbed from signs and imagined by walking among seagrape hedges from the hotel out to the platform on which the king's residence and the temple are located. Guided tours are available.
---
Arrayed broadly by the bay, the 460-room hotel comprises two six-story wings and includes an air-conditioned shopping mall. A computer room offers a number of stations for accessing the Internet. The concierge desk books golf times, helicopter sightseeing flights, and all other activities available on the island. A beach shack rents out snorkel sets, kayaks, electric boats, pedal boats, boogie boards, and other beach gear. Glass-bottom boat tours, snorkeling excursions, outrigger canoe rides, and other water-related activities can also be arranged at the shack.
* Swimming pool - outdoor
* Health club
* Poolside bar
* Parking (surcharge)
* Business services
* Internet access in public areas - surcharge
* Laundry facilities
* Shopping on site
* Concierge services
* Number of rooms: 460

* Spa tub
* Bar/lounge
* Room service (limited hours)
* Conference room(s)
* Computer rental
* Audio-visual equipment
* Gift shops or newsstand
* Hair salon

---
[ Previous Page ]
You can reach our office at 402-390-0909 or 800-356-8985