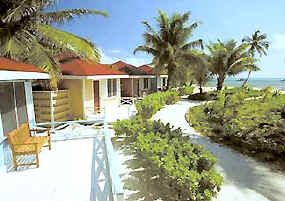 Caye-Accessible only by boat, this magical, beachfront resort is situated on more than 50 beautifully landscaped acres just 30 miles from the mainland of Belize. Journey's End Resort offers a pleasing dining experience with a variety of Caribbean dishes served on an outdoor terrace with breathtaking ocean views. Optional meal plans are available.
---
Journey's End Resort has an assortment of accomodations. Their Ocean Front Cabanas are situated right on the beach just yards from the clear waters of the Caribbean. The Garden View Cabanas are set among palm trees and white sand just a few yards from our Ocean Front Cabanas. The Pool View Cabanas are surrounded by lush palms, bushes and shrubbery sure to give you that jungle feeling. All of the cabanas are individual buildings set apart to give you the privacy of being at home while on vacation. Finally, our Lagoon View Rooms are located right next to the mangrove. All Cabanas are equipped with ceiling fans, air-conditioning, mini-refrigerators, coffee makers, clock/radios and hair dryers.
---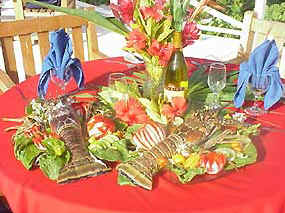 The Tamarind Restaurant
Open for breakfast, lunch and dinner.

The Tamarind Restaurant is the featured eating establishment at Journey's End Resort. Here you'll find a delicious blend of Caribbean cuisine with specialties in seafood and local recipes. The Tamarind Restaurant is open for three meals daily and has both an indoor dining area (for inclement weather) and an outdoor trellis covered open-air deck for your enjoyment.
---
Imagine for a moment a place where a billion stars burst forth across the clear Caribbean night... Imagine laying back, looking out across crystal clear turquoise waters and feeling the stress melt from your body... Imagine a quiet, romantic dinner on an open-air veranda over-looking white sands and a full moon rising amidst palm and coconut trees... Is there such a place?

Yes, there is. And it's called Journey's End Resort.

Journey's End Resort offers the best of all worlds. We are secluded on 50+ acres of beautifully landscaped grounds, yet we are only about twelve minutes via water taxi from the bustling town of San Pedro. During your stay with us you'll be in your own private world, but still close enough to the mainland of Belize where you can enjoy some of the most exciting jungle and ruin adventures this diverse Central American country has to offer.

Your options at Journey's End Resort are many. We are literally perched on the edge of the second largest barrier reef in the world. What does that mean for you? How about world-class scuba diving, usually no more than ten minutes away. Don't dive? Try the Barrier Reef which is only 1/4 mile from our beach, the best snorkeling in the world. How about fishing? We've got some of the finest reef and fly fishing waters in the world. That's why serious anglers come to ply their skills in going for the "Grand Slam" of fishing-catching a bonefish, permit and tarpon all on one trip.

You're still not impressed? All right, how about kayaking through mangroves and seeing crocodiles, rare birds, fish and butterflies no more than a half-mile from your room? And don't forget our complimentary Hobie cats, kayaks and canoes! No matter what your preference is, we've got the right prescription for your most memorable vacation.

Do it all, or do nothing at all!
---
Journey's End Resort takes pride in being home to one of Belize's only PADI 5-Star Gold Palm facilities. We are sophisticated enough for the most advanced diver yet understanding and patient with beginners. We are lucky to be situated right on top of one of the greatest dive spots in the world. It is only about a ¼ mile out to the second largest barrier reef in the world. And because Journey's End is located north of San Pedro, we have the advantage of diving most of the less-visited sites. You'll rarely see another dive boat in the area and most sites are only a few minutes from the dock. The northern dive sites typically provide a lot of spur and groove topography with some great marine life.
---
[ Previous Page ]
You can reach our office at 402-390-0909 or 800-356-8985