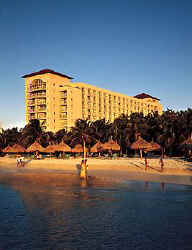 Featuring an ideal location on a world-class stretch of prime Aruban beachfront, the Hyatt Regency Aruba Resort & Casino is luxury re-defined. This elegant resort includes a multi-level pool complex with cascading waterfalls and two whirlpools, 12,000 sq ft of gaming space in the luxurious Copacabana Casino, and a wondrous assortment of treatments and facilities at the Stillwater Spa and Fitness Center.
---
The resort offers 360 guestrooms and suites in a sand-colored, U-shape building with one nine-story wing and two four-story wings. Hallways featuring carpets in tropical yellows and blues and blue wood trim create a relaxing tropical ambience. Ceiling fans provide an alternative to rooms' and suites' air conditioning. Televisions show U.S. cable channels.

Ocean/Pool view - One king or two double beds. Floors 2-8 (two of these rooms are connected to the VIP parlors on the 8th floor.) Sliding doors feature views of the ocean and the three-tier pool.

Guestroom - Two double beds. Floor 3. Sliding windows overlooking a three-tier pool. No balcony.

Standard - Two double beds in guestroom with air conditioning, minibar, in-room safe, TV, direct-dial phone with voice mail, coffeemaker, and hair dryer.
---
The resort features a dining complex designed like stone "ruins" topped by gardens and surrounded by pools and waterfalls. Located within the complex around a courtyard fountain are three air-conditioned beach/sea-view restaurants—the Italian Café Piccolo , the Japanese Japengo , and the international-cuisine Ruinas del Mar . The three serve á la carte dinners and share breakfast service, with both a buffet and á la carte menu available and a brunch on Sundays.
Café Piccolo - Wicker-and-wood chairs. Roasted lobster, beef carpaccio, pasta, fish, stone-oven pizza. Dress code: long pants or dress shorts and collared shirt for men.
Japengo - Minimalist decor featuring kites attached to skylighted wood ceiling. Sushi, duck salad, lobster bisque, fish, Asian favorites such as cashew chicken. Dress code: long pants or dress shorts and collared shirt for men.

Ruinas del Mar - Air-conditioned, white-linen dining room and open-air terrace with wrought-iron seating adjacent to pool inhabited by black swans. Wood beam ceiling. Seafood chowder, crab-potato fritter, grilled fish, steaks.

Palms - Casual beachfront restaurant serving á la carte breakfast, lunch, dinner. Turquoise walls, wood ceiling, colored-tile floor. Open-air wood-deck seating with teak tables, chairs. Lunch of salads, sandwiches, burgers. Dinner of appetizers, jerk-chicken quesadillas, grilled fish, burgers. Adjacent bar with televisions showing sports.
Al Fresco Bar - Adjacent to two-story waterfall. Cushioned wrought-iron seating. Pizza, sushi, live music nightly. Tropical drinks all day, night.

Kadushi Juice Bar - Beachfront vegetable/fruit juices, smoothies.

Dockers Bar - Located at end of resort's pier. Sunset view, tropical drinks.

TCBY - Frozen yogurt, coffee drinks, pastries, desserts, snacks.

Live entertainment, casino gambling.
---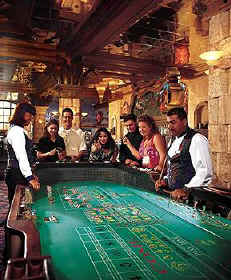 Hyatt Regency Aruba Resort and Casino is located on the beautiful Palm Beach strip, just two miles from Oranjestad and six miles from Queen Beatrix International Airport.

The Hyatt Regency is a luxury beachfront resort where Spanish architecture and tropical Caribbean elegance open onto a world class beach. Each of the 360 air-conditioned rooms and suites has its own balcony with garden or ocean/island views.
Occupying 12 acres of gardens, ponds, and waterfalls along Aruba's high-rise hotel strip on 2-mile Palm Beach, the resort's stylish-but-relaxed, open-air ambience is exemplified by a long, breezy lobby featuring a terra-cotta tile floor, wood-paddle ceiling fans, wrought-iron chandeliers, and soft seating. The Hyatt Regency attracts families and celebrating couples, providing ample space to accommodate both without conflict.
Amenity highlights: Sprawling amid flowering tropical gardens and an enormous freshwater lagoon stocked with fish, an 8,000-square-foot pool complex features a two-story serpentine water slide and a six-person ocean-view spa. A two-level pool offers a lower activities section containing a swim-up bar and an upper quiet section. Palm Beach runs 2 miles in front of the Hyatt Regency and other resorts, a broad and deep expanse of nearly white sand washed by the turquoise Caribbean Sea and furnished with thatch shades. Rental water-sports gear is available at numerous centers, including one within the resort. Snorkeling, scuba diving, and sailing excursions and cruises are widely available.

Insider tip: Macaws, parrots, and a black-and-yellow toucan with a giant, Technicolor beak are scattered throughout the central gardens. Most are housed in cages, but an uncaged, raucous choir of macaws enlivens the pool scene.
---
A health spa offers massage, body treatments, hydrotherapy, and facials. Massage choices include Swedish, deep tissue, couples, and Conchi Splash (water massage, exfoliating, oil). Body treatments include Aromatherapy Salt Glow, Mud Bath Wrap, and White Lily After Sun Wrap. Hydrotherapy options include Thalssotherapy Algae Bath, and Sea Salt and Essential Oil. Facials include Oxygenating, Elastin Cellular Treatment, and Anti-Free Radical.
An air-conditioned fitness center contains cardio and weight machines as well as free weights, and includes unisex sauna and steam room. Camp Hyatt provides supervised children's activities, with half- and full-day sessions available as well as evening programs (fees). Open from noon to early in the morning, the resort's 12,500-square-foot casino features crystal chandeliers and mirrored-metal ceilings and offers baccarat, roulette, craps, blackjack, Caribbean stud poker, and slot machines. Internet connections are available in the lobby and business center for fees.
Swimming pool - outdoor
Swim-up bar
Spa services on site
Casino
Fitness equipment
Bar/lounge
Parking (free)
On-site car rental
Conference room(s)
Cell phone rental
Number of rooms: 360
Express check-in/check-out
Security guard
Multilingual staff
Currency exchange
ATM/banking
Shopping on site
Tour assistance
Garden
Air-conditioned public areas
Wheelchair accessible

Poolside bar
Swimming pool - children's
Concierge services
Complimentary newspapers in lobby
Restaurant(s) in hotel
Room service (24 hours)
Limo or Town Car service available
Business center
Audio-visual equipment
Internet access in public areas - surcharge
Porter/bellhop
Doorman/doorwoman
24-hour front desk
Safe-deposit box - front desk
Hair salon
Gift shops or newsstand
Babysitting or child care
Dry cleaning service
Pool table
Suitable for children


---
[ Previous Page ]
You can reach our office at 402-390-0909 or 800-356-8985