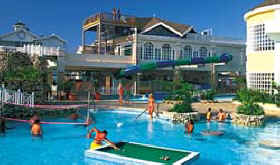 An oasis of pure pleasure. Hedonism III is for those who want to feed the mind, spirit and soul with freedom and fun. Set on 15 acres of beautifully landscaped gardens in Runaway Bay, Jamaica. Hedonism III features expansive ocean views and offers total escape for a truly active (and slightly wicked!) vacation.
---
Hedonism III has a total of 225 air conditioned, double rooms. Ocean front, pool front, ocean view or pool view, with Jamaica's first ever block of "swim-up" rooms; all featuring large marble bathrooms with Roman Jacuzzi bathtubs, direct-dial telephones, televisions, CD players, clock radios, safety deposit boxes, hairdryers, coffee makers, iron and ironing boards.
---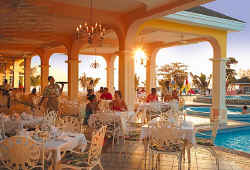 Pastafari
A unique Italian restaurant with a Jamaican accent and a magical touch with Pasta. Casual attire. Reservations required.
Munasan
Innovative Japanese fare (Teppanyaki-style) in a casually elegant atmosphere. Casual attire. Reservations required. Closed Tuesday.
NUDI BURGER
(Nude Beach Grill) Swim-up grill and bar adjacent to the nude pool.
Scotch Bonnet Grill
An authentic taste of Jamaica set right off the Ocean. Serving traditional Jamaican dishes, Jerk, Soups, and more. Casual attire.
Tropical Terrace Restaurant
Breakfast, lunch, and dinner buffets featuring traditional favorites and tropical treats. Casual attire. Reservations are not required.
Disco Bar - Air-conditioned spot serving drinks until late night.
Piano Bar & Lounge - Air-conditioned lounge with ceiling fans. Pianist and sing-a-long nightly. Open early evening to after midnight.
---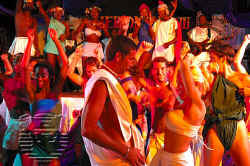 If it may shock your mother ... it's included. One thing is certain: At Hedonism III, you'll find that famous uninhibited spirit where just about anything goes. So what's your pleasure? It's all here. And it's all included.
If it feels good ... it's included. How can something so naughty look so nice? The legend grows ... with the introduction of the all new Hedonism III. Hedonism III enters the millennium with everything that made Hedonism II famous - an more! You'll find swim up rooms. A Roman tub in every room. And a see through slide that snakes through the pulsating disco. After midnight, you never know what you're going to see coming down that slide ... or who.
Activities abound at Hedonism III. Try out Hedonism III's fabulous array of watersports or join a tennis or squash clinic to improve on your skills. All sports at Hedonism III come with instructors on hand to help you get the most out of your chosen activity.

Entertainment. Hedonism III's late night discotheque is open until the last person leaves. Entertainment includes relaxing "Classical Interlude" each evening for one hour as well as laser karaoke, live bands and performers and floor shows every night in the open air entertainment area of the main Terrace, weekly themed parties including Toga Party, Pajama Party and Reggae Beach Party.
Features include 4 restaurants, 5 bars, nightly entertainment, 3 swimming pools (one au naturel), a beachside circus workshop, 3 tennis courts, and a four-story waterslide which cuts through the disco. Free Weddings and Renewal of Vows
---
This resort is for adults and singles. ( children are not allowed).
* Air-conditioned room with king-size bed or twin beds
* All meals & snacks including fine dining at four restaurants
* SuperSnacks 24 hours a day
* 5 bars, including late night discotheque open until the last person leaves
* 2 separate beaches, one side nude, one not
* Four Jacuzzi, including one that is see-through
* Indoor games room with satellite TV, the latest video games and pool tables

* Theme parties every week
* Full use of all sports facilities including top-of-the-line equipment and professional instructors
* Circus workshop
* A fabulous four story exclusive water slide which cuts through the disco
* All airport transfers and hotel taxes
* Tipping not permitted
* Live bands and performers and floor shows every night

If booking online select Montego Bay Airport as your destination city
---
[ Previous Page ]
You can reach our office at 402-390-0909 or 800-356-8985