The Faro Mazatlan is decorated with a colorful Mexican theme with a spectacular views of the ocean and marina Mazatlan.

Located on the top of a rock formation it features beautiful views of the blue ocean, and a secluded beach, the only in town!

Enjoy seafood specialties at the Chiquita Banana Restaurant.
---
The hotel features 4 junior suites, 4 master suites, 89 rooms with ocean view, 68 rooms with marina view and balcony or terrace.

Your comfortable accommodations have been carefully decorated to reflect the fascinating Mexican culture, and the ocean or marina views from your room are truly spectacular.

All rooms are beautifully appointed with climate control, direct dial phone access, fully stocked minibar, and remote control cable TV.
---
Chiquita Banana Front Beach Restaurant - A favorite for local seafood recipes, offering fresh fish every day, cocktails and appetizers served in a casual atmosphere under attached roof.

Las Terrazas - A three level restaurant offering fine International and Mexican cuisine.

The Lobby Bar is the perfect place to meet for afternoon and evening refreshments and appetizers, with a big screen TV to watch major sport events.
---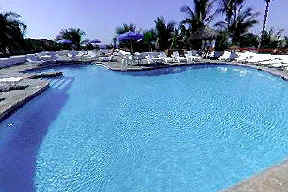 The Faro Mazatlan is a beach resort located on the sunny shores of Mazatlan Mexico.

Between the sun, the surf, and the charms of the "Golden Zone of Mazatlan" you will find 100 things to do and 1001 ways to relax and enjoy your vacation.
You can explore historic -old Mazatlan.- shop for hand-made treasures. walk or jog on one of the longest stretches of beach in Latin America. golf- fish- engage in water sports.
---
* Conference room
* Parking (valet)
* Wheelchair accessible
* Computer rental
* Laundry service
* Hair salon
* Room service
* Bar/lounge
* Currency exchange
* Parking

* Number of floors: 4
* Photocopy machines
* Elevator/lift
* Babysitting or child care
* Swimming pool - outdoor
* Concierge services
* Restaurants in hotel Restaurant
* Fax machine
* Coffee shop or café
* Safe-deposit box - front desk

---
[ Previous Page ]
You can reach our office at 402-390-0909 or 800-356-8985