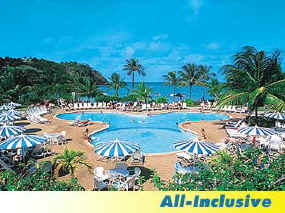 This sprawling resort is nestled amidst 65 lush, tropical landscaped acres. The grounds are divided into five themed villages, all centered around Seaside Cove, where fun-filled daily activities and exciting nightly entertainment take place. The main pool is superb, with a glistening waterfall, exciting waterslide and refreshing swim-up bar.
---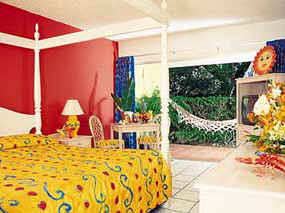 The resort offers 369 air-conditioned guestrooms in five color-coded, pastel "villages" comprising one-story bungalows with peaked roofs. (Complimentary shuttles transport guests around the 65-acre property.) Tropical decor includes bright fabrics, pastel walls, and tile floors. Patios provide garden or sea views.

All Inclusive Plan - Rate includes the following:

* Room accommodations
* Unlimited food and drink
* House wine with meals
* Non-motorized water sports and waterskiing
* Bicycle treks to Pigeon Island National Historic Park
* Supervised nursery and children's clubs
* All resort fitness and recreation facilities
* All resort activities and entertainments
* Taxes and gratuities

Not included: meals in The Great House Restaurant (15-percent discount offered); drinks at the Sports Bar in The St. Lucia Racquet Club; bottled wines; Jet Skiing; child care; Internet connections; laundry and dry cleaning; telephone and fax; medical services; shuttle service to Castries; and outside tours and excursions.
---
International Grill - Open-air restaurant under series of cupola-topped wood-shingle roofs. Buffet breakfast, lunch, and dinner. Theme-night dinners such as Caribbean, West Indian. Separate children's dining area.
Cap's Trattoria - Open-air seating under peaked wood-shingle roof. Italian cuisine. Dinner only. Reservations required. Dress code: long pants, collared shirts for men.

Jade Vine Restaurant - Air-conditioned Asian restaurant with bamboo trim. Dinner only. Reservations required. Dress code: long pants, collared shirts for men.

Smuggler's Haven - Open-air, wood-deck restaurant on pilings above water. Umbrella tables. Lunch menu of burgers, hot dogs, pizza. Dinner menu of soup, salad bar, grilled meats, chicken, fish. Adults only at dinner, with reservations required. Dinner dress code: long pants, collared shirts for men.

The Great House Restaurant - Built on stone foundations of 18th-century sugar plantation owned by St. Lucia's French military commander. Hilltop site, with complimentary shuttle transportation available. French/Caribbean cuisine. Dinner only. Reservations required. Dress code: long pants, collared shirts for men. (Not included in All Inclusive Plan, but resort guests received 15 percent discount on meals.)

Snack carts serve hot dogs, burgers, and sandwiches poolside. In addition to the swim-up pool bar, the resort includes three bars open until early morning. Within the St. Lucia Racquet Club on the property is a sports bar where drinks are not included in the All Inclusive plan.
A variety of live shows and nightly entertainment at the Irish Pub.
---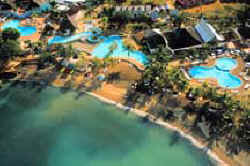 This resort has one of the best value-for-money-ratings with the widest variety of facilities and activities of any All-Inclusive resort, including the best children's program on the island.
The property is stretched along a 1/2 mile enclosed golden sand beach with its own dive shop, Sharkey's Watersports Center. Sharkey`s is open from 9:00 am to 5:00 pm.

Occupying 65 acres of gently sloped, tropical-garden hillside (complimentary shuttle service around the grounds), the resort attracts an international clientele seeking holidays centered around beach and water activities.

Amenity highlights: Embraced by high ridges of land falling into the sea and protected by an offshore reef, a cove fronted by a 250-yard beach offers calm water for swimming in the Caribbean. Five pools include one for adults that's paired with a 10-person spa tub, another featuring a 90-foot spiral waterslide, an activities pool, and a pool with swim-up bar. A fifth pool is located at a racquet club within the resort.

Insider tip: Rodney Bay, St. Lucia's dining and nightlife center, is located 3 miles away.
---
A health-and-beauty spa offers massage, body treatments, facials, waxing, and nail and hair care (including braiding). An air-conditioned room provides two Internet-connected computers, available for a surcharge. The fitness center contains cardio and weight machines as well as free weights, and offers aerobics classes.

Three children's clubs and an air-conditioned nursery (age 3 months to 3 years) provide supervised care and age-group activities such as beach sports competitions, nature hikes, arts and crafts, video movies, and snorkeling lessons. Teens have their own room offering coin-operated video games.

Live entertainment occurs nightly in an open-air theater and includes shows presented by the resort's activities/entertainment staff with guest participation encouraged. Daytime activities include games and athletic competitions, morning hikes, bicycle treks to Pigeon Island National Historic Park (2 miles away), and land and water aerobics.

In addition to a snacks/sundries shop and a resort wear/beachwear boutique, the resort includes local crafts for sale. Shopping is also available in Castries, St. Lucia's capital, to which shuttle service is available Monday–Saturday (surcharge).
* Swimming pool - outdoor
* Swim-up bar
* Full-service health spa
* Concierge services
* Pool table on site
* Parking (free)
* Internet access in public areas - dial-up
* Internet access in public areas - surcharge
* Multilingual staff
* Porter/bellhop
* Medical assistance available
* Tour assistance
* Dry cleaning service
* Wedding services

* Poolside bar
* Swimming pool - children's
* Massage - treatment room(s)
* Fitness equipment
* Restaurant(s) in hotel
* Limo or Town Car service available
* Business services
* Number of rooms: 369
* Front desk (limited hours)
* Security guard
* Shopping on site
* Hair salon
* Arcade/game room
* Supervised child care/activities

---
[ Previous Page ]
You can reach our office at 402-390-0909 or 800-356-8985